Stults spins gem to lead Padres past Nats
Cabrera delivers clutch go-ahead single in eighth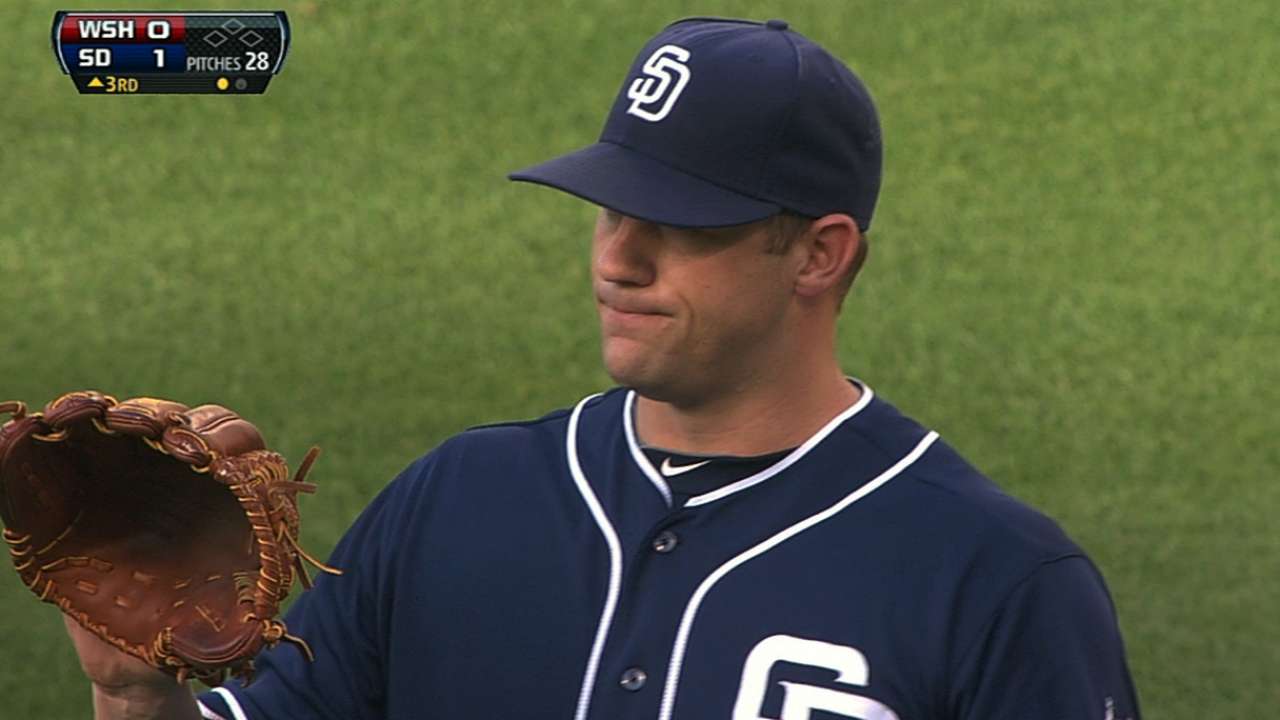 SAN DIEGO -- The north side of 30 continues to be a superb, prosperous and, occasionally, a weird place for Eric Stults, who views pitching and velocity in a far different light than when he broke into the Major Leagues with the Dodgers in 2006.
His biggest epiphany?
"Velocity only gets you so far," Stults said.
Those were words to live by Saturday for Stults, the 33-year-old left-hander who opened the game with five no-hit innings and stuck around long enough to get a victory as the Padres edged the Nationals, 2-1, before a crowd of 33,646 at Petco Park.
Stults allowed one run in eight innings, the deepest he's worked into a game since 2009, striking out five with two walks while tying the Nationals' hitters in knots with a four-pitch mix that included everything from a 65-mph curveball -- for a called strike, no less -- to a backdoor slider than he leaned heavily on.
"He was good tonight," said Nationals first baseman Adam LaRoche. "We were swinging at his pitches. We were, again, not real patient. He was throwing that changeup down and away, slow curveball, slider, spotting the heater. [He] just seemed to get us to chase, all day."
It was, plain and simple, pitching as Padres manager Bud Black called it. But it was more than just that. It was Stults fooling hitters without really trying to fool them at all.
"It's understanding that it's not about being overpowering ... but it's more a disruption of timing," Black said of Stults, using comps of Jamie Moyer and Frank Tanana late in their careers.
"But you need to have the conviction that velocity doesn't matter and being able to live with the results. He'll live with the outcome."
Stults, who the Padres claimed off waivers from the White Sox a year ago Friday, is now 12-6 with a 3.37 ERA in 23 starts with the team since. Better still, the Padres are 16-7 in games that he has started.
"To see him work through a good lineup, it was pretty fun to watch," said Padres second baseman Jedd Gyorko. "When he's on like he was on tonight, it's fun to play behind him."
Stults certainly needed to be on with the way Nationals pitcher Jordan Zimmermann was pitching. After allowing a home run to Yonder Alonso in the second inning, he didn't allow a run again until the Padres pushed across the go-ahead run in the eighth inning.
Catcher John Baker, who threw out two baserunners, opened the eighth with a single, but was forced out at second base on Alexi Amarista's bunt. A throwing error by Zimmermann on a pickoff play sent Amarista to second base, though he didn't stay there long. Everth Cabrera lifted a soft single to center field that allowed Amarista to score the go-ahead run.
But, as has been the case lately, closing out a victory wouldn't be easy for closer Huston Street, who on Friday took the loss after allowing a 10th-inning home run to Chad Tracy of the Nationals.
Street started the ninth by walking Steve Lombardozzi, but struck out Ryan Zimmerman on a full-count pitch with Baker completing the double play when he threw out Lombardozzi trying to steal second base. Street then walked LaRoche before getting Ian Desmond on a fly ball to end the game.
The story wasn't so much that the Padres topped the Nationals, but more so how they did it -- starting with Stults, who was coming off a start where he walked a season-high five batters in a loss to the Rays and admitted afterward that his command was amiss.
Not Saturday, though.
He had some help from his defense, as Cabrera started a 6-3 double play in the first inning. Then, in the third inning, with runners on second and third base with one out, Denard Span hit a ball up the middle than glanced hard off Stults left shin. The ball caromed to Alonso at first base, who stepped on the bag and then ran to third to chase down Kurt Suzuki after he and Jordan Zimmermann both arrived at the base at the same time.
"That was a big double play, even if it was a little unorthodox," Stults said.
Stults didn't allow a hit until Suzuki started the sixth with a clean single. Three batters later, the Padres' 1-0 lead was gone when Lombardozzi drove in a run with a single. But Stults closed with two scoreless innings before Amarista pinch-hit for him in the bottom of the eighth inning.
The Padres remain the lone Major League team without a no-hitter.
Baker couldn't say enough good things about Stults after the game.
"He executed everything," he said. "When he needed a strike, he got it. And the thing that I appreciated about him was he didn't shake me off once."
He didn't need to, not with the way he was throwing. Take the final batter he faced, Span in the eighth inning. There was a 65-mph curveball, a 76-mph slider and then an 86-mph four-seam fastball that was just one of 11 groundball outs he would record.
Velocity, who needs it?
"When I was younger, I had a little more velocity ... I'm not the guy who threw 93-mph like I used to be. But the hitters in this league are good. I used to be pretty predictable, throwing a fastball and changeup. When you have four pitches, you can do a lot more."
Corey Brock is a reporter for MLB.com. Keep track of @FollowThePadres on Twitter. This story was not subject to the approval of Major League Baseball or its clubs.