Diamond, bullpen unable to contain Ortiz, Red Sox
Slugger homers twice, notches six RBIs in Twins' fourth straight loss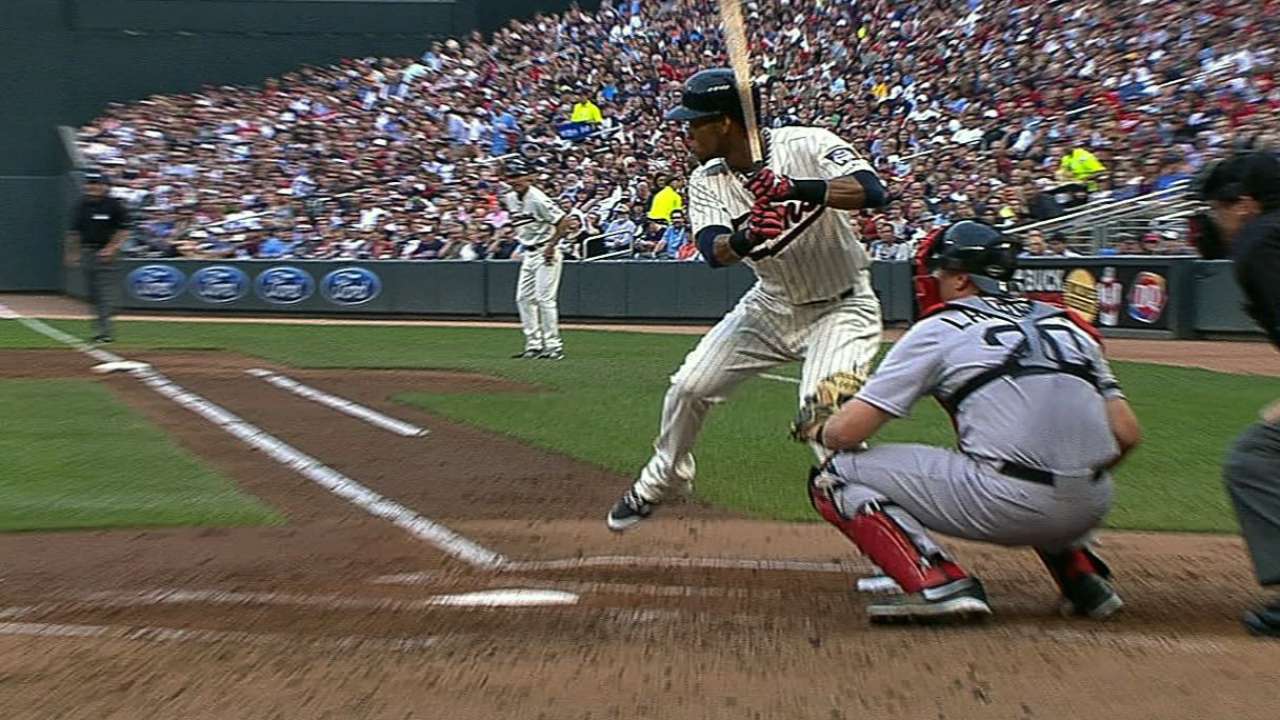 MINNEAPOLIS -- Ron Gardenhire knows all about what David Ortiz can do with the bat.
After all, he served as Ortiz's manager with Minnesota back in 2002 before the Twins made the ill-fated decision to release the designated hitter after that season.
Ortiz has gone on to be one of the game's premier sluggers, and he showed it once again on Saturday night, as he hit two homers and had six RBIs to help the Red Sox hand the Twins a 12-5 loss in a three-hour, 53-minute slugfest at Target Field.
It was just another example of Ortiz continuing to torment the Twins, as he's a career .500 (19-for-38) hitter with five home runs and 16 RBIs in 10 games at Target Field.
"The one guy we say not to let beat us is David Ortiz," Gardenhire said. "They have a lot of good hitters over there, but we keep saying, 'Stay away from this guy and don't give into him.' But he keeps sending souvenirs, so we need to make adjustments and pitch him better."
Scott Diamond, who tossed seven scoreless innings against the Red Sox on May 7, couldn't replicate his success and scuffled through 4 1/3 innings. The left-hander tied a season high by surrendering six runs on eight hits to mark his worst outing of the year.
"I was probably little too amped up," Diamond said. "I tried to muscle up too many pitches and it made the ball stay up in the zone, and I paid the price for it. I struggled to find my control and my rhythm and ended up throwing way too many pitches."
Diamond served up Ortiz's first homer on a three-run shot in the first inning that helped the Red Sox get out to an early lead they wouldn't relinquish. Ortiz said he's past getting extra joy from sticking it to the Twins, considering he's in his 11th season with Boston.
"It used to be, but not anymore," Ortiz said. "I just go about my business. You guys have seen me -- I try to hit the moon every time I go to hit everywhere, so it's not new."
Ortiz gave Boston another run with an RBI single in the third inning before the Red Sox knocked Diamond from the game with a three-run fifth. Dustin Pedroia doubled home the first run before advancing to third on a grounder from Ortiz. Diamond was then removed in favor of right-hander Anthony Swarzak, who allowed Pedroia to score on a sacrifice fly from Daniel Nava before giving up an RBI single to Ryan Lavarnway.
It handed the Red Sox a five-run lead, but right-hander Ryan Dempster also struggled on the night. The Twins got on the board in the second on an RBI single from Pedro Florimon and scored again in the fourth on a single from Justin Morneau that scored Joe Mauer after he extended his hit streak to 15 games with a two-out double.
Minnesota rallied for three runs in the fifth to knock Dempster from the game. Trevor Plouffe brought home a run with an RBI groundout before Florimon and Jamey Carroll added back-to-back RBI singles. It kept Dempster from earning the win, as he lasted just 4 2/3 innings and gave up five runs on eight hits while throwing 127 pitches.
"The middle innings got a little dicey for us," Red Sox manager John Farrell said. "We tried to get Ryan through that fifth inning with every available pitch, but we got to a point where we had to make a move there."
The Twins couldn't capitalize in the sixth, however, when they loaded the bases with one out. Aaron Hicks hit a pop fly to Pedroia in short right field and he was able to easily throw out Ryan Doumit -- who collided with Lavarnway -- at home for a double play. It was a continuation of their earlier struggles with the bases loaded, as they also loaded the bases in the second and third innings but couldn't capitalize.
"He's an aggressive guy, but it didn't work out too well," Gardenhire said about Doumit's decision to tag up. "Luckily he came out of it unhurt. He just tried to be aggressive and tried to make a play, but it wasn't too wise."
The Red Sox broke open the game in the seventh with a pair of two-run homers. Ortiz crushed the first one off Swarzak before Nava hit the second one off right-hander Casey Fien.
It put the game out of reach for the Twins, who ended up leaving 13 runners on base and lost their fourth straight game.
"We had our chances, but it says it all when you leave 13 guys out there," Gardenhire said. "That pretty much tells the story."
Rhett Bollinger is a reporter for MLB.com. Read his blog, Bollinger Beat, and follow him on Twitter @RhettBollinger. This story was not subject to the approval of Major League Baseball or its clubs.