Angels' numbers come up in power ball
Callaspo, Trumbo, Shuck lead the way, with huge relief from Coello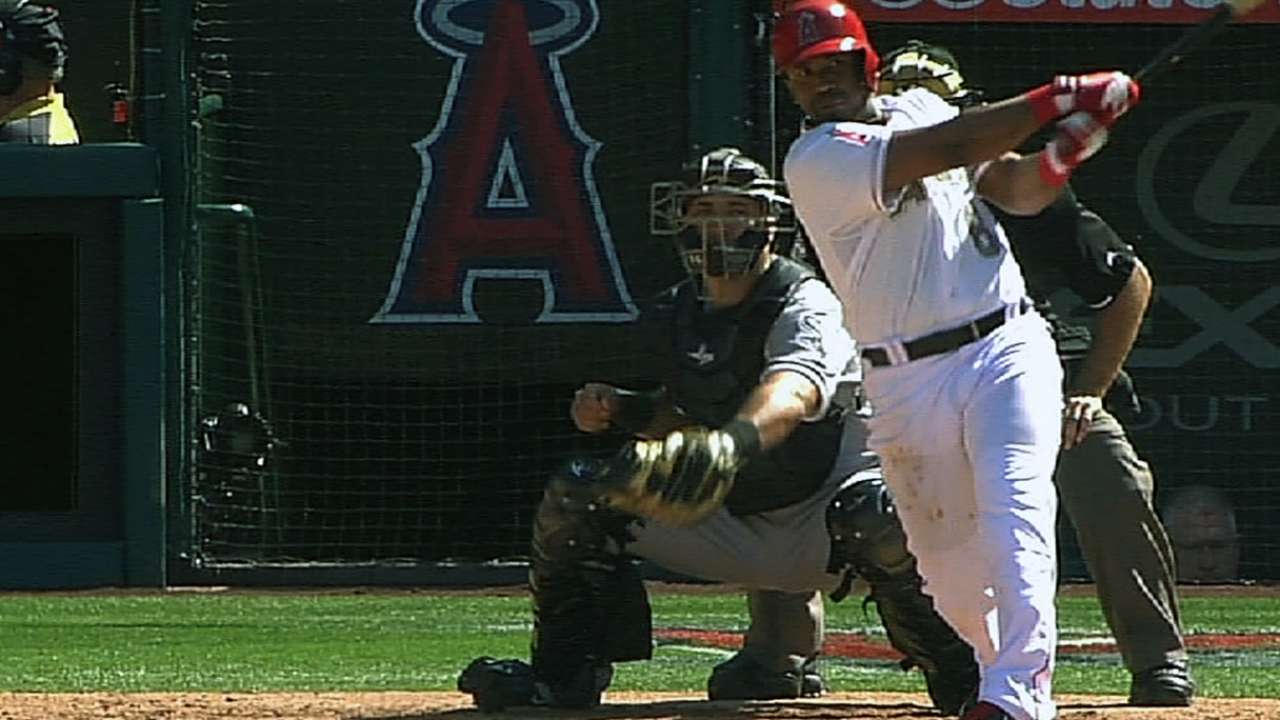 ANAHEIM -- It wasn't pretty, but the Angels ended their three-game losing streak with a 12-9 victory over the White Sox on Saturday at Angel Stadium.
The Angels and White Sox combined for 21 runs, 29 hits and 44 baserunners, but with a 16-27 record, the Angels aren't picky about their wins.
"No game is ugly, it's just a game," Albert Pujols said. "No matter how you win or how you lose, it's just a game. No game is ugly."
Joe Blanton flirted with danger for three innings, before it came back to bite him in a four-run fourth, but the Angels scored three in the bottom of the fourth, two in the fifth, five in the seventh and two in the eighth to come away with just their second win in the past seven games.
"I thought we had some great at-bats in the fourth inning and kept it going," Angels manager Mike Scioscia said. "It's good to see. We need to have those breakout games here and there to take a little pressure off our pitching staff."
Mark Trumbo, who has 17 RBIs in the Angels' last 19 games, put the Halos on the board with his 10th home run of the season, a screaming line drive to left field in the fourth inning.
The Angels scored two more in the frame when White Sox pitcher Hector Santiago walked J.B. Shuck, who finished with a career-high three RBIs, with the bases loaded and Erick Aybar followed with a sacrifice fly.
Trumbo, who has seen 13 of his last 18 hits result in extra bases, struck again in the fifth with a double to right-center field, plating Pujols and tying the score at 4. After a Howie Kendrick groundout, Alberto Callaspo hit a sacrifice fly to right field, giving the Angels their first lead since the eighth inning of Thursday night's game.
The Angels tacked on five in the seventh -- highlighted by Callaspo's home run, which accounted for three of his five RBIs, and Shuck's two-run double -- as they appeared to blow the game open.
"Our ballclub, when we get it going, we have a pretty good ballclub," Pujols said. "We can score runs at anytime in the game."
However, as it turned out, they would need those runs as the White Sox answered with five of their own in the eighth.
"Guys are swinging it," White Sox manager Robin Ventura said. "It's one of those that you can look at silver linings, but in the end, you still lost."
While the Angels' offense was able to overcome the early four-run deficit, it may not have been possible without the relief efforts of Robert Coello.
Clinging to a 4-3 lead in the fifth inning, the White Sox loaded the bases with just one out against Blanton. Coello then came in and struck out both Alexei Ramirez and Alex Rios to end the threat.
"Hats off to the bullpen today," Blanton said. "Coello came in and did a fantastic job with the bases loaded. That was the key to the game, really."
Blanton's outing resulted in a no-decision, but the right-hander is still struggling as his ERA rose to 6.62 and his WHIP now sits at 1.97.
"A lot of singles today, a lot of balls finding holes and bleeders and chops off the plate," Blanton said. "Had to really battle through. Went as long as I could, as hard as I could and the bullpen came in and did a nice job."
Blanton pitched just 4 1/3 innings, but allowed 15 baserunners -- 11 hits, two walks and two hit batters. Blanton allowed a pair of singles in each of the first three innings, but was able to keep the White Sox off the board.
In the fourth, he wasn't quite as lucky.
Dayan Viciedo walked to lead off the inning then Hector Gimenez singled and Ramirez was hit by a pitch to load the bases with two outs.
Rios hit a two-run double and Adam Dunn followed with a two-RBI single, giving the White Sox a 4-0 lead. The White Sox scored all four runs with two outs; the Angels lead the Majors with 104 two-out runs surrendered.
"Joe almost got out of that fourth inning, but Rios hit a high hopper -- it tipped off Alberto's glove -- another two inches our way and we're out of that inning," Scioscia said. "They end up getting another two-out hit from Dunn and break it open, 4-0, but the guys came back in the dugout and said, 'Let's get one back and keep playing baseball.' "
And that's exactly what the Angels did.
William Boor is an associate reporter for MLB.com. This story was not subject to the approval of Major League Baseball or its clubs.