Sox come up losers in power ball
Despite scoring nine runs, team lets many chances slip away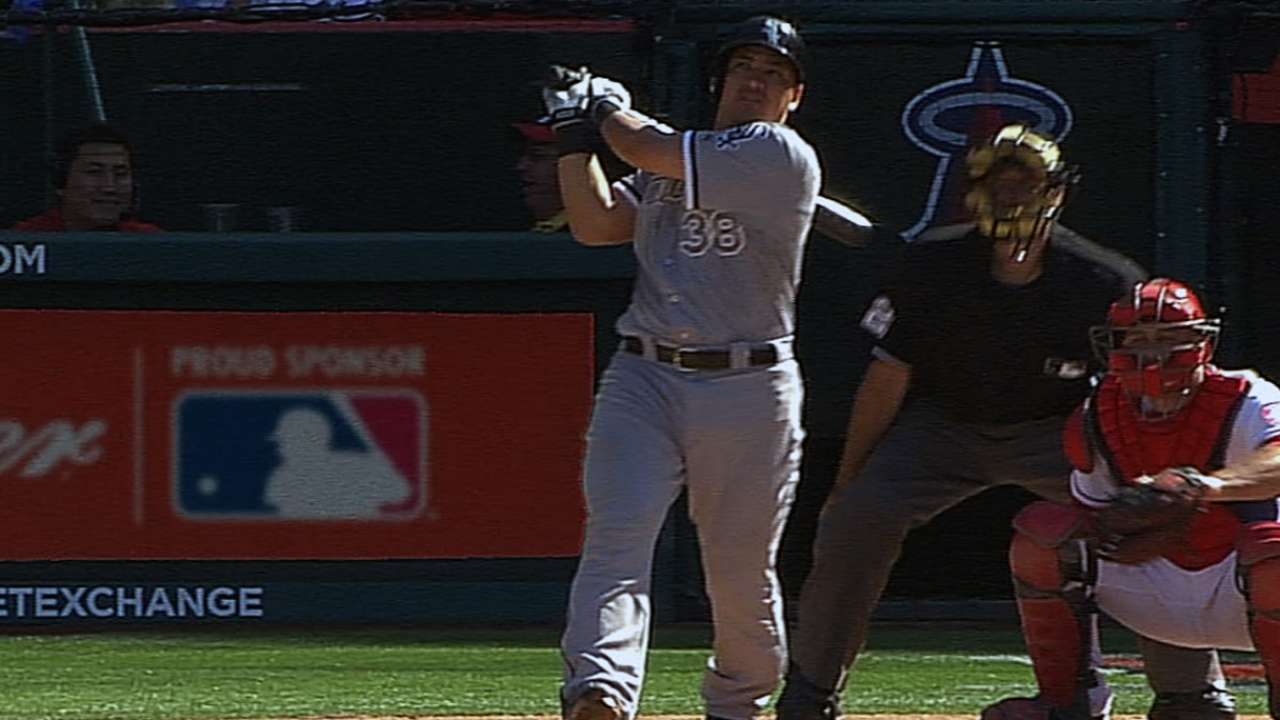 ANAHEIM -- We interrupt the White Sox four-game winning streak and march toward .500 with Saturday's 12-9 loss to the Angels before 37,165 at Angel Stadium.
It was far from a masterpiece delivered by either side, with 44 total baserunners and 10 walks issued by White Sox pitching. The resurgent White Sox offense set a season high with 17 hits but lost for the first time since July 13, 2008, against Texas when knocking out at least 17.
Saturday's setback came courtesy of a season-high 12 runs being allowed, but also from 12 men stranded and a 2-for-12 start with runners in scoring position.
Joe Blanton, who entered the affair with an 0-7 record and 6.46 ERA, allowed 15 baserunners over 4 1/3 innings before exiting with the bases loaded in the fifth. The White Sox (19-22) managed just four runs against him.
"Early on in the game, first inning especially, we had the opportunities to get on the board," said White Sox first baseman Adam Dunn, who left in the fifth inning with back spasms and is listed as day to day. "Looking back, that's obviously what cost us."
"You get chances and eventually you knock them in," White Sox manager Robin Ventura said. "But it just wasn't real clean all the way around."
To the White Sox credit, they kept fighting even when the game seemed out of reach.
Alberto Callaspo gave the Angels control in the seventh with a three-run homer off of reliever Donnie Veal on a 1-2 pitch. Veal had just been called back up from Triple-A Charlotte, arriving at the ballpark approximately one hour before first pitch, and took over with two men on base after Nate Jones (0-4) threw 3 1/3 innings and 48 pitches. Veal also allowed J.B. Shuck's two-run double in the five-run frame, increasing the Angels' lead to 10-4.
Run-scoring singles from Paul Konerko, whose three hits raised his average to .231, and Dayan Viciedo off of Garrett Richards cut the lead to 10-6 in the eighth. Hector Gimenez, who had a career-high four hits and three RBIs, moved the White Sox within one with a three-run blast off of closer Ernesto Frieri (eighth save), but Tyler Greene flied out deep to right to end the threat. The Angels added two insurance runs in their half of the eighth before Frieri struck out the side in the ninth.
"I had a good game offensively," Gimenez said. "But I'd like to win the game more than go 4-for-5."
After the White Sox scored four times in the top of the fourth against Blanton, a late comeback didn't look as if it would be necessary. White Sox starter Hector Santiago couldn't handle prosperity on this day, giving three runs back in the bottom half of the frame.
Mark Trumbo opened the Angels' scoring with a long homer to left and one out later, Callaspo singled. Santiago proceeded to walk Brendan Harris, Chris Iannetta and Shuck to force in a second run and end the left-hander's day at 80 pitches.
Gimenez tried to settle down Santiago, who was struggling with his cutter and admittedly over-thinking on the mound as he searched for the fast-paced rhythm where he usually works in the third and fourth innings.
"That one inning I just tried to keep the pitch count down," said Santiago, who allowed three runs over 3 1/3 innings. "I looked up and saw 60-something pitches and I'm like, 'Here we go, make this pitch, get out of this right here.'
"I'm never like that. I never go up there and worry about pitch count. I go inning by inning. If I go five, if I go seven, it doesn't matter. But just trying to make better pitches than I needed to."
"Our ballclub, when we get it going, we have a pretty good ballclub," Angels first baseman Albert Pujols said. "And we can score runs anytime in the game."
Erick Aybar's sacrifice fly off of Jones cut the lead to one, but the Angels (16-27) didn't wait long to take the lead. They scored two in the fifth on doubles from Pujols and Trumbo and Callaspo's sacrifice fly.
During each of the first three innings, the White Sox knocked out two hits but failed to score. They loaded the bases in the fourth with two outs, courtesy of Blanton hitting Alexei Ramirez with a pitch one inning after Santiago hit Mike Trout, causing the White Sox shortstop to give Blanton a long and angry stare as he went to first. Alex Rios, who extended his hitting streak to 13 games with a first-inning single, followed with a double off of Callaspo's glove at third to score two, and Dunn drove home two more with a line single to right.
This game actually turned in the fifth when Blanton hit Dayan Viciedo, Gimenez singled and Dewayne Wise walked to load the bases with one out, causing Mike Scioscia to turn to Robert Coello (1-0). Instead of blowing the game open, Ramirez struck out on a 3-2 pitch and Rios did the same.
"Today, a guy like Robert Coello comes in -- those are five huge outs to get in the middle of the game," Scioscia said. "First, getting out of it to minimize some damage and holding a lead."
There was no such relief for the White Sox, who still can win the series behind Jake Peavy on Sunday, and head home from a 5-2 road trip.
"Again, guys are swinging it," Ventura said. "It's one of those that you can look at silver linings but in the end you still lost."
Scott Merkin is a reporter for MLB.com. Read his blog, Merk's Works, and follow him on Twitter @scottmerkin. This story was not subject to the approval of Major League Baseball or its clubs.