Koehler takes tough-luck loss in strong showing
Right-hander allows first-pitch homer, fans seven in six frames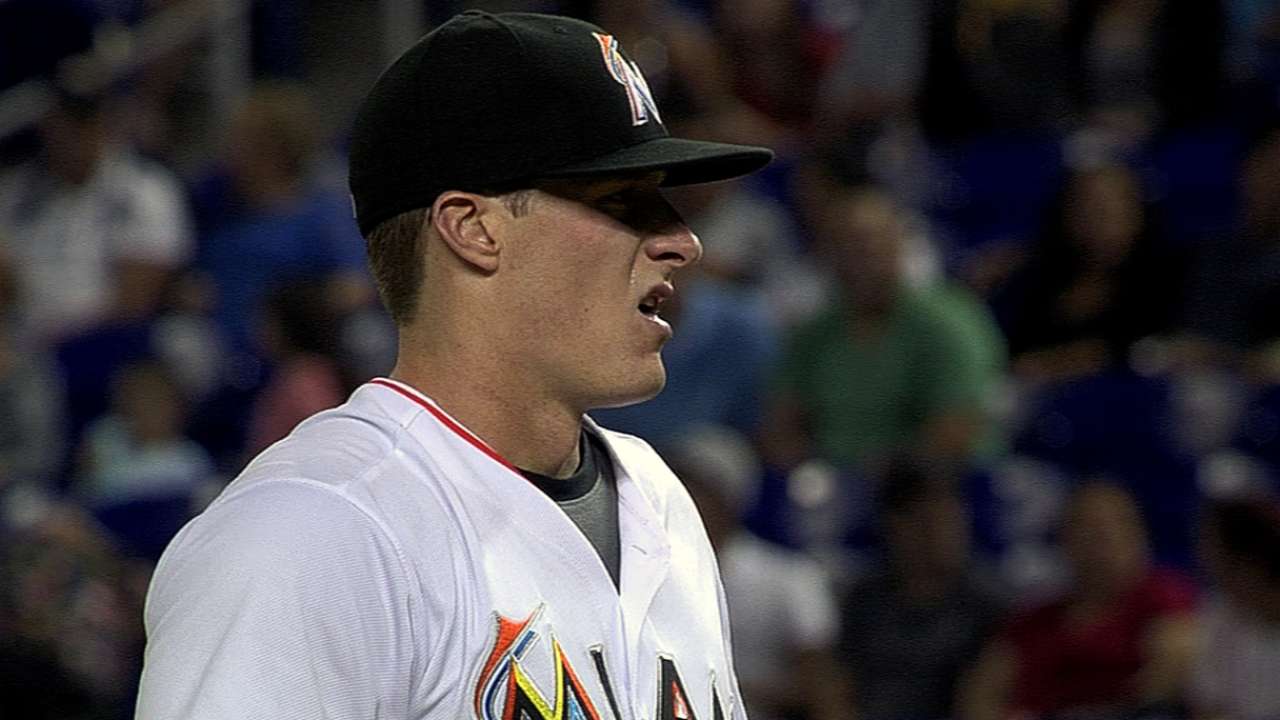 MIAMI -- In many ways, it was a career night for Tom Koehler.
Making his second start since converting from a relief role, the Marlins' right-hander established personal highs on Saturday for innings pitched (six), strikeouts (seven) and pitches. Koehler threw 94 pitches, but it was his first one that was so damaging.
Gerardo Parra homered on the first pitch of the game, and that was all the support Brandon McCarthy needed to lift the D-backs to a 1-0 victory over Miami in front of 18,786 at Marlins Park.
The way things have turned against the Marlins, their latest loss was literally decided by the very first pitch.
"You've got to make a better pitch," Koehler said. "You can't throw a ball down the middle to a guy you know swings at the first pitch. That ended up being the deciding pitch in the game.
"I don't think you could have put it on a tee any better. He swings first pitch. He got exactly what he was looking for, and he took care of it."
The blast set the tone for another setback. Now 11-32, the Marlins are off to their worst start ever through 43 games.
On a night they had stellar pitching, the Marlins once again managed little at the plate. They were shut out for the eighth time, and fourth in the past 11 games. It's also the second time in the stretch they were blanked 1-0, with the other coming at San Diego on May 8.
What hurt about the first-pitch blast is Koehler knew Parra would come out aggressively.
"We've got a scouting report on him, and he's a 40-percent first-pitch swinger," Koehler said. "That's pretty high, especially for a leadoff man. I think he was just coming out of the gate and thinking one pitch, and he got it. Seven out of 10 times, you throw that pitch again, and he's still looking for it, and he may not hit it out. Good for him. He won that one."
The Marlins' losing streak has reached a season-long seven games since Jose Fernandez beat the Dodgers at Dodger Stadium on May 10.
The D-backs secured the series win, and the Marlins are 0-5 on their nine-game homestand.
McCarthy threw a three-hit shutout, striking out five. Two of the hits came in the first inning.
"McCarthy threw the ball well," Marlins manager Mike Redmond said. "I think we had some really good swings on him. We hit some balls hard. We hit some balls really well.
"They had one really good swing to lead off the game with an ambush and that ended up being the difference. It was a good baseball game. The outcome wasn't good for us, but it was a good game. I was happy with the way we swung the bats. I thought guys were aggressive. They got some good pitches to hit. We just can't get on the other end of these tight games."
Parra's homer came on a 94-mph fastball that was supposed to be down and away, but ended up being straight down the middle.
The leadoff homer was the third of Parra's career and second in a week.
Before stepping into the batters' box, Parra spoke briefly with hitting coach Don Baylor, who suggested swinging away.
"I said [to Baylor] before the game, 'What do you got for this guy?' He said, 'You know what G? Just swing first pitch,'" said Parra, riding a seven-game hitting streak. "I said, 'All right, he's got more experience than me.'"
Parra made all the difference in the first inning as he also hurt the Marlins with his arm.
With two outs, Miami pieced together a rally. Derek Dietrich walked and Marcell Ozuna singled to right. The Marlins were primed to score when Chris Coghlan singled to right, and Dietrich was waved home. But Parra made a strong throw and Dietrich was called out on a close play.
"It was a bang-bang play. It could have gone either way," Redmond said. "Tom Koehler did a nice job. He came out and he looked really good. Threw some nice breaking balls. Really, other than that first pitch. You tip your hat to a guy who comes out and swings at the first pitch and hits a home run."
Along with saving a run, Parra's throw enabled McCarthy to settle in.
McCarthy retired 14 straight before Adeiny Hechavarria's two-out single in the sixth.
At a time not much is going right for the Marlins, Koehler noted that the team continues to battle.
"We just have to keep going at it every day," Koehler said. "I really do believe that we're going to turn this around. Nobody has his head hanging low. Everybody is coming in ready to work every day. It's really just one of those things. It's just a matter of time. Hopefully, it's sooner than later."
Joe Frisaro is a reporter for MLB.com. He writes a blog, called The Fish Pond. Follow him on Twitter @JoeFrisaro. This story was not subject to the approval of Major League Baseball or its clubs.