Andrus' five-hit night lights Rangers' fuse
Goes 5-for-5, finishes homer shy of cycle out of leadoff spot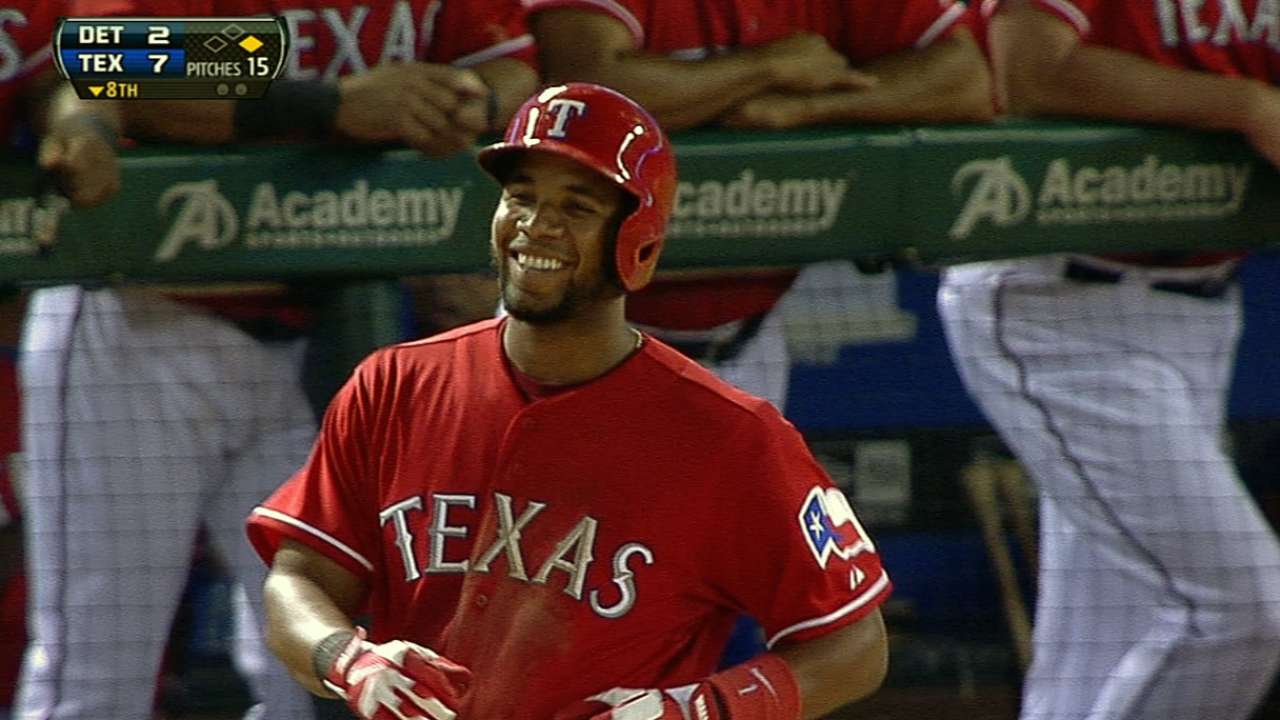 ARLINGTON -- There will be no Wally Pipping in Texas, no matter how many hits Elvis Andrus gets while keeping Ian Kinsler's leadoff spot warm until he recovers from a strained side.
At least that's what Rangers manager Ron Washington is saying now. A few more five-hit games from Andrus and who knows, he might be singing a different tune.
Andrus spent his second straight game hitting leadoff in Kinsler's absence Saturday night and ignited the offense in a 7-2 drilling of the Tigers in front of a sellout throng at Rangers Ballpark in Arlington.
"He was getting hits all over the field," Tigers' manager Jim Leyland said. "They decided to sit Kinsler and Andrus just took over for them."
Andrus had the kind of night leadoff hitters dream about: 5-for-5 at the plate, three runs scored, a couple of stolen bases. He came to the plate to lead off the eighth needing only a home run to hit for the cycle and with Adrian Beltre's admonition ringing in his ears.
"He told me to take three hard swings and try to go yard," Andrus said. He did, and wound up floating his fifth hit, a single, to right.
"I was happy with the base hit," he said.
"He stayed in the big part of the field," Washington said. "When he does that, he's a tremendous hitter."
But when Kinsler returns, he goes back into the leadoff spot and Andrus will drop back into the two-hole.
That said, Andrus' exceptional speed put immediate pressure on the Tigers' defense. He singled in the first, stole second, raced to third when catcher Alex Avila's throw sailed into center and scored on a passed ball.
Andrus tripled in a run and scored in the second, singled in a run and stole second in the third, doubled and scored in the sixth and singled in the eighth.
"I just wanted to keep playing," said the effervescent shortstop. "I didn't want to quit. And tomorrow I want to wake up and go out there and continue what I started today."
For the second time in three games, the Rangers knocked a Tigers ace out of the game in the third inning. On Thursday night, it was 2011 MVP and Cy Young Award winner Justin Verlander. Saturday night, it was Detroit's prized offseason free-agent acquisition Anibal Sanchez, who came in with a 2.05 ERA, seven quality starts and a 17-strikeout game already under his belt this season.
"Knocking him out early was huge," Andrus said. "You cannot give those guys opportunities. In the first game [of the series] and in this one, we really stepped up and took them out."
Meanwhile, Washington was getting the attention of rookie right-hander Justin Grimm in the Texas dugout with not only a pep talk but a playful slap across the face. Grimm had dodged some early bullets but retired 11 of the final 13 hitters he faced and pitched into the seventh inning.
"Wash pulled me over in the dugout and said, 'Hey, trust your stuff, you got it, go at 'em and quit getting behind [in the count]. Then he kind of slapped me in the face and it kind of caught me off guard," Grimm said."It helped, him showing confidence in me, too."
Noted Washington, "Early in the game, he was getting behind hitters. When he went out for the fourth, he started getting the ball down in the zone. He was using all his pitches, fastball, curveball, changeup."
With relievers Jason Frasor, Tanner Scheppers and Joe Nathan all turning in perfect stints, the Tigers didn't have a baserunner after Victor Martinez's one-out double in the sixth.
But the night truly belonged to Andrus, who basked in the afterglow.
"I've been looking for this feeling for a while now," he said.
As for Kinsler, there's no Wally Pip in sight ... at least not yet.
Said Andrus, "I just told him, 'Hurry up and get back.'"
Jim Reeves is a contributor to MLB.com. This story was not subject to the approval of Major League Baseball or its clubs.