Joyce drives relentless Rays with huge game at plate
Double brings in go-ahead run as Tampa Bay rallies for six in ninth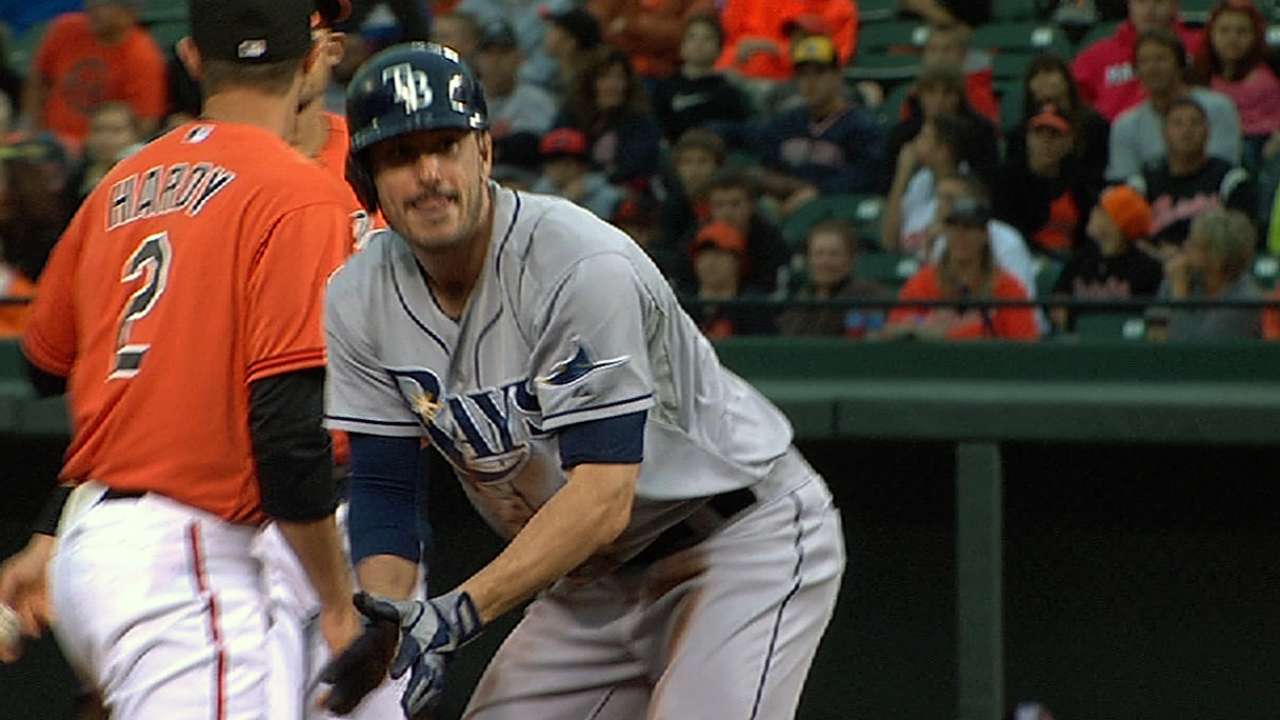 BALTIMORE -- Saturday's late-afternoon affair between the Rays and Orioles had a familiar feel: Team has lead, team blows lead, team loses game.
Happily for the Rays, after experiencing their fair share of blown leads this season, they weren't the team that blew the lead this time around, as they scored six in the ninth to take a 10-6 win at Camden Yards with 34,685 watching.
"We've played that record way too many times already this season," Rays manager Joe Maddon said. "It was nice to have it play in our favor."
Five of the Rays' six runs in the ninth were charged to Jim Johnson, who blew his second consecutive save opportunity en route to taking his fourth loss of the season.
"Their relief pitcher is really good," Maddon said. "I'm sure he's going to be fine. Just whatever's going on in bullpens right now, I have no idea. But I'm really thrilled with our guys, the fight once again."
Kelly Johnson started the ninth-inning rally when he hit a solo home run with one out in the inning. Matt Joyce had the deciding blow when he slashed a two-run double to right to put the Rays ahead, 7-6.
"Things really haven't gone our way in the later innings the first couple of months here," said Joyce, who went 3-for-5 with two doubles and a home run. "And for us to kind of turn it around and do it to another team, who has a really good bullpen, and one of the best closers in the game ... man, it's awesome. It's a real testament to the guys on this team for not giving up and rolling over."
Johnson thought that not getting ahead in the count hurt him most.
"It was not getting that first pitch strike," Johnson said. "You get the first pitch and it changes the whole at-bat. There were some pitches that I just didn't execute."
Rays hitters were not content to sit on a one-run lead, which wasn't surprising considering they have scored a Major League-leading 168 runs in their last 29 games. After Joyce's double, Ben Zobrist followed with a two-run double off Darren O'Day, and Luke Scott later drew a bases-loaded walk for the Rays' final run of the inning.
With the win, Tampa Bay improved its road record to 8-12, while moving to 22-20 on the season and staking their claim to the weekend series with the Orioles.
The positive vibe could be felt in the Rays' clubhouse after they managed to avoid a comeback loss Friday night, and followed with their come-from-behind win Saturday.
"It was definitely good to be on the other side of it," said Evan Longoria, who extended his hitting streak to 12 games with a ninth-inning double. "I mean last night we won the game and really that's all that matters, but walking out of here, it felt like we left something out there.
"It was a weird feeling about the win. You take them any way you can get them. But at the same time, wins like today feel so much different and so much better when you're able to battle back late in the game and overcome a late deficit and win."
Prior to the Rays' ninth-inning rally, the game belonged to Baltimore.
Roberto Hernandez started for the Rays and clearly was not at his best, as the Orioles jumped on the veteran right-hander from the outset.
Nick Markakis doubled home a run in the first to start the scoring. Adam Jones then added a two-run homer and Chris Davis a solo shot to put the Orioles up, 4-0. Tampa Bay answered in the third, when Jose Molina scored on Yunel Escobar's double. Joyce followed with his seventh home run of the season, cutting the lead to 4-3.
When Hernandez hit Davis leading off the Orioles' third, Maddon brought in Cesar Ramos.
"When he hits Davis 0-2, I didn't like that moment," Maddon said. "I thought if we don't get him at that particular moment, there was no chance to win that game tonight. So I felt like we had to do what we did."
Hernandez allowed five earned runs on eight hits, while striking out one in two innings as his ERA swelled to 5.24. His outing was the shortest by a Rays starter this season by 2 2/3 innings.
Ramos allowed the Orioles' final run before Alex Torres pitched four-scoreless innings to claim the win, and Josh Lueke pitched a scoreless ninth. Maddon credited Torres for making the comeback possible.
"Alex Torres -- totally the star of the game," Maddon said. "We did some nice things in the last couple of innings, but it does not happen without Alex. ... So we win the game because he pitches so well. And that's it."
Bill Chastain is a reporter for MLB.com. This story was not subject to the approval of Major League Baseball or its clubs.