O's start fast, but can't hold off late Tampa Bay rally
Back-to-back jacks lead four-run first; Johnson blows save again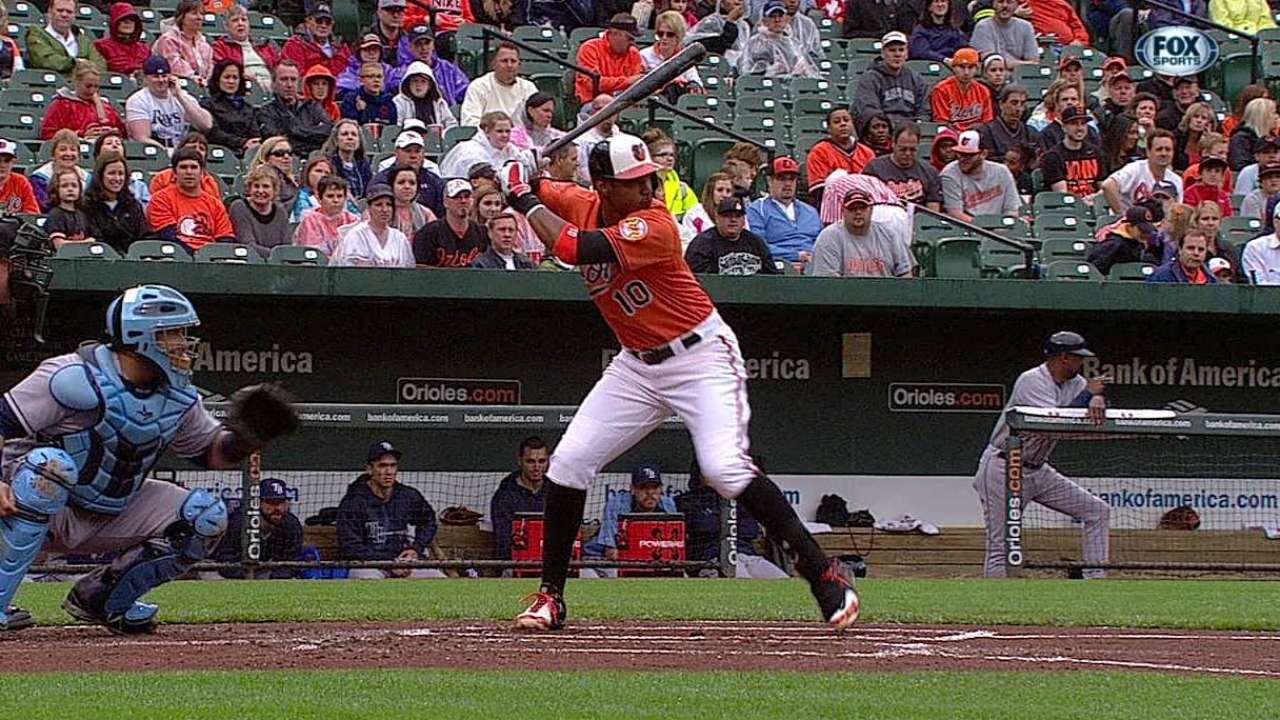 BALTIMORE -- Making his first appearance since snapping a franchise-record 35 consecutive converted saves on Tuesday night, Jim Johnson didn't rebound.
Instead, the Orioles All-Star closer suffered his second consecutive blown save on the heels of a 51-save season in which he blew three all year.
The rock of a fantastic Orioles bullpen, Johnson was replaced by reliever Darren O'Day after Matt Joyce's one-out, two-RBI double, and he was charged with five runs in a six-run ninth inning that got away.
Two outs away from snapping a three-game losing skid, the Orioles instead were dealt a 10-6 loss to Tampa Bay, marking their season-high fourth consecutive defeat. The Orioles, who have lost six of their last eight, are in the midst of their longest losing streak since dropping six in a row from May 26-June 1, 2012.
"We were strong enough to finish out that game," said Johnson, who hadn't pitched since Tuesday's blown save and disagreed that the bullpen's rising innings was starting to take a toll.
"I just blew it. I just [stunk] tonight. We will come back here tomorrow. We are used to this, grind it out. Nothing is easy. All of us need to be a little bit better, myself included."
Tasked to protect a two-run lead, Johnson served up a solo homer to Kelly Johnson on a 3-1 pitch and put the tying run aboard with a one-out walk to Jose Lobaton. He followed that with another free pass to No. 9 batter Yunel Escobar to bring up Desmond Jennings, who dropped a broken bat bloop single into shallow left-field to load the bases. Joyce gave the Rays the lead, delivering his third extra-base hit of the afternoon with a hard liner into right field.
"It was not getting that first-pitch strike," Johnson said, adding that it a completely different outing than Tuesday's blown save. "You get the first pitch and it changes the whole at-bat. There were some pitches that I just didn't execute."
Johnson, who was charged with five earned runs, has posted back-to-back multirun appearances after opening the season with 19 games in which he allowed one run or fewer.
"That's why it's a shock, because you get used to kind of standing on your heels out there in the field while he goes to work," left fielder Nate McLouth said of Johnson, who had a pair of inherited runners score when O'Day entered the game. "It kind of shows you how difficult it is, and you can't take things for granted.
The Orioles, who saw O'Day look uncharacteristically hittable, have taken their offense for granted as of late. Consider this: the O's have collected 42 hits over the past four games, scoring 22 runs over the four-game skid without a win. Their pitching has allowed 33 runs over that span, 22 which have come in back-to-back games against the Rays.
"It's definitely exhausting to put up that many runs and come away with two losses, especially after that series we just came off with San Diego," said first baseman Chris Davis, who went 2-for-4 with a homer. "I think we got the wind taken out of our sails a little bit. [We've got to] rally together and try to get something going."
Added McLouth: "There's plenty of games where we've not produced this year, last year, whenever, where the pitching has picked us up. That's why there are two sides of the ball. We'll keep swinging it and we know we'll be fine."
While Johnson's late-inning struggles highlighted the loss, the bullpen got a big out from Brian Matusz, and Tommy Hunter tossed 2 2/3 scoreless frames to cover for another short start -- this one by Jair Jurrjens.
Jurrjens, the 10th different starter Baltimore has used this year, became the sixth pitcher in seven games to go five or fewer innings, with the relief corps picking up 29 2/3 innings over that seven-game stretch.
"We've been very careful, as you see by the pitching [roster] moves we make, to not put anybody in harm's way, and we won't do that," Orioles manager Buck Showalter said when asked if he thought the bullpen was being leaned on too much. "It's just that right now we're not pitching well. It has nothing to do with some of those other things the last two, three days. There's reality, too."
"We got a lot of trust in these guys. We will figure it out."
Jurrjens, promoted from Triple-A to help a Baltimore rotation hit hard by injury (Wei-Yin Chen and Miguel Gonzalez) and underperformance, allowed four earned runs on six extra-base hits in his Orioles debut, the second-most in organizational history.
"I didn't achieve the innings I wanted to achieve today," Jurrjens said of the 75-pitch performance, in which Showalter went to the 'pen to open the sixth. "I felt like the ball was coming out really good, just one bad inning where I gave up three and the shot in the fifth that hit off Nate McLouth [down the left-field line] was some bad luck. I felt like the ball was coming out of my hand really good."
The O's jumped on Rays starter Roberto Hernandez for four runs in a 36-pitch first inning, and he exited after lasting just two frames to mark the shortest outing by a Rays starter this season. Nick Markakis got things going with an RBI double, scoring McLouth, and Adam Jones and Davis both went deep in an inning in which the Orioles batted around.
Red-hot J.J. Hardy -- who doubled in Davis in the third -- beat out a swinging bunt in his first at-bat to extend his team-high hitting streak to 13 games, and Chris Dickerson followed with a single to bring Rays pitching coach Jim Hickey out to the mound. The Rays, who had bullpen activity in the first inning, pulled the plug on Hernandez after he hit Davis with a pitch to start the third.
The Orioles added to the lead in the fourth off reliever Cesar Ramos, with Jones' fielder's choice groundout driving in McLouth. The O's, who scored six runs in the eighth inning of Friday's loss, loaded the bases on Ramos and had eight of their starting nine reach safely before the fifth.
They will head into Sunday's series finale looking to avoid a second consecutive sweep after going the first 12 series of the season without one.
"Any time you're going through tough stretches, you try to look back to see what was going right when you were winning ballgames. And that's something you never lose, whether it was last year or two years ago," Davis said. "We have guys in here that know how to win. We'll get back to it."
Brittany Ghiroli is a reporter for MLB.com. Read her blog, Britt's Bird Watch, and follow her on Twitter @britt_ghiroli. This story was not subject to the approval of Major League Baseball or its clubs.