Reynolds drives in three including walk-off winner
McAllister tosses 7 1/3 solid frames but Mariners rally to tie in ninth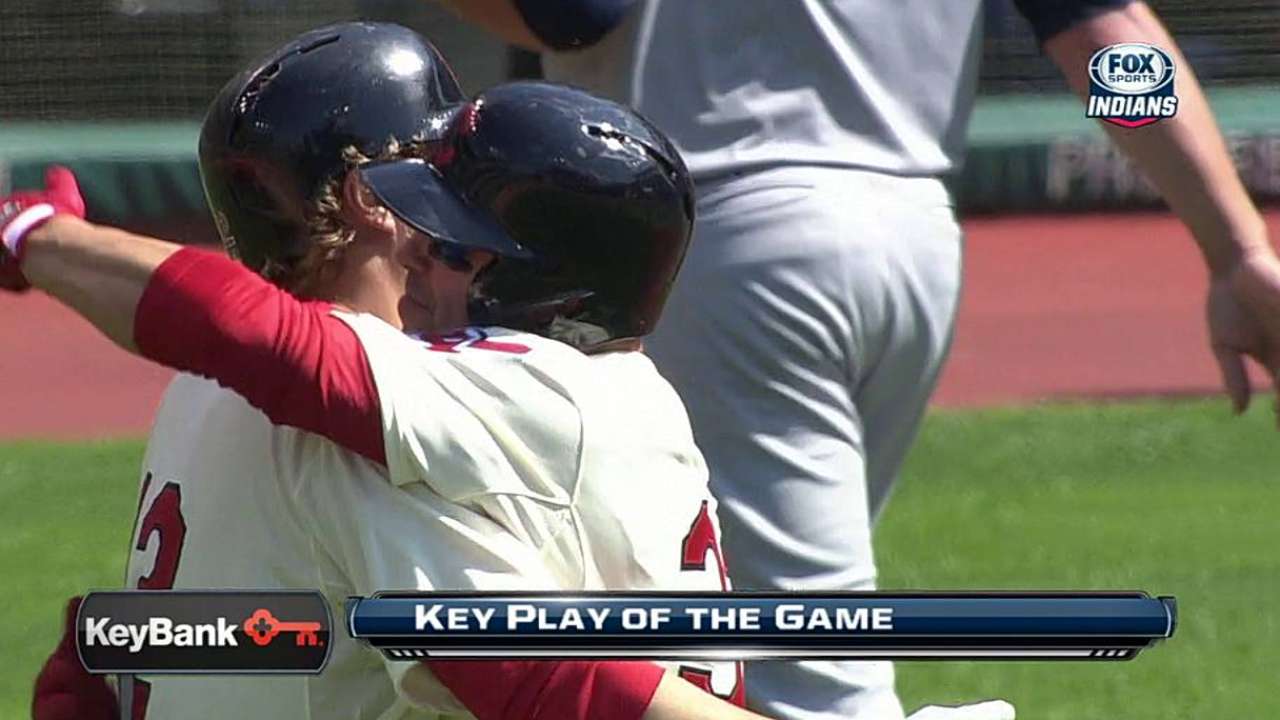 CLEVELAND -- There wasn't much panic in the Tribe dugout after closer Chris Perez blew a two-run lead in the ninth inning of Saturday's afternoon game against Seattle.
In their half of the ninth, the Indians loaded the bases for Mark Reynolds, who had already driven in two runs. He added another RBI to the column with a grounder to shortstop. Brendan Ryan went home with the ball, but home-plate umpire Mike Winters ruled Jason Kipnis safe after deciding that catcher Jesus Montero didn't have a foot on the plate for the forceout.
Just like that, Cleveland won its third straight, 5-4. As they've made a habit of doing, the Indians relied on a complete effort in beating Seattle to improve their record to 19-7 over the past 26 games. The Tribe sits atop the American League Central at 24-17, holding a half-game lead over the Tigers, scheduled to play a night game in Texas on Saturday.
"Very uneventful walk-off," Reynolds said about his game-winner. "I was like, 'Please get through.' Then I was like, 'Please make a bad throw.' Then I was like, 'Please beat it out.'
"But it all worked out."
Reynolds finished the game carrying a 2-for-5 line with three RBIs. In the first inning, he poked an opposite-field single through the right side to plate a two-out run. Then, in the fifth, he lifted a ball over the left-field fence for his 12th home run, putting him at the top of the American League leaderboard in a tie with the Yankees' Robinson Cano.
The deep ball looked a lot like the one Nick Swisher hit in the previous at-bat. Swisher sure seemed to think his was gone, too, but the wind knocked it down and it fell into the glove of Raul Ibanez.
"If anyone asks me for my most embarrassing moment, I now have one," Swisher said after the game.
"I heard the dugout was all over him," Reynolds said with a laugh.
The tale of two fly balls to left caught the attention of Indians manager Terry Francona, who has plenty of respect for what Reynolds can do in the batter's box.
"He's dangerous," Francona said. "He just takes as many good swings as he can, and he does damage on a lot of them."
Reynolds' homer was his first since May 9. He'd actually struggled a bit lately, having posted a .152 average in the 11 games before Saturday's win.
The victory gives Cleveland a 16-4 record over the previous 20 games. That's the finest 20-game mark in baseball and the best for the Indians since August 2008.
Tribe starter Zach McAllister posted another solid outing. His stuff was more useful than nasty. The Mariners put the ball in play often, but the righty's defense backed him up. In 7 1/3 innings, he gave up two runs on six hits. He walked one and struck out one.
"He pitched to contact," Francona said. "He pitched very well, and he's been that pitcher for us. For a young kid, he's very reliable, and he's getting better, and it's exciting."
The Indians added on in the sixth inning. One run scored on Michael Bourn's fielder's choice. Another came home on Kipnis' flare to left field.
That led to Mariners starter Joe Saunders' exit. He lasted 5 1/3 innings, and all four of his runs were earned. He gave up 11 hits to go along with two strikeouts and two walks.
A two-run homer by Seattle's Brendan Ryan in the eighth forced McAllister's exit. The Cleveland right-hander saw his ERA fall slightly to 2.65.
With Perez in to pitch the ninth inning, the Mariners tied the game on back-to-back home runs by Ibanez and Justin Smoak. Perez blew the save but got the win.
"The one that Ibanez hit was a mistake. I didn't think the one to Smoak was that bad of a pitch," Perez said. "Obviously, it had to be, if he hit a home run.
"If you're going to blow one, you hope to pick a day when they're going to pick you up. I felt terrible about blowing Mac's performance, pitching into the eighth the way he did. To blow it for him, and then me getting the stupid win, that doesn't feel good."
Reynolds played a pivotal role in the team effort that redeemed Perez. He said the guys were unfazed by the closer's missteps.
Asked to describe the team's feeling after the homers, he said, "It's baseball, man. Oh well, let's go win it in the ninth."
Mark Emery is an associate reporter for MLB.com. This story was not subject to the approval of Major League Baseball or its clubs.