Mariners hit three homers but fall on walk-off
Ryan, Ibanez, Smoak hit late home runs but Tribe wins in ninth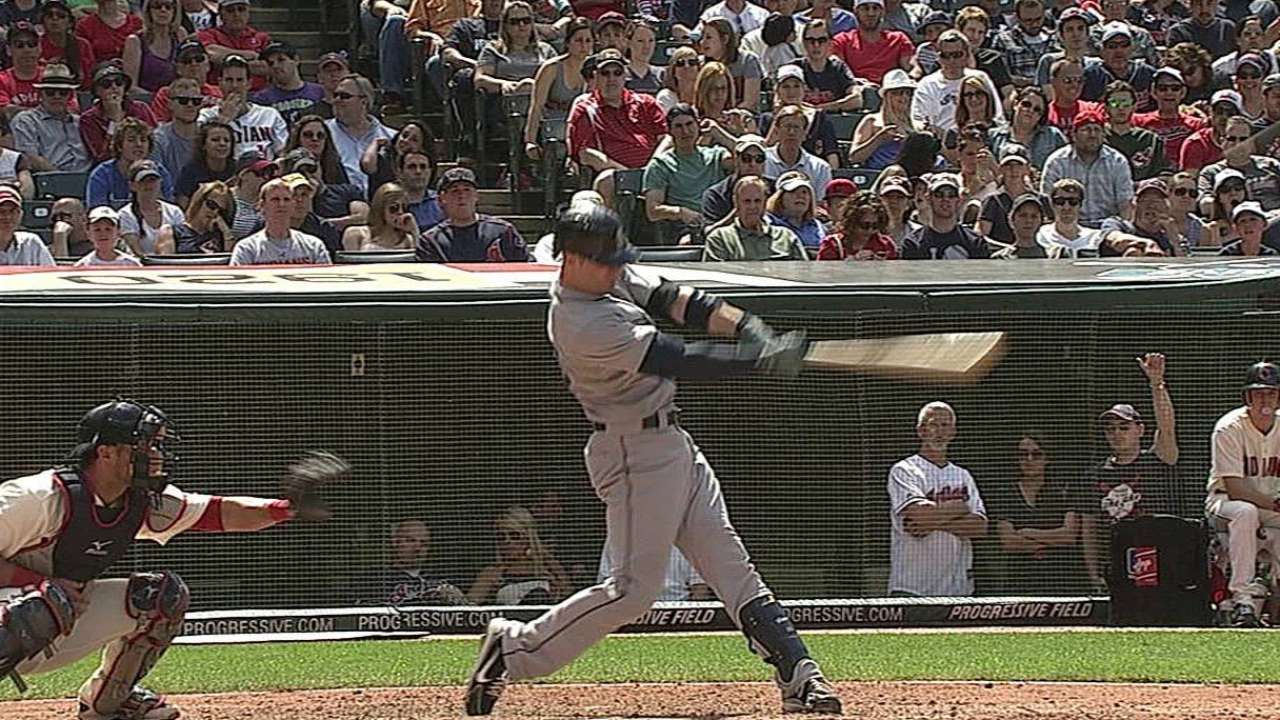 CLEVELAND -- Veteran left-hander Joe Saunders had a suggestion for his own road woes, but perhaps it could apply to his entire Mariners team as well when it comes to playing at Progressive Field.
"I'm going to sacrifice live chickens before my next road start," Saunders quipped Saturday when the Indians pulled out a 5-4 win the bottom of the ninth after Seattle had come from four down to tie the game in the final two frames.
It was the second straight walk-off defeat for the Mariners, who seem to have made a habit of either late-inning losses or weird weather situations over the years at Cleveland.
This one hurt a little extra because the Mariners had come back from a four-run deficit to tie the game with a two-run home run by Brendan Ryan in the eighth and then solo shots by Raul Ibanez and Justin Smoak off closer Chris Perez in the ninth.
But that merely set the table for the Indians, with Mark Reynolds driving in the winning run with a bases-loaded infield single in the bottom of the ninth.
The Indians filled the bases with no outs against reliever Oliver Perez before Reynolds hit a ground ball against Yoervis Medina to score Jason Kipnis from third. Ryan fielded the ball with a diving stop and threw home, but catcher Jesus Montero's foot came off the plate as Kipnis slid in safely.
"I was on the ground on my knee just trying to get something over to Monte and keep it on line," Ryan said. "If I keep it on line, who knows? We're still in a tough spot there, but it would have been nice to see if we could get a ground ball there or something and see what happens."
Montero said he just couldn't keep his foot on the plate since the throw was slightly wide to his right.
"It was unbelievable because Ryan caught the ball with a diving catch," he said. "I tried to touch the plate, but the throw was so far. ... We usually block the plate, but at the moment, I was thinking just catch the ball and touch the plate, but the ball was a little far."
The Indians were happy to survive this one, earning their fourth walk-off win of the year as they improved their American League Central-leading record to 24-17, thanks in part to an 11-3 record in one-run games.
"Very uneventful walk-off," Reynolds said of his game-winner. "I was like, 'Please get through.' Then I was like, 'Please make a bad throw.' Then I was like, 'Please beat it out.' But it all worked out."
The Mariners' late rally took Saunders off the hook after he'd given up four runs and 11 hits in 5 1/3 innings and appeared headed for his fifth straight road loss.
The veteran lefty has been the tale of two starters this season, going 3-0 with a 0.94 ERA in four starts at Safeco Field, but 0-4 with an 11.25 ERA in five road games. He'd failed to go beyond five innings in any of his previous road starts, allowing 26 runs and 36 hits with 11 walks and five strikeouts in 18 2/3 innings at Oakland, Texas, Houston and Toronto.
It doesn't make sense for Saunders, given he was 41-31 on the road in his career before this season and his road ERA was more than a half-point lower than his home number. So Saturday's work was at least a small step in the right direction, even though he remains 3-4 with a 5.64 ERA.
"I threw some good pitches," Saunders said. "They made some good swings on some good pitches. We didn't get the breaks again. But I battled my butt off. I tried to keep us in the game as much as I could. I told [manager Eric Wedge] after the fifth, I'll go 150 pitches if I have to. I knew they used a lot of pitchers the last night, and it was just a matter of me trying to eat innings and keep us in the game."
The Indians got to Saunders for a run in the first on an RBI single by Reynolds, and the third baseman followed with a solo home run in the fifth that made it 2-0. In between, Saunders stranded eight runners and continually worked out of trouble.
He avoided bigger problems in the fifth when Nick Swisher launched a deep drive to left that appeared headed into the seats, but was knocked down by the wind and caught by Ibanez at the wall. Asdrubal Cabrera also thought the ball was headed out, as he was doubled up off first on the play, which left the bases empty when Reynolds followed with his blast over the left-field wall.
But Cleveland pushed across two more runs in the sixth as Saunders' pitch count climbed to a season high 120, before Wedge summoned rookie Danny Farquhar for his Mariners debut.
Farquhar stranded Saunders' two runners and wound up pitching 2 2/3 scoreless innings with five strikeouts.
The offense didn't provide any support until the eighth when Ryan launched his two-run home run, his first of the year, following a Smoak double. Then Ibanez hit his sixth home run over his past seven games, putting him at eight for the season, and Smoak evened the score with his second jack of the year.
"It felt good to tie it up," Smoak said. "We'd been battling all day. Raul kept doing what he's been doing, and I was trying to do anything I could to get on base right there. I got one pretty good."
Ryan was 2-for-3, extending his hitting streak to a season-high five games. The veteran shortstop is 8-for-18 (.444) during that stretch to raise his batting average from .122 to .178. Smoak also went 2-for-3 and is hitting .254.
Greg Johns is a reporter for MLB.com. Follow him on Twitter @GregJohnsMLB as well as his Mariners Musings blog. This story was not subject to the approval of Major League Baseball or its clubs.