Shutout with clout: Reds stage rout in Philly
Masterful Arroyo backed by Hanigan's big fly; Votto reaches six times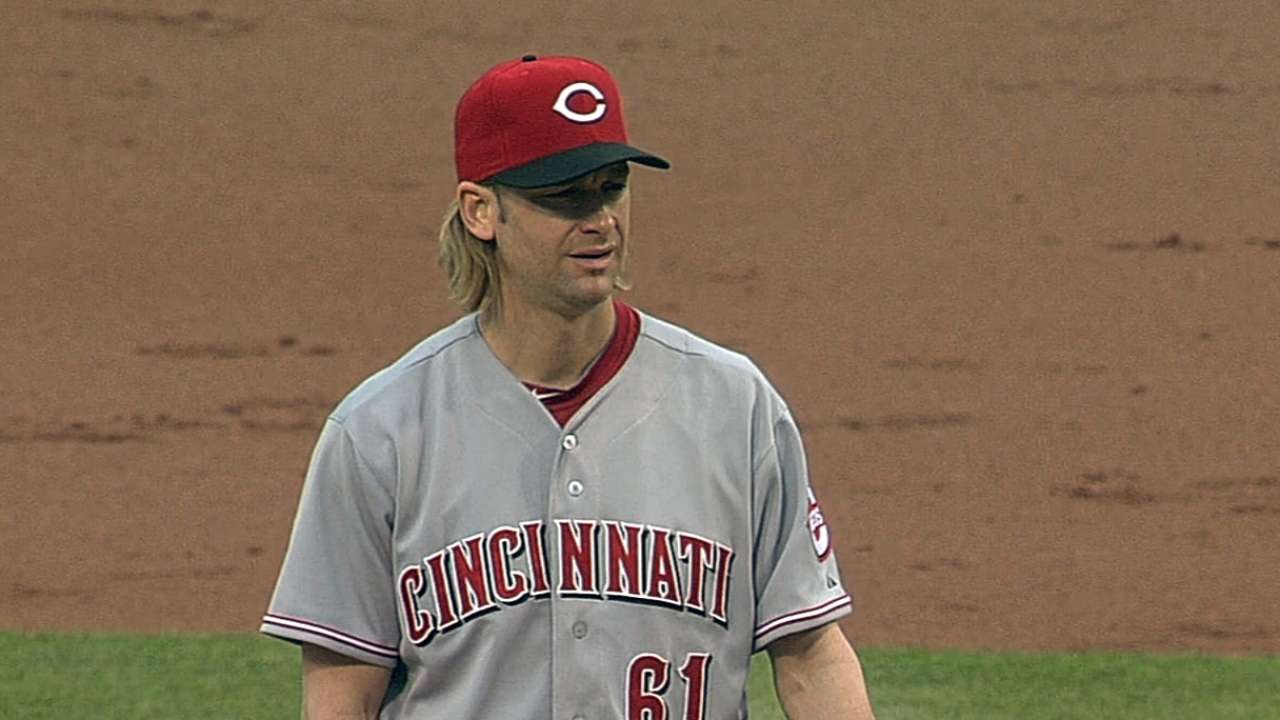 PHILADELPHIA -- Perhaps Saturday was a day for several Reds to bury some unflattering narratives.
Bronson Arroyo and the team got past their bad track record in Philadelphia. Ryan Hanigan kicked more dirt over the struggles he endured the first month of his season. And Joey Votto continued to refute any suggestions his power might still be sapped from last season's knee surgery.
Add it all up, and the Reds had a decisive 10-0 win over the Phillies.
"Everything worked today," said Arroyo, who scattered five hits without a walk over 7 2/3 innings with six strikeouts. "I didn't think anything was outstanding, but everything collectively was a good mix against this lineup. It's been so tough for us to win over the years in this ballpark, it's nice to nail one down with good run support and keeping them off balance all night."
The Reds, who have taken four of five games from the Phillies this season, are now 12-23 at Citizens Bank Park since 2004. Arroyo entered the day with a 9.60 ERA in three starts there over his career and with a 6.00 ERA lifetime against Philadelphia. But he's now won his last three starts against the Phillies, including two this season.
Arroyo threw first-pitch strikes to 22 of his 29 batters faced. Philadelphia reached second base only once in the first seven innings. It was Domonic Brown, who doubled to right field in the second inning before being thrown out at third base attempting to stretch for a triple. His overall record is now at 4-4 with a 3.28 ERA after nine starts.
"Guys always pitch tough when they're one game under .500," Reds manager Dusty Baker said. "Bronson hadn't been the recipient of a lot of runs, but he was today. He pitched masterfully."
After a two-out single by Jimmy Rollins in the third inning, Arroyo retired 12 of the next 13 batters. In the Phillies' sixth inning, he retired the top third of the lineup in order using just six pitches.
"We used to hit Arroyo, if you remember," Phillies manager Charlie Manuel said. "Then the last three times he's pitched against us he's pitched the same kind of game. He pitches backwards. He threw us a lot of slow hooks, a lot of changeups and spotted fastballs. And the last three times he's pitched against us he's given us fits. We've had a hard time handling him."
In the top of the second, after the first two batters singled, Hanigan took Kyle Kendrick's 1-1 pitch and pulled it to left field for a three-run homer and a 3-0 lead.
Hanigan, who last homered on July 6, 2012, at San Diego, has hit safely in four of his five games (6-for-16) since returning from the disabled list. His overall average may only be .164, but he was batting .079 before going on the DL with a sore right thumb and strained left oblique.
"He got his hand right. Guys love throwing to him," Baker said of the catcher. "You take for granted your hands and your feet. The feet are your foundation, but your hands finish your swing. He didn't have that finish to his swing. We had to force him to go on the DL because he wasn't doing himself any favors, and we wanted him to get back and help us."
Cincinnati could have had an even bigger rout, going just 5-for-19 with runners in scoring position and stranding 12 on base. Rallies came up empty with a runner in scoring position and less than two outs in the first, third, fifth and seventh innings. Leading off in the sixth, Hanigan was grazed on the helmet by a high fastball and advanced on Arroyo's sacrifice. With two outs, Zack Cozart lined an RBI double down the right-field line to make it 4-0.
"We left a lot of runners out there," Baker said. "We certainly scored a lot of runs, but we have to get better at that because you end up keeping them in the game. It puts a lot of pressure on your pitching staff."
That pressure was lifted by the late innings as the Reds scored four runs in the eighth. Two more runs came in the ninth on Votto's 418-foot two-run homer to center field off of reliever Chad Durbin. Votto ended the game 4-for-4 and reached base a career-best six times.
In April, some wondered about Votto's production, as he batted .291 with four homers and 11 RBIs in the month. He missed 48 games last season to have left knee surgery and finished the final month after his return without a homer.
"My swing feels quite a bit better," Votto said. "It feels quicker and more direct to the ball, and combining that with being able to see the ball as deep as possible, it's usually when I am at my best."
This month, Votto is hitting .441 (26-for-59) with nine RBIs, and his two homers have come in the last two days. On Saturday, he surpassed teammate Shin-Soo Choo for the Major League lead with a .473 on-base percentage.
"I took several good swings in Philadelphia," Votto said. "I was missing quite a bit before that, hitting the ball to the opposite-field line. I wasn't able to be as direct as I'd like to be. I've had a few really good swings. Hopefully that's a trend headed in the right direction for me."
Baker never expected anything less from Votto.
"Joey is going to have those streaks because he demands perfection and has been working hard to get to this point," he said. "When he's right, Joey Votto is one of the best there is."
Mark Sheldon is a reporter for MLB.com. Read his blog, Mark My Word, and follow him on Twitter @m_sheldon. This story was not subject to the approval of Major League Baseball or its clubs.