Phillies lose momentum in shutout by Reds
Kendrick, bullpen combine to allow 10 runs; club blanked for sixth time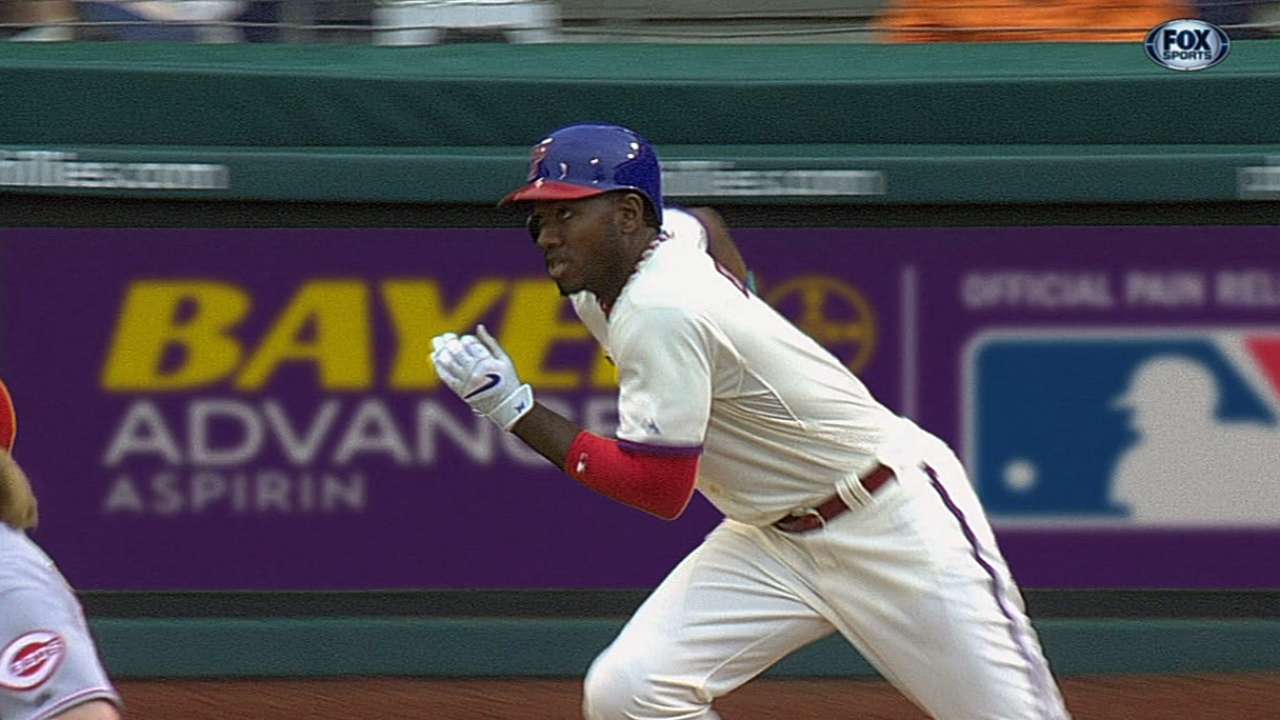 PHILADELPHIA -- Charlie Manuel said he knows games like the Phillies had Saturday can have a snowball effect.
Nothing went right, as Philadelphia was shut out for the sixth time this season and fell to the Cincinnati Reds, 10-0, at Citizens Bank Park. The loss knocked the Phillies three games under .500 and kept them from building on a streak of four wins in their last five games.
"You can get down if you're not careful. That's what you don't want," the Phillies' manager said. "You've got to stay together. You've got to keep plugging at it. You've got to grind it out. Actually, that's how you build heart and strength about your team. That's how you become a team."
The Phillies were fresh off a win on Friday, in which they scored the go-ahead run in the eighth inning, but they lost that momentum rather quickly.
Joey Votto homered and reached base safely six times as the Reds pounded out 16 hits. Meanwhile, the Phillies, who have not won more than three games in a row at any point this season, failed to get a runner in scoring position until the eighth inning.
"We're in that period right now where we start doubting ourselves instead of just keep firing," Manuel said. "You stay aggressive and keep working on trying to find a good ball to hit and not try to overdo it. Just stay within yourself and do something. Just try to score one run. Do something. Just keep going. Never get down. Play 27 outs."
In a game in which Phillies starter Kyle Kendrick allowed more than two runs for just the second time this season, their offense mustered just six hits, while their bullpen allowed six runs.
While Kendrick -- who gave up four runs, eight hits and four walks in six innings -- had his worst start in more than a month, the woes are nothing new for the Phillies' offense or bullpen.
The Phillies' six shutouts in 43 games this season ties their mark for the entire 2012 campaign, and they have now scored two or fewer runs in 17 contests, which is third-worst in the Major Leagues.
After Kendrick was pulled, the Phillies' bullpen took a manageable game and turned it into a blowout. In the final two innings, the combination of relievers B.J. Rosenberg, Phillippe Aumont and Chad Durbin combined to allow six runs.
Inherited runners have been a problem for Phillies relievers all season, and Saturday was no exception. After Rosenberg loaded the bases in the eighth inning, all three runners eventually crossed the plate. The Phillies' bullpen has let 24 of 52 inherited runners score (48 percent), a mark that is the worst in the Majors.
Durbin, whose ERA rose to 8.10 on Saturday, said he thinks relievers need to get ahead in the count more in order to keep the damage from increasing.
"We get 1-0, 2-0 and then we have to throw the ball over the plate, then all the pressure is on us," Durbin said. "Success I had in the past has been from getting ahead with an offspeed pitch or a well-placed fastball to put the pressure on them."
Bronson Arroyo hurled 7 2/3 masterful innings for Cincinnati, and Domonic Brown was the only Phillies player to have a multi-hit afternoon.
Reds catcher Ryan Hanigan opened the scoring with a three-run homer in the second inning. Hanigan entered the game with just a .154 batting average, but was 3-for-4 lifetime against Kendrick. The Phillies starter allowed multiple baserunners in five of his six frames and put the leadoff batter on base in each of those five innings.
"I think I kept it close for us, but with the way [Arroyo] was pitching, it wasn't close enough, obviously," Kendrick said. "I just tried to do the best I could, it was one of those days. I left a pitch up to Hanigan that I put over the plate."
While the Phillies surrendered at least 10 runs for the Major League-leading sixth time this season, they also have not scored double-digit runs this season.
"I don't care what the score is. You stay together and you keep fighting," Manuel said. "And that's what you've got to do. But if you don't, well, that's kind of sending a message of what kind of player that you are. That's how I look at it. Like I said, I played for 20 years. I've been on a lot of teams. Your character is revealed. They say the game builds character. I don't know about building, but it'll definitely reveal your character."
Stephen Pianovich is an associate reporter for MLB.com. This story was not subject to the approval of Major League Baseball or its clubs.