Cano's two homers help Yanks take care of Jays
Slugger's big game backs Phelps, who hurls career-best seven innings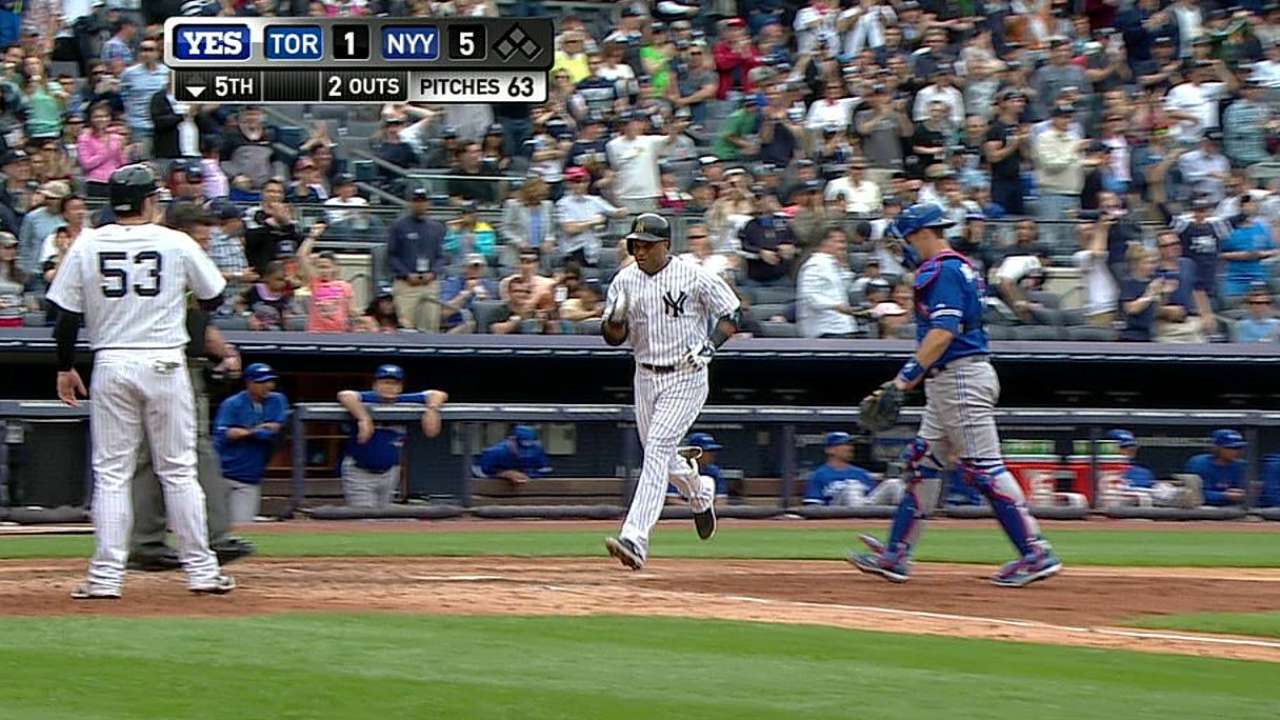 NEW YORK -- Every day, the spotlight that follows the Yankees seems to be trained on the players who aren't with the team. But that changed Saturday, when Robinson Cano, the lone regular in an infield decimated by injuries, hit two home runs to lead New York to a 7-2 win over Toronto.
Cano, the only Yankees hitter this season to have a multihomer game, went deep twice off Toronto starter Brandon Morrow, accounting for four of New York's seven runs. Cano, a quarter of the way into the season, leads the Yankees in batting average (.295), home runs (12) and RBIs (31).
And while that production may not be surprising, the circumstances might qualify as a shock. Established stars like Mark Teixeira, Derek Jeter and Alex Rodriguez have yet to play a game this season, but Cano is batting .362 (34-for-94) with seven home runs as New York's No. 2 hitter.
"I'm glad that's not a moving part," said manager Joe Girardi. "Robbie's so important to us. Offensively, defensively, his presence in the lineup. He's not someone you can replace."
Cano also posted a multihomer game on April 8, and he's about a month ahead of the torrid pace he set last season. New York's second baseman set a personal best with 33 home runs last year, but he didn't hit No. 12 until June 17, when the Yankees were playing their 65th game of the season.
The Yankees used Cano as a No. 3 or cleanup hitter most of the time last season, but he's moved up higher in the batting order as a reaction to the team's patchwork lineup. Cano is batting .320 (49-for-153) in his last 37 games, and he leads the team in runs scored (25) and extra-base hits (23).
"Any place you put him, he's going to be successful. You can move him around," said Girardi. "He's done a nice job adjusting to the two-hole for us. He's got 31 RBIs, and he's hit second a lot for us. It doesn't really matter where he hits. He's going to get his numbers. And that really helps us out that he has that versatility. ... He makes everyone better around him. That's the type of player he is."
The first two innings passed uneventfully, and Cano helped give the Yankees a three-run edge in the third. Leadoff man Brett Gardner drove in the game's first run with a two-out single to center field, and Cano drove Morrow's very next pitch over the fence in right field.
Toronto (17-26) scored an isolated run in the fourth inning on a hit by Colby Rasmus, but Cano put the Yankees up by four runs an inning later. The four-time All-Star came up with one man on and two outs in the fifth, and he drove a Morrow pitch into the Yankees' bullpen in right-center field.
"That one, I think, was a slider," said Cano. "I chased two of them. ... He left one over the plate, and that's what you want. When they hang one over the plate, you want to be able to take advantage."
The Yankees (27-16) have taken two straight games from the Blue Jays, and starting pitcher David Phelps helped support Cano's star-turn. Phelps completed a career-best seven innings and allowed six hits, and he got Toronto to strand three key baserunners in scoring position.
For Phelps, one of the game's big moments came in the first inning. Phelps walked two batters and struck out two batters in the first, and he ended the inning with a pickoff at second base.
"The pickoff in the first was huge. I was able to settle down after that," said Phelps, who had eight strikeouts. "It was really good today where I'm able to throw backdoor to lefties and down and away to righties. ... I didn't have a great curveball and there weren't a lot of counts where you could throw a changeup today. We had to battle with what we had, and the slider ended up being really good."
The Blue Jays got a run on an Edwin Encarnacion homer in the top of the eighth inning, and designated hitter Travis Hafner answered with a two-run homer in the bottom half. Hafner had missed the previous five games due to inflammation in his right shoulder, and the homer provided a positive omen for New York.
"I thought he looked really good," said Girardi. "The first ball, he hit a bullet up the middle. He hit a homer foul. You can see there's a difference. The last couple weeks, he's been playing with a soreness in there. It just didn't seem to be the same lift. But it's back."
Cano, the rock of the Yankees' lineup, now has 12 career multihomer games, and he's providing the star power for an infield that includes journeyman shortstop Jayson Nix and rookie third baseman David Adams. Cano, a quiet player who prefers to guide by example, was asked Saturday if he's taken on more of a leadership role in recent weeks, and he answered simply and honestly.
"That's the kind of thing that's not in my mind right now," he said. "I just go out there and play the game. I want to be playing every day, and I just want to be able to help this team win games."
Spencer Fordin is a reporter for MLB.com. This story was not subject to the approval of Major League Baseball or its clubs.