Blue Jays fall to Yanks in Morrow's return to mound
Club loses its ninth straight game in the Bronx dating back to last year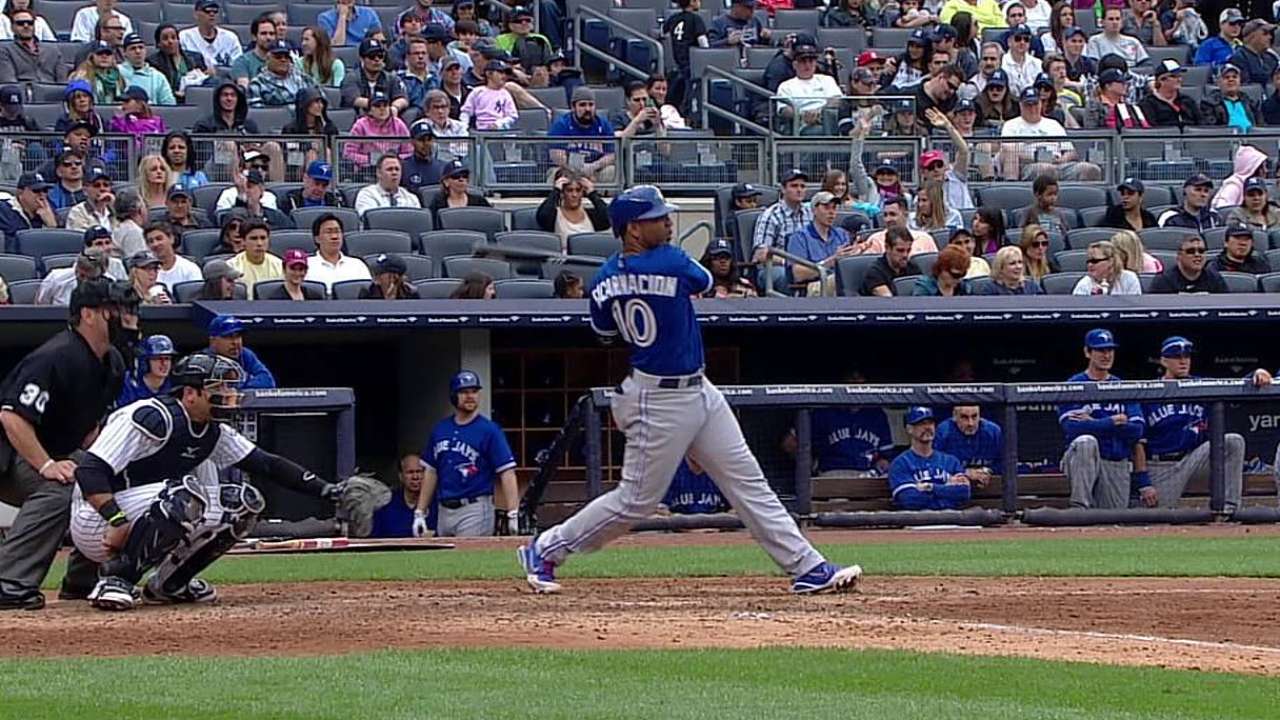 NEW YORK -- Brandon Morrow made his return to the mound on Saturday afternoon, but all it took was a pair of pitches and a poor decision on the mound to ensure it wasn't a triumphant one.
Toronto's No. 2 starter pitched better than his final line would indicate, but that seemed to matter little following a pair of home runs by Yankees slugger Robinson Cano.
Morrow was tagged for five runs over five innings, while the Blue Jays' lineup was unable to capitalize on a series of opportunities in a 7-2 loss to New York in front of 45,577 fans at Yankee Stadium.
"I felt like I threw a lot better than what the scoreboard indicated," Morrow said. "Just the New York Robinson Canos got me and he was the whole ballgame."
Morrow was making his first start since May 5 after being scratched twice in the past week because of soreness in his upper back and neck. Despite the extended layoff, there weren't any signs of rust early on, but that soon changed.
Morrow allowed a leadoff single to Jayson Nix in the third before making a questionable decision that would soon backfire. Morrow knocked down a hard ground ball off the bat of David Adams and appeared to have plenty of time to throw out Nix at second and possibly even start a double play.
Morrow glanced at second but opted not to make the throw and instead went to first base for the sure out. Two batters later, that proved to be a mistake as outfielder Brett Gardner hit an RBI single to center with two outs. During the very next at-bat, Cano made it 3-0 for the Yankees with a two-run homer to right.
"Yeah, just because I dropped it," Morrow said, when asked if he was simply looking for the guaranteed out. "My first thought was then first base, and out of the corner of my eye I saw that he was probably still far enough away to get him at second, but you get crossed up kind of mentally I guess when you drop the ball like that. So my first instinct was first base."
Cano caused more problems for Morrow in the fifth during a very tough at-bat. He worked the count to 2-2 before fouling off a pair of pitches and then crushing a ball into the Yankees' bullpen in right-center field for his second two-run shot of the day. That gave Cano 12 homers on the season and marked his second multihomer game of the year.
Morrow was pulled after the inning and was charged with five runs on seven hits. He threw 50 of his 75 pitches for strikes but struck out just one batter in his return to the mound. That performance resulted in his ERA rising to 5.16, while his record dropped to 1-3.
"The fact that Cano burned him twice, he was a key guy right there," Blue Jays manager John Gibbons said. "I thought [Morrow] threw the ball really well, he really did. And then, of course, a couple of big home runs. But that's a good sign, he looked healthy. He shouldn't have any more thoughts about that, I don't think."
Toronto's offense had plenty of opportunities to score against Yankees right-hander David Phelps, but for the most part was unable to deliver. The Blue Jays did score one in the fourth on an RBI single by Colby Rasmus, but that was the only Toronto hit all afternoon with runners in scoring position.
The Blue Jays had a pair of runners on in the first and third but came away empty handed both times. In total, the club managed to go just 1-for-9 with runners in scoring position while stranding seven baserunners. Edwin Encarnacion's 12th homer of the season in the eighth off David Robertson was one of the lone bright spots.
The club's offensive woes seemingly have returned after it looked as if the slumps were coming to an end during the month of May. The Blue Jays have scored a total of two runs over the past two games despite having scored 68 in their previous 11, which ranked second in the Majors.
"If you score two runs in two games, you're not going to win too many games," Gibbons said. "Phelps did a nice job and kept us off balance."
Toronto has now tied a franchise record with nine consecutive losses in New York dating back to last season. The Blue Jays are 11-31 (.262) all time at the new Yankee Stadium, which is the worst record for any Major League team at any current stadium with a minimum of 30 games played.
"The numbers speak for themselves," Gibbons said. "No doubt, nine in a row, six while I've been here. Yankee Stadium is always a tough place to play, regardless. They've taken it to us pretty good here."
Gregor Chisholm is a reporter for MLB.com. Read his blog, North of the Border, and follow him on Twitter @gregorMLB. This story was not subject to the approval of Major League Baseball or its clubs.