Mets struggles continue in games started by Hefner
Team falls to 0-8 in games started by young right-hander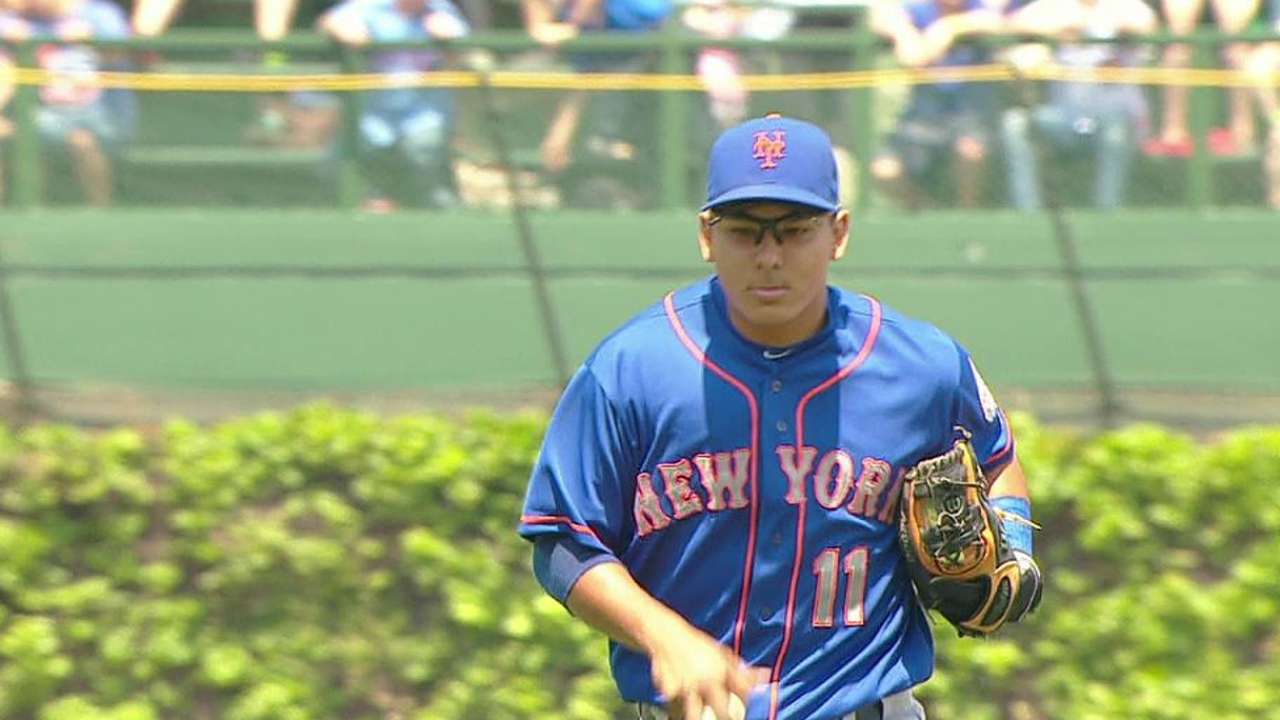 CHICAGO -- Whether or not it's his fault, good things do not happen for the Mets when Jeremy Hefner starts.
With a discouraging 8-2 loss to the Cubs on Saturday at Wrigley Field, New York dropped to 0-8 this year in Hefner's outings, as the right-hander himself fell to 0-5.
"I wouldn't say it's weighing on me, but I want to win," Hefner said. "I want the team to win. Obviously, I didn't do that today. So I've got to make some adjustments and be better in the next one."
New York is 7-14 in his 21 career starts, but has offered Hefner just 13 runs of support in 45 innings this year. The Mets missed an opportunity to win their third straight game on Saturday, which would have matched their season best.
"You can only control pitching," Mets manager Terry Collins said of Hefner's winless campaign. "You can only control keeping us in games. But he's kept us in games. Hey, if the wins don't come, you've just got to keep pitching. You've got to grind it out."
The Cubs had only two more hits than the Mets, but turned them into a six-run advantage. New York stranded four men in scoring position in the first two innings alone, and were stymied by Cubs starter Scott Feldman, who earned his fourth win in five starts. The righty has now allowed just one earned run over his last three starts, spanning 19 2/3 innings.
"I got myself into some trouble in the first couple innings, but was able to right the ship at the right time and make a pitch when I needed to," Feldman said. "After those first couple innings, guys were running down those balls in the outfield and making plays."
No Mets hitters' offensive struggles are more conspicuous than those of cleanup man Ike Davis, who saw his batting average drop to .156 after an 0-for-4 afternoon.
"He had some better at-bats," Collins said of Davis' recent string of games against right-handed starters. "In St. Louis, especially, I thought the last game ... he swung the bat better. Today, [he hit] a couple balls off the end [of the bat]. But when you don't get hits, it's pretty tough to say he's had a successful week.
"But has he made strides? Yeah, I think he has. But we've gotta have some hits."
Davis has just one hit (a single in Friday's 3-2 win) since May 10, and has just one extra-base hit and one RBI this month. He endured a similar slow start last season, before taking off in June. He spoke with general manager Sandy Alderson on Saturday, and Alderson assured Davis that no demotion was imminent.
"It's not going to be like a three-game tryout. I probably have a month or whatever to figure it out, and then they've got to do what they've got to do," Davis said of his conversation with Alderson. "It's not a day-to-day thing. As long as I keep having good at-bats, and start performing better, [a demotion] won't happen."
Rick Ankiel hit a two-run homer in the ninth to help New York avert a shutout.
The Mets had baserunners in five of the first seven innings, but failed to score. Chicago broke through with a four-run fourth, which would prove to be Hefner's last of the day. He scattered five hits over four frames, walking two and striking out three.
Hefner gave up a single to Anthony Rizzo, hit Alfonso Soriano and gave up a single to Nate Schierholtz to load the bases with no outs in the fourth. Luis Valbuena drove in one run with a sacrifice fly to right field before Welington Castillo plated another with a single past a diving Ruben Tejada at shortstop. Feldman then broke it open with a two-run double to the right-center-field gap, making it 4-0.
"We were trying to go in, just like we did in the first at-bat," Hefner said. "And it came back over the middle, and [Feldman is] a strong guy. It was more or less the sliders to the other guys -- to Castillo and the sac fly to Valbuena -- those balls stayed up over the middle.
"Anybody with a bat in their hand can be a hitter. I need to make a better pitch there."
Robert Carson's troubles this season continued with a Rizzo home run in the fifth, the seventh long ball that the right-hander has allowed in 11 innings so far in 2013. Carson has a 10.64 ERA and has allowed at least one earned run in four of his last five appearances.
Collin McHugh gave up a Nate Schierholtz homer and a two-run David DeJesus bloop single in the eighth, as Chicago ran the lead to 8-0.
Joey Nowak is a reporter for MLB.com. Follow him on Twitter at @joeynowak. This story was not subject to the approval of Major League Baseball or its clubs.