Feldman continues stellar stretch against Mets
Cubs right-hander is 4-0 over his last five starts with a 1.28 ERA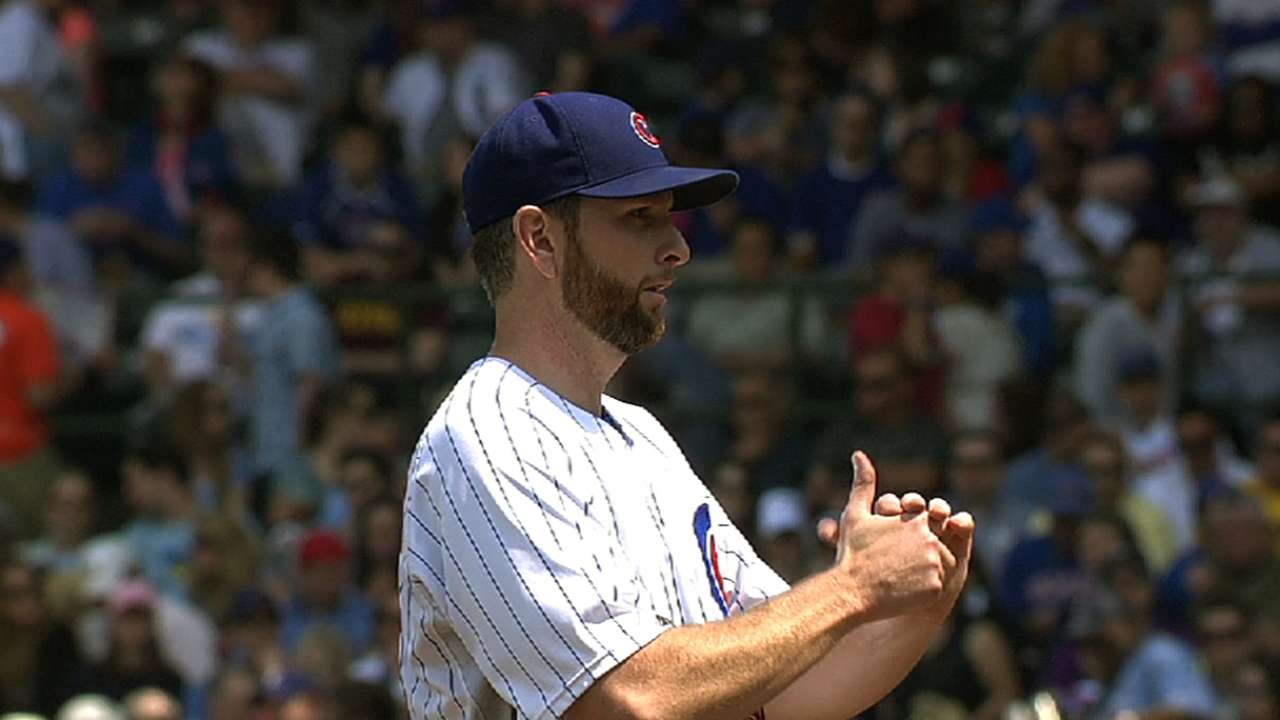 CHICAGO -- Right-hander Scott Feldman has been one of the best pitchers in baseball during his last five starts, while the rest of Chicago's starting rotation has been near the top of the league throughout the young season.
So Saturday's pregame news that right-hander Matt Garza will return to the rotation on Tuesday and yet another gem by Feldman in Saturday's 8-2 win over the Mets at Wrigley Field begs the question: How good can this rotation be?
"Potentially, [if] these guys keep throwing the ball the way they have the first six weeks with Garza [healthy], and if he comes back [strong] ... it's got a chance to be pretty nice -- if not one of the top rotations in the league," Cubs manager Dale Sveum said.
With a 3.47 ERA through the season's first 42 games, the Cubs' rotation has already been that. The impressive thing is that it could get even better with Garza. But the main things keeping the Cubs in the National League Central cellar have been a disappointing bullpen and an inconsistent offense.
It mostly all came together on Saturday.
The Cubs scored four runs in the fourth inning -- with the big hit being Feldman's two-run double -- and added three more in the eighth.
"Every opportunity to get runs, you've got to seize them," said first baseman Anthony Rizzo, who went 2-for-4 with a fifth-inning home run, his 10th of the season. "It was good to get the big inning there and then, toward the end, the insurance runs. That's what we need to do."
Chicago's big fourth inning came after Mets starter Jeremy Hefner (0-5, 5.00 ERA) held the Cubs to one hit through the first three innings.
Rizzo singled and Hefner hit Alfonso Soriano with a pitch before Nate Schierholtz singled to load the bases. Luis Valbuena plated Rizzo with a sacrifice fly to right field and Welington Castillo doubled to score Soriano.
Feldman followed with his second double of the year into right-center field to score Schierholtz and Castillo.
The key hit, Sveum said, was Valbuena's sac fly.
"Just to make sure we got one there and then, obviously, we turned it into the big inning," Sveum said. "That was nice, just to take the lead and not hit into the double play or anything like that."
The fourth-inning offense was plenty for Feldman (4-3, 2.19 ERA), who allowed seven hits, struck out six and walked one over 6 2/3 scoreless innings. It was his fifth consecutive quality start, during which he's 4-0 with a 1.28 ERA and .192 opponents' average against.
"His last five starts, he's been as good as anybody in baseball," Sveum said.
Feldman did run into a few rough patches, allowing runners to reach in every inning except the fourth. The Mets had runners at second and third with two outs in the first; second and third with one out in the second inning; and first and second with one out in the fifth.
Feldman escaped every jam, including striking out New York's Daniel Murphy and David Wright to end the fifth-inning threat.
"I got myself into some trouble in the first couple innings, but was able to right the ship at the right time and make a pitch when I needed to," Feldman said. "After those first couple innings, guys were running down those balls in the outfield and making plays."
For as good as Feldman has been in his last five starts, he's allowed two earned runs or fewer in seven straight starts for the first time in his career. He has also allowed only one earned run in his last 19 2/3 innings.
"Feldman's got pretty darn good numbers," Mets manager Terry Collins said. "He's having a pretty good year right now. He pitched very, very well. Made big pitches when he had to."
The Cubs' offense tacked on three more runs in the eighth -- one on a Schierholtz solo homer -- and left-handed reliever James Russell tossed 1 1/3 scoreless innings before righty Hector Rondon allowed a two-run homer to Rick Ankiel in the top of the ninth.
"It's a good feeling," Rizzo said of the offense finally backing up the starters. "We have Garza coming back and hopefully he just fits right in and gels with the rest of the staff. We know if we go out and score some runs, we're going to be in the game and have a chance to win."
Cash Kruth is a reporter for MLB.com. Follow him on Twitter at @cashkruth. This story was not subject to the approval of Major League Baseball or its clubs.