Two late homers derail Shields' solid effort
Lough impresses after callup, provides Royals' lone RBI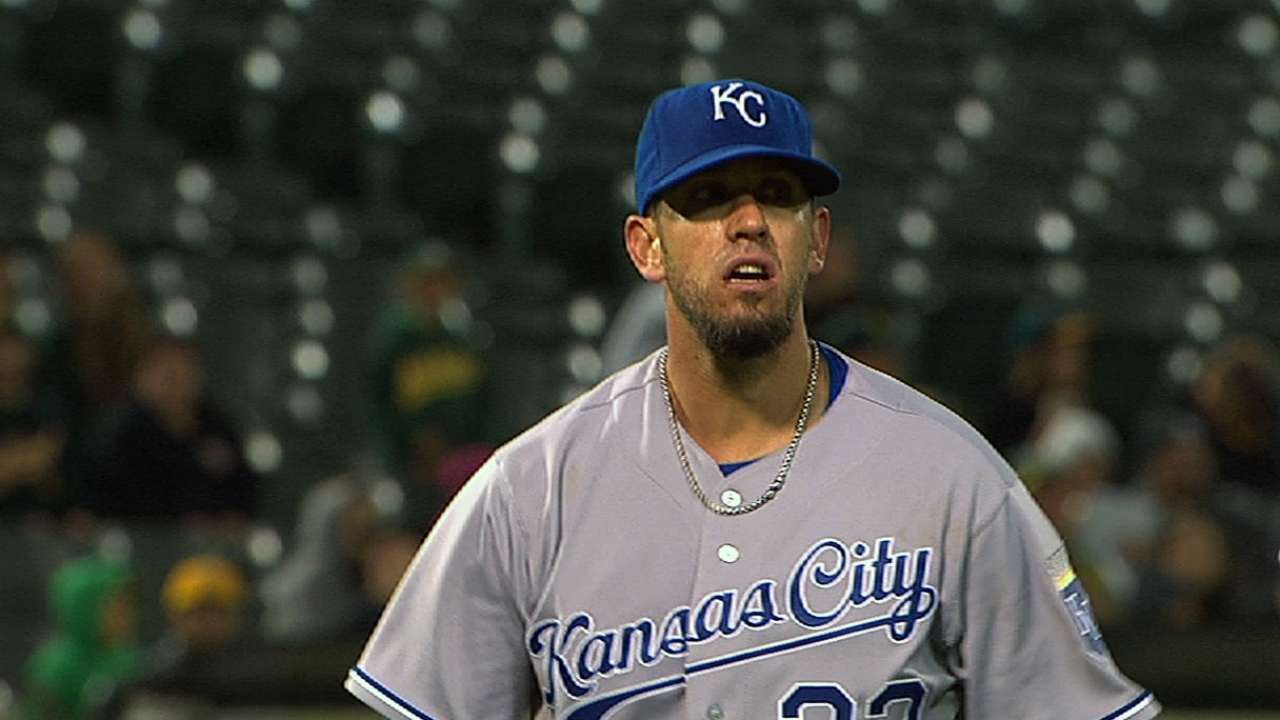 OAKLAND -- James Shields hasn't been giving up much lately. But he hasn't been getting much support either.
That pattern prevailed again on Friday night as Shields and the Royals lost to the Oakland Athletics, 2-1, in front of 14,602 fans at O.co Coliseum.
Adam Rosales' leadoff home run off Shields in the eighth inning snapped a 1-1 tie. He sent a 1-1 pitch soaring over the left-field wall. The other run against Shields also came on a homer, by Josh Donaldson in the seventh.
In his last three starts, Shields has given up only five runs but the Royals have scored just four runs in those games. As a result, they've lost all three times with Shields getting a no-decision and two losses.
"He's pitched great," Royals manager Ned Yost said. "Every time he steps on the mound, he competes his heart out. It's just one of those games where we can't give him much support."
Shields came out of this game, his ninth start, with a glossy ERA of 2.45 but with a record of just 2-4. He has not pitched fewer than six innings this year. He's gone seven once, eight on four occasions and nine once. This was his second complete-game loss.
Afterward, he wasn't moaning about lack of support, just his own shortcomings.
"It was just a case of me not doing my job. Bottom line. I don't really care what the score of the game is, I just didn't get the job done at the end," Shields said. "It's a tough loss right there, a real tough loss."
He had a shutout going through six innings with the A's getting just four singles.
However, Donaldson opened the A's seventh with a home run to left field, connecting on a 3-1 count to create a 1-1 tie. Just prior to that pitch, Shields had started a delivery and was stopped by the plate umpire.
"I was in the middle of my windup and he called timeout and I felt it was a little too late," Shields said.
Stopping and then restarting, Shields threw an inside fastball to Donaldson.
"I wanted to go a little more in but I left it over the plate and he put a good swing on it," Shields said. "The other pitch [to Rosales] was a slider that kind of backed up a little bit."
Shields was miffed enough by the Donaldson development that he proceeded to strike out the next three batters and finished with nine K's.
"With those type of pitchers, you have to hang with them," said A's manager Bob Melvin. "It's difficult once they get into a rhythm, and he was in a rhythm. You hope he makes a couple of mistakes, and the only pitches I saw that he threw over the plate were the two that were hit for home runs."
Meanwhile, the Royals couldn't get anything percolating against right-hander Jarrod Parker. He went seven innings, giving up just one run on four hits. Sean Doolittle and Grant Balfour each added a scoreless inning.
"We ran into a guy that had good stuff today," the Royals' Billy Butler said. "Slider was working, changeup was working, he was locating his fastball."
Shields had been matched against former All-Stars in seven of his nine starts this year but Parker was definitely not one of them. He came into the game with a 2-5 record and a bloated 6.86 ERA.
"He was probably just due for a good one," Butler said.
David Lough, just called up to replace injured Jarrod Dyson, was quick to make a good impression.
In the third inning, after Salvador Perez had doubled off Parker, Lough dropped a looper just over shortstop into left field to get Perez home.
"It was kind of pushing toward the outfield and the way the shortstop Rosales was running for it, I could tell it was going to get down," Lough said.
He hustled his way to a double, sliding in just ahead of Coco Crisp's throw.
"It was just a shallow fly ball," Lough said. "When I came around first base, I thought I had a chance at two. He wasn't really to it yet and so I just kind of busted to second, slid inside the bag and was safe."
Then Lough showed off his defensive skills. When Brandon Moss lined a hit to right field to open the A's fourth, Lough swooped over and fired to shortstop Alcides Escobar to nail Moss stretching.
"The ball kind of got in the lights a little bit and once it came down, I just expected he was going to go for two -- it was in the gap -- and I just turned and made a good throw," Lough said.
That came even though Lough hadn't played right field this season with Triple-A Omaha.
"Like I tell everybody: It's just all grass out there," he said.
Along with everyone else in the Royals' clubhouse, Lough was sympathetic toward the unrewarded Shields.
"I mean, it's kind of heartbreaking," Lough said. "Our offense just didn't click but we all know what we're capable of doing."
Dick Kaegel is a reporter for MLB.com. This story was not subject to the approval of Major League Baseball or its clubs.