Brewers edged by Cards despite Aramis' big night
Third baseman cranks two homers but road trip woes continues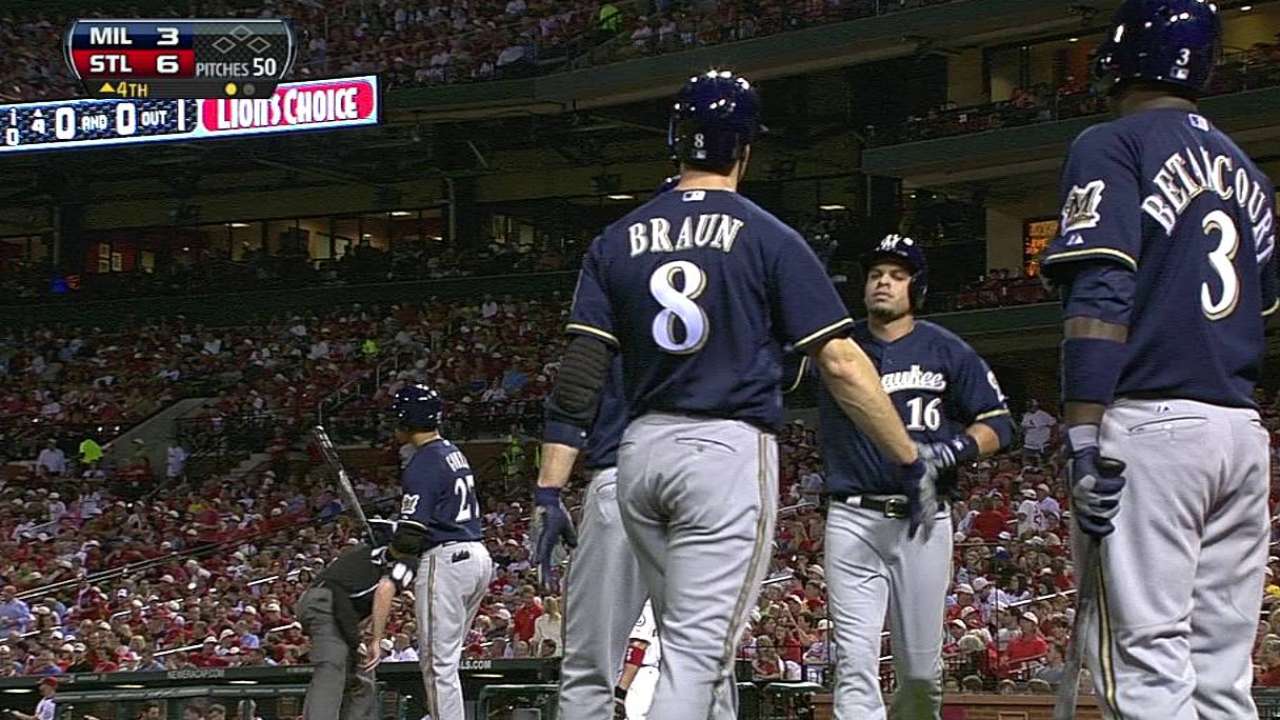 ST. LOUIS -- Not even Aramis Ramirez's most productive night in nearly three years was enough to break the Brewers' curse against the Cardinals.
Ramirez hit a pair of three-run home runs, enough to outslug David Freese and the Cardinals -- but not to outscore them. Freese's first-inning grand slam helped the Cardinals build a big early lead, and they held off Ramirez's singlehanded charge to beat the Brewers, 7-6, on Friday at Busch Stadium.
A rare postgame meeting in Pittsburgh the night before did little to turn Milwaukee's fortunes as a long road trip rolled on to St. Louis. The Brewers trailed 6-0 after three innings and 7-3 by the end of the fourth on the way to losing to the Cardinals for the 22nd time in the teams' last 30 games and for the seventh time in eight matchups this season.
The Brewers are 2-13 in their last 15 games, including 1-12 against National League Central rivals and 1-7 in the first eight games of what has turned into a miserable trip.
As a result of that intra-division futility, the 16-24 Brewers spent a third straight night in last place. They fell eight games behind the Cardinals in a season that will pass the quarter-pole on Saturday.
"Right now, we're going through a tough time," Ramirez said. "We just have to keep playing."
Against the Cardinals, playing has not been much fun. Consider Friday night, when St. Louis starter Jaime Garcia needed all of six pitches to retire the side in the top of the first inning, and St. Louis batters needed all of six Wily Peralta pitches to take the lead.
It was Matt Holliday's single that provided the lead and Freese's grand slam four batters later that extended it to 5-0. With two outs and the bases loaded, Freese slammed a high changeup onto the grass berm beyond the center-field fence.
"Pretty much, 95 percent of the time, you make a mistake like that, hang a pitch, that's going to be the result," Peralta said. "Just a changeup, it was supposed to be down and away. I hung it right down the middle of the plate [and] up. That's what happens."
Freese entered the day batting .209 with no home runs for the season and had no extra-base hits in his previous 41 plate appearances since a May 3 double at Milwaukee's Miller Park. Throw out the numbers when he faces Brewers pitching -- after going 1-for-4 on Friday, Freese is hitting .333 (9-for-27, two doubles, one home run) against Milwaukee and .162 (11-for-68, one double) against everybody else.
"It just feels good to help the team. You want to join the fun," Freese said. "You want to continue to help this team win. Fortunately enough, I haven't done squat this year and we have a heck of a record."
It was a 6-0 Cardinals' lead when the Brewers got their first baserunner. Norichika Aoki reached on an opposite-field single leading off the fourth inning, and Ryan Braun worked a walk two batters later before Ramirez lined a 3-1 pitch just over the left-field wall to halve the deficit.
St. Louis extended its lead to 7-3 in the bottom of the fourth inning before Ramirez stepped back to the plate in the sixth, again with two runners on base. This time, he connected with a first-pitch slider from Garcia and sent it 416 feet to the left-field seats, cutting the deficit to 7-6 and giving Ramirez the 26th multihomer game of his career.
It was his first game with at least six RBIs since driving in seven for the Cubs on July 20, 2010 against the Astros. Ramirez also drove in seven runs for the Cubs in September 2006 against the Phillies.
"We needed to get back in it and he gives us the three runs with the first one, and we felt like we got back in it," Brewers manager Ron Roenicke said. "Then the next one gets us one run away. We know they've got good arms in the bullpen, but we felt pretty good at that time."
Ramirez had one more chance in the eighth inning after Braun led off against hard-throwing right-hander Trevor Rosenthal with an infield single. Each of Rosenthal's first five pitchers were fastballs at 97-98 mph; three balls followed by two strikes. The full-count offering was a 90 mph changeup, and Ramirez swung through it as Braun was thrown out at second base for a rally-killing double play.
"I've never seen him throw changeups before," Ramirez said. "Well, he threw a couple at Brauny, but me, I faced him twice before, and I've never seen that. Even then, when a guy throws 100, you can't go up there looking for changeups. You have to look for fastball and adjust. Good pitch."
Peralta took the loss after allowing seven runs, six earned, on 11 hits in five innings. He matched his career high with six strikeouts, but also with the 11 hits -- tying a dubious personal mark set May 2 against these same Cardinals. Against St. Louis this season, Peralta has surrendered 12 earned runs and 22 hits in 9 1/3 innings.
Is he getting tired of the Cardinals?
"I think I have to face them a couple more times this season," Peralta said, "so I can't get tired of them."
Garcia won despite Ramirez's best efforts. The Cardinals left-hander was charged with six runs on six hits in 5 1/3 innings, with one walk and five strikeouts.
"For some reason, [the Cardinals] put a lot of runs early in the game against us," Ramirez said. "They did it back home. They did it when we came here the first time. We just have to play the game. We have to stop them.
"But we can't put it on one thing. It's not the pitching. We haven't been hitting well with men in scoring position lately. … We just have to put it together, everything."
Adam McCalvy is a reporter for MLB.com. Read his blog, Brew Beat, and follow him on Twitter at @AdamMcCalvy. This story was not subject to the approval of Major League Baseball or its clubs.