Cards hold on vs. Brewers after Freese's grand slam
Third baseman snaps homerless drought while doubling RBI total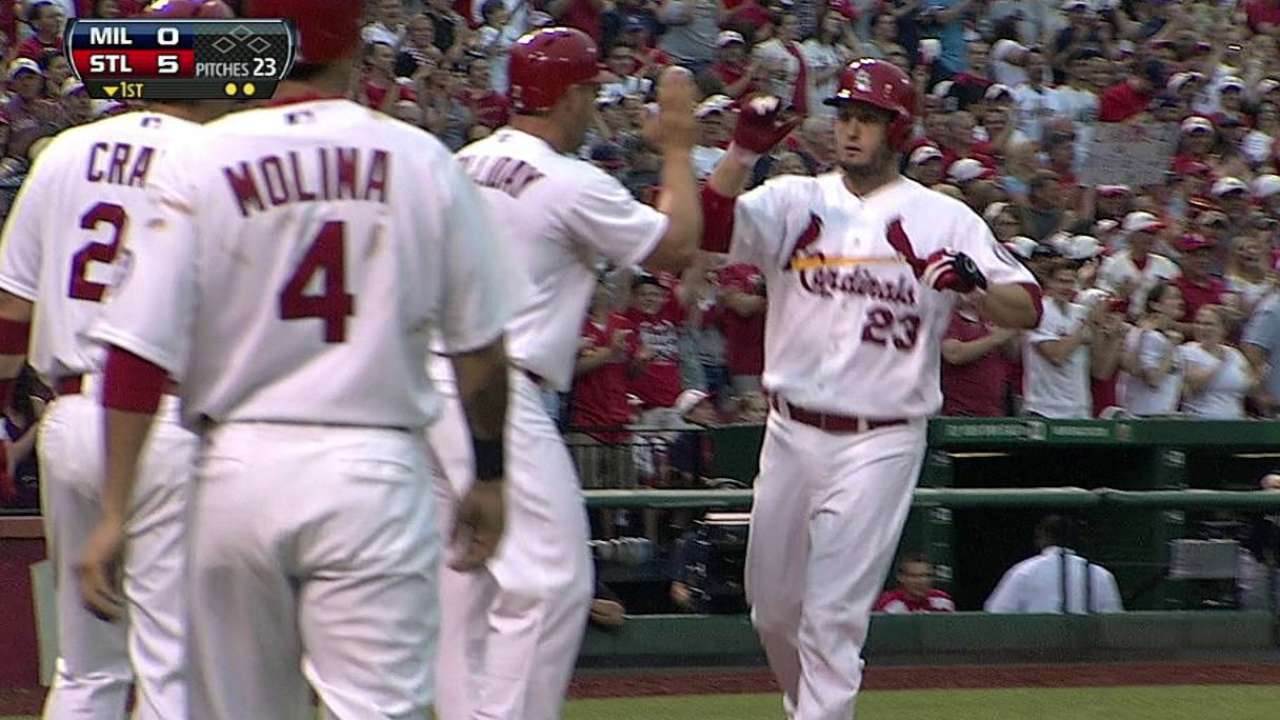 ST. LOUIS -- Alone, one swing will not erase a tumultuous six weeks for David Freese. It won't serve as a cure-all for all the trouble he's having finding a consistent swing and making the right pitch selection. But the third baseman certainly hopes that it can kick start his trip on the path back.
With a first-inning grand slam on Friday night, Freese snapped a homerless drought that extended back to last season and doubled his RBI total for the year. The blast highlighted a five-run first for the Cardinals, who needed every bit of the cushion they built up early to hold off the Brewers for a 7-6 victory at Busch Stadium.
Now 7-1 against the Brewers this season, the Cardinals improved to 12-3 in May. The Brewers, in contrast, has won just twice this month.
"For some reason, they put a lot of runs early in the game against us," said Aramis Ramirez, who nearly willed the Brewers all the way back with his pair of three-run homers off lefty Jaime Garcia. "They did it back [at Miller Park]. They did it when we came here the first time. We just have to play the game. We have to stop them."
Freese's struggles have been as pronounced as Milwaukee's. Set back initially by a spring back injury, Freese has been overwhelmed in his efforts to find any evidence that he is headed toward an emergence from a six-week slump that he described as the toughest of his baseball career.
He entered the series totaling only five hits in his last nine starts. Freese's last extra-base hit -- one of only three all season -- came back on May 3. He tallied his most recent RBI a day before that. A stretch of 132 plate appearance had passed since he last hit a ball over the fence in a regular-season game.
"It's no fun failing all the time," Freese said. "There are so many people trying to help me. It escalates when you're in the big leagues, but man, this game is supposed to be fun. You try your darndest to make it that way."
It was the context of Freese's season -- not simply a single swing -- that prompted the crowd of 39,426 to summon the third baseman out of the dugout with the first curtain call of the season.
"That just shows what type of fans you play in front of," Freese said. "That's incredible. That curtain call was probably more special than the home run."
For as trying as Freese's season has been so far, the few positives have routinely come at the Brewers' expense. Freese is now 9-for-27 with three extra-base hits and three multi-hit games against Milwaukee this year. Against everyone else: 11-for-68 with one extra-base hit and one multi-hit game.
The critical adjustment now, said Freese, is in pitch selection and plate discipline, both of which he has been exhaustively attempting to improve with extra work.
"You try everything and so he's just been working," manager Mike Matheny said. "I've seen him handle it well in that regard. He's putting his nose down. He keeps going. He knows he's going to find it, but it's just frustrating along the way."
The three at-bats Freese took after the blast, though, were a reminder that there is no quick fix. Brewers starter Wily Peralta retired him in the third and fifth on swinging strikeouts. Freese grounded to short in his final at-bat.
"I don't even know if I've turned the corner," Freese said. "It just feels good to help the team. You want to join the fun. You want to continue to help this team win. Fortunately enough, I haven't done squat this year and we have a heck of a record."
Seemingly on their way to a blowout win, the Cardinals watched Ramirez almost erase it. With his three-run homer of Cardinals starter Jaime Garcia in the fourth, Ramirez halved the Cardinals' six-run lead.
He then delivered another three-run blast in the sixth, this time taking a straight first-pitch slider over the wall in center to pull Milwaukee within one. Ramirez, who played in only two of the first seven meetings between these two clubs, has batted .307 with 32 home runs in his career against St. Louis.
"I just made some mistakes and was falling behind in the count," Garcia said. "I didn't make the pitch when I had to with Ramirez."
Garcia's 5 1/3-inning outing was similar to his six-inning start last Sunday in that a pair of home runs marred his final line. Last weekend, Garcia served up a two-run and three-run homer in a loss. Despite allowing six runs, he became the fourth Cardinals starter to reach the five-win mark.
"I didn't think he was as sharp as he's been," Matheny said. "He gave up six hits, two of them that really hurt him. Pitches got too much of the plate."
Reliever Seth Maness bailed Garcia out of trouble to close the sixth and followed with a scoreless seventh that concluded with a tough defensive play turned by shortstop Pete Kozma.
Trevor Rosenthal was then given the toughest task, asked to preserve a one-run lead while facing two players he had never previously retired. Ryan Braun improved to 4-for-4 off Rosenthal with an infield single. But the Brewers' gamble to send Braun on a 3-2 pitch to Ramirez backfired.
Ramirez, surprised by a changeup, swung through it. Catcher Yadier Molina threw out Braun to complete the double play.
"I faced him twice before, and I've never seen that [pitch]," Ramirez said. "Even then, when a guy throws 100 [mph], you can't go up there looking for changeups. You have to look for fastball and adjust. Good pitch."
Edward Mujica closed the win with his 12th save. He's converted each of his last five by pitching 1-2-3 ninth innings.
Jenifer Langosch is a reporter for MLB.com. Read her blog, By Gosh, It's Langosch, and follow her on Twitter @LangoschMLB. This story was not subject to the approval of Major League Baseball or its clubs.