J. Upton's slam changes tenor of game, recent stretch
Left fielder crushes sixth-inning shot, lifting Atlanta in return home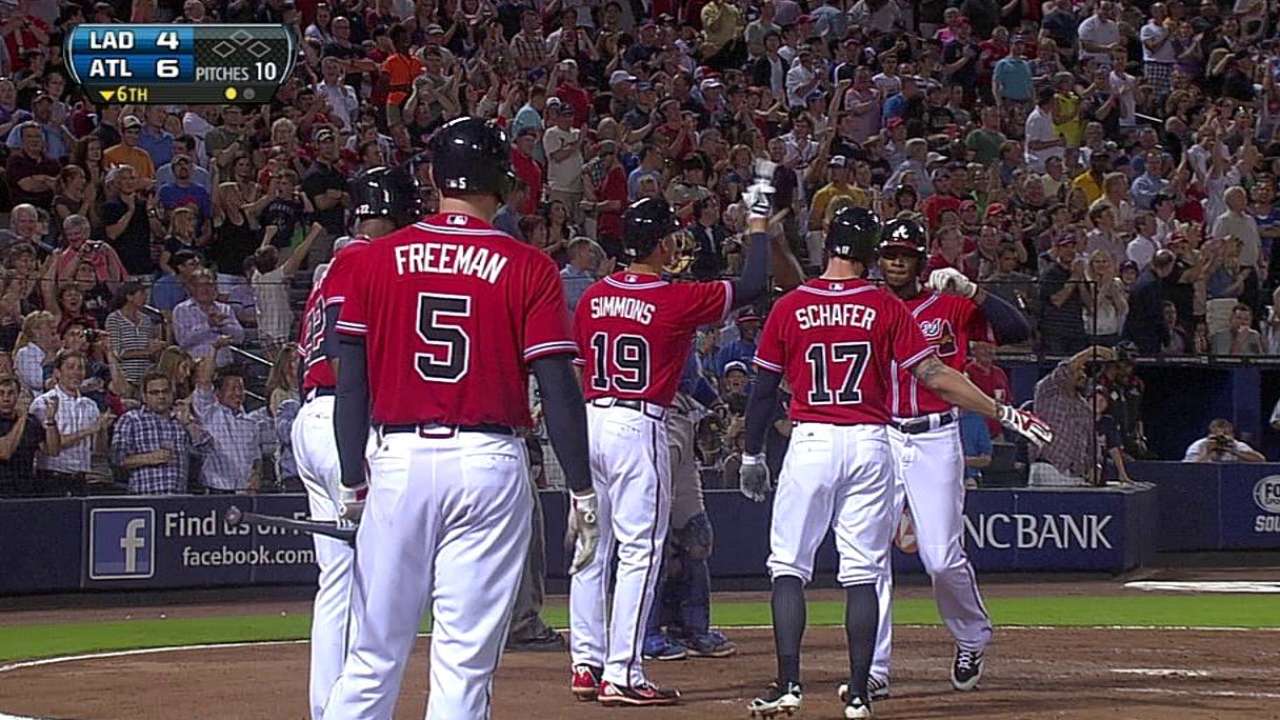 ATLANTA -- Taking advantage of Jason Heyward's return to the lineup and the opportunity to entertain the home fans, Justin Upton again put his team on his back and delivered a shot that allowed the Braves to begin distancing themselves from the frustration they encountered the past few weeks.
Upton carried the Braves through the month of April with a flurry of home runs. But none of them were as timely as the monstrous sixth-inning grand slam that proved decisive in Friday night's 8-5 win against the Dodgers at Turner Field.
"As soon as he took a swing, you knew that ball was going to be out of the ballpark," Braves manager Fredi Gonzalez said. "It was one of the prettiest swings I've seen him put on a baseball."
Upton has created many memorable moments while compiling a Major League-leading 14 home runs through the first six weeks of his career with the Braves. His walk-off shot against the Cubs on April 6 provided a chance for him and his teammates to go through the season's first two weeks in near-perfect fashion.
But it was not as auspicious as the blast that enabled the Braves to distance themselves from the misery they encountered while losing five of the past six games on a 10-game road trip that concluded on Wednesday.
"Things like that, you feed off of as a group," Heyward said of Upton's slam, which traveled toward the pennants below the 755 Club before landing in the outfield terrace pavilion seats located beyond the left-center-field wall.
With Heyward playing for the first time since his April 22 appendectomy, and Brian McCann playing at home for the first time since returning from offseason shoulder surgery, the Braves finally had their lineup at full strength.
As a result, Dodgers manager Don Mattingly fell victim to Gonzalez's ability to separate his right-handed and left-handed power threats at the top of the lineup.
After Jordan Schafer began the one-out, sixth-inning rally with a pinch-hit bloop single, and Andrelton Simmons followed with a liner that nearly knocked third baseman Luis Cruz's glove off, the Dodgers attempted to preserve their two-run lead by lifting right-handed reliever Matt Guerrier in favor of lefty Paco Rodriguez, who promptly walked Heyward to load the bases.
Instead of burning another reliever, Mattingly opted to attack the right-handed Upton with Rodriguez, who entered the night having held both right-handed and left-handed batters to a sub .200 batting average.
"You can only match up so many times," said Mattingly. "You do it in the sixth, you'll be out of pitchers. I had to pick my poison. I leave Matt in, Upton has worn him out [with three extra-base hits in six at-bats]. I'd like to match up every hitter, but they only let me have seven relievers. Somebody has to get the opposite guy out. The issue for us is to get Heyward."
Upton fouled a first-pitch fastball, then crushed Rodriguez's 1-1 fastball that found too much of the plate. The no-doubt shot was the third career grand slam for the Braves' left fielder and gave the Braves a 6-4 lead.
"He had nowhere to put me," Upton said. "So I was looking to be aggressive in my zone and not swing at his pitches. He threw one over the middle that I could handle."
After Heyward began his two-hit performance with a double in the second inning, Upton began his five-RBI night with a groundout in the two-run third. Freddie Freeman followed with a single to account for the only other run the Braves scored off Hyun-Jin Ryu, who surrendered just two runs, despite issuing a season-high five walks in five innings.
"Any time you can get in the bullpen during the first game of a series, it gives you a little bit of an advantage," Upton said. "That was nice for us to put some pitches on the starter and then get in the bullpen."
Braves starting pitcher Paul Maholm allowed the Dodgers to draw blood with a run in the second inning and he opened the sixth by surrendering the first of Scott Van Slyke's two home runs. In between, the Braves left-hander allowed a pair of unearned runs courtesy of Dan Uggla's inability to handle Cruz's routine chopper in the fourth inning.
When the Braves entered the bottom of the sixth inning facing a two-run deficit, they had stranded 20 runners over the course of their previous 14 innings dating back to Wednesday. But once Heyward battled back from a 1-2 count to draw a walk, the stage was set for Upton to take the mighty swing that allowed him and his teammates to forget about their recent woes.
"He didn't try to do too much," Heyward said. "But he did what he can do when he gets his pitch to hit. That was awesome for everybody."
Mark Bowman is a reporter for MLB.com. This story was not subject to the approval of Major League Baseball or its clubs.