Bullpen, defense bother Mattingly in series opener
'Pen coughs up lead in sixth, though three runs unearned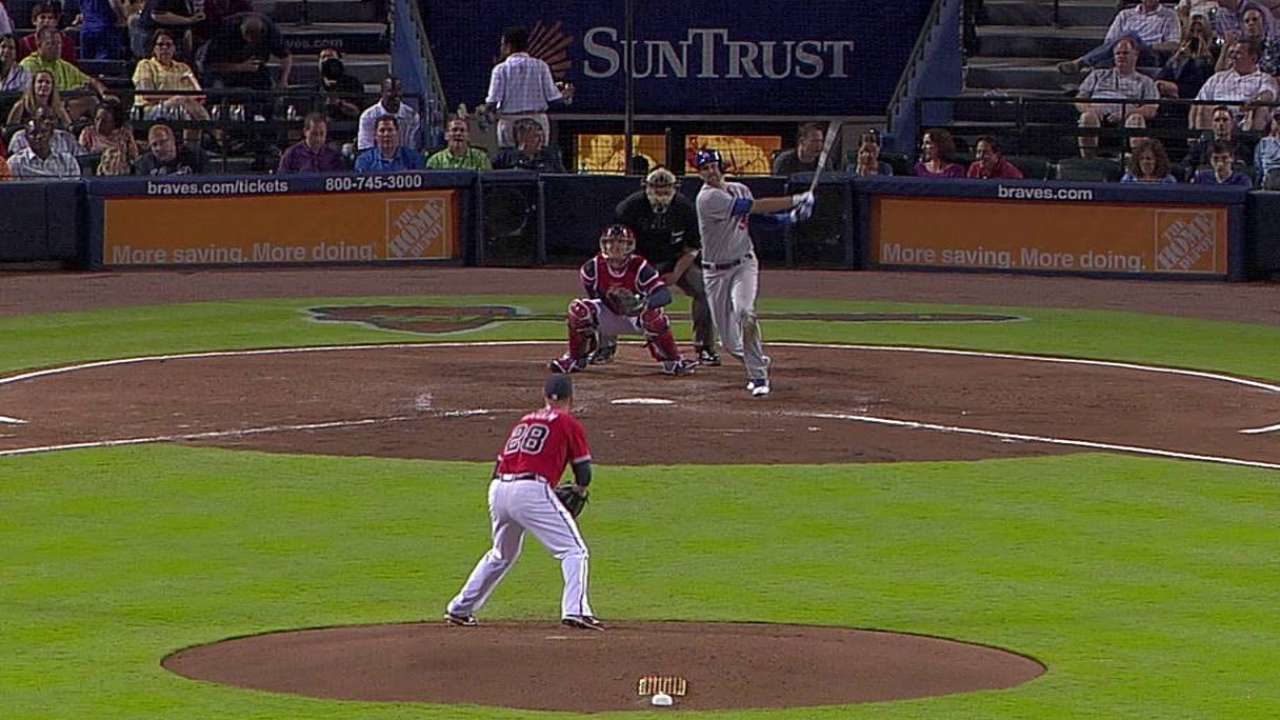 ATLANTA -- The Dodgers beat themselves to open a road trip Friday night, and manager Don Mattingly's tone was a little sterner than usual.
"Too many walks. Too many free runners. And we have to catch the baseball, that's all there is to it," Mattingly said after the Dodgers wasted a pair of Scott Van Slyke homers in an 8-5 loss to the Braves.
Lefty reliever Paco Rodriguez gave up his first home run since being drafted last summer and it was a crusher, a sixth-inning grand slam to baseball's leading home-run hitter, Justin Upton.
"I didn't do my job today," said Rodriguez. "I'm disappointed. You don't want it to happen, but it happened today."
Rodriguez wasn't the only Dodger that didn't do his job. Hyun-Jin Ryu needed 100 pitches to go only five innings, issuing five walks, including three of the first six batters.
In the decisive sixth inning, Mattingly was annoyed with a blooper by pinch-hitter Jordan Schafer that fell in front of and between left fielder Carl Crawford -- he later made a two-run error -- and center fielder Matt Kemp for a single against Matt Guerrier.
"I have an issue on that one," Mattingly said. "We've got to talk about that."
Then Mattingly was annoyed with third baseman Luis Cruz dropping a hard-hit liner by Andrelton Simmons for an error in the sixth.
"Although it was a rocket, guys in the big leagues make that play all day long," Mattingly said, an ominous comment considering Cruz's offensive struggles this year.
Mattingly brought Rodriguez in to face Jason Heyward, who was activated before the game after recovering from an appendectomy. But lefty on lefty, Rodriguez walked Heyward to load the bases after getting ahead, 1-2.
"I shouldn't have walked the first guy," Rodriguez said. "That was the worst thing I could have done."
Rodriguez stayed in to face the right-handed Upton, a decision Mattingly defended because it was only the sixth inning.
"You can only match up so many times," said Mattingly. "You do it in the sixth, you'll be out of pitchers. I had to pick my poison. I leave Matt [Guerrier] in, Upton has worn him out [with three extra-base hits in six at-bats]. I'd like to match up every hitter, but they only let me have seven relievers. Somebody has to get the opposite guy out. The issue for us is to get Heyward."
Rodriguez left a 1-1 sinker over the plate. It was home run No. 14 for Upton, and five RBIs on the night gave him 28. The entire Dodgers lineup entered the game with only 15 homers.
"I've been sitting across the dugout when that situation arises, it's not easy to do that," Braves manager Fredi Gonzalez said. "Today, they went left-right-left and they tried to go through Justin, and he made them pay."
It went from bad to worse for the Dodgers in the seventh, when Crawford also dropped a line drive by Simmons that led to two unearned insurance runs.
"I just missed it," said Crawford, who said he didn't lose it in the lights.
Van Slyke, with right-handed power the lineup sorely lacked prior to his promotion, kept the game winnable. Starting in place of Andre Ethier, he homered in the sixth and eighth innings off left-handers Paul Maholm and Eric O'Flaherty. The homers were the second and third in 12 at-bats since Van Slyke returned to the Major Leagues after playing his way off the roster last year. His slugging percentage is 1.083.
Ryu was not a bright spot, not even with his broken-bat RBI single in a two-run fourth that raised his average to .294. He allowed the leadoff man to reach base in four of his five innings, two with walks. It was his first start shorter than six innings.
Ryu said he was "off-balance" all night, and here's how he defined that.
"It's more of my timing between the upper body and lower body not being in sync as it usually is," he said. "I feel bad I couldn't go longer for my teammates."
Mattingly said his main concern with Ryu is that he seems to hit the wall at 100 pitches. Ryu gently disagreed, saying all pitchers wear down around that number, but he predicted he will soon go 110-115 pitches.
Offensively, Kemp went hitless (0-for-5) for the first time in May, snapping a 14-game hit streak. But Nick Punto went 2-for-4, his eighth multihit game, equaling his total in each of the past two seasons, and Crawford had a two-out RBI single.
Defensively, it wasn't all bad for the Dodgers, who got a tricky play up the middle from Punto in the first inning and diving catches in the fifth from Kemp and Van Slyke in the outfield.
Ken Gurnick is a reporter for MLB.com. This story was not subject to the approval of Major League Baseball or its clubs.