Homers power Reds back, but Phils pull away late
Reds strand runners early; dingers by Bruce, Votto not enough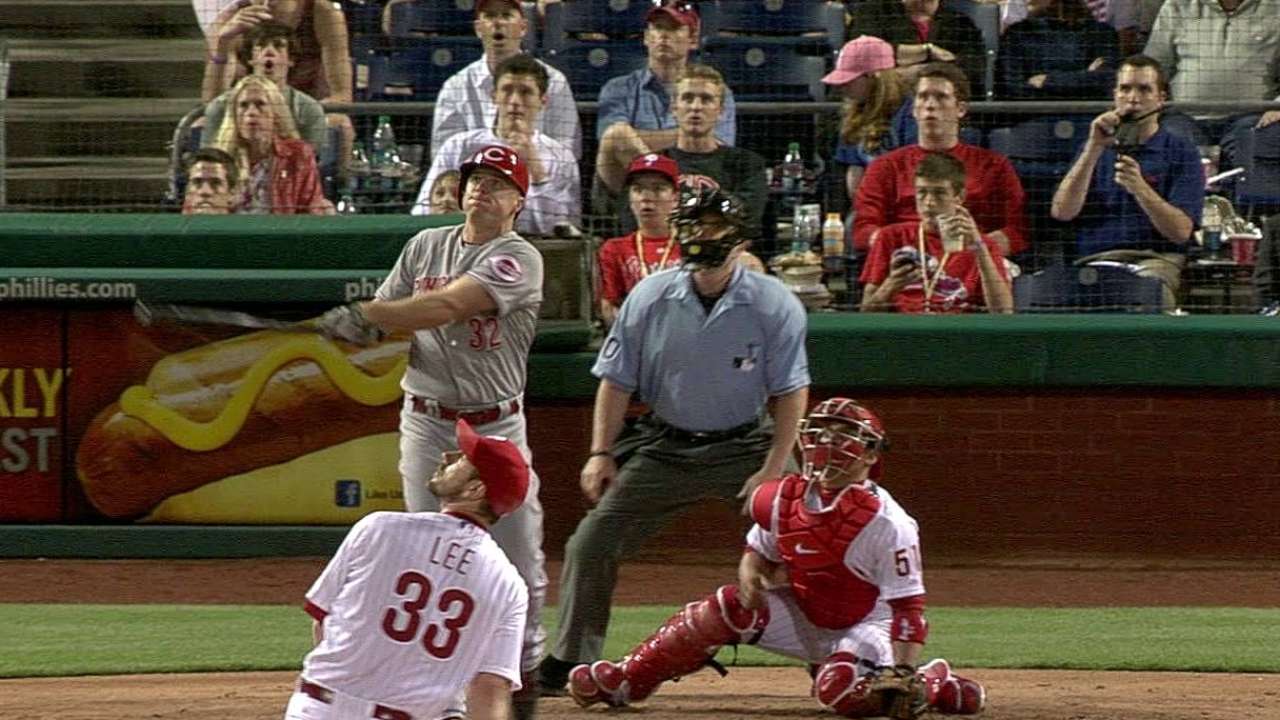 CINCINNATI -- The manner in which the Reds' six-game winning streak came to an end Friday could have been penned in one of Lemony Snicket's children's novels.
"That was a series of bad events," lamented Reds manager Dusty Baker shortly after his club took a 5-3 loss against the Phillies.
The Reds did not take advantage of Cliff Lee's early lack of sharpness, but the outcome came down to the decisive bottom of the eighth, when Philadelphia ended a 3-3 tie with two runs despite netting just one infield hit.
Cincinnati trailed, 3-0, after five innings but battled back on a Jay Bruce two-run home run off Lee in the sixth and a tying home run by Joey Votto against Antonio Bastardo in the top of the eighth.
With one out in the bottom half of the inning, Reds reliever Sean Marshall lost a 10-pitch duel to Michael Young with a walk. Marshall then got Ryan Howard to hit a check-swing roller left of the mound. After fielding it successfully, Marshall could not get the ball out of his glove, and Howard had a single. Jonathan Broxton took over and promptly hit Delmon Young with his first pitch to load the bases.
Domonic Brown then hit a bouncer up the middle nabbed by shortstop Zach Cozart, who attempted a flip to second base while on the run. Brandon Phillips could not handle the ball and dropped it for an error as Michael Young scored.
"The walk and then the infield hit, how many infield hits is Ryan Howard going to get?" Baker said. "And then the ball bounced so far on the other side of second base that Cozart couldn't turn the double play. It was just a matter of a couple of feet. ... That would have been a great play."
The most controversial moment of the night came next as Carlos Ruiz followed with a fly to center field. Howard went home as Shin-Soo Choo fired a throw to the plate. Howard slid in head first to where catcher Ryan Hanigan was waiting with his leg blocking the plate. Home plate umpire Marty Foster ruled Howard safe, a call that Hanigan, who replaced Devin Mesoraco in a double switch to begin the inning, argued vehemently before Baker took over. Neither was ejected, but tempers were boiling.
Television replays showed it to be a tough call for Foster, but it appeared that Hanigan's shin guard kept Howard's hand from touching the plate before the tag.
"I'm not usually going to argue unless I think I'm right," Baker said. "I didn't think he got in. From where I was, it didn't look like it."
Besides entering as winners of six straight games, the Reds had also won seven of eight and 10 of 12. But good mojo has long been elusive at Citizens Bank Park, where they are 11-23.
"You hate to a end streak like that," Baker said. "I guess now we have no choice but to start another one."
Had the Reds been able to get Lee when he was vulnerable, the eighth inning might not have been so critical. The Reds let him off the hook in a big way in the early innings, especially in the second. A two-out walk to Choo loaded the bases, but Cozart left them stranded by striking out. Cozart's strikeout made him the first of nine in a row retired by Lee, who came in 3-0 with a 1.83 ERA in his last five starts against Cincinnati.
"The first two innings I was erratic," Lee said. "It wasn't really there; I had to find it. Fortunately I was able to get out of a couple jams there and not give up any runs. I really got lucky. They should've scored a couple in the first couple innings."
All signs are pointing to Friday being rookie Tony Cingrani's last start in the Majors for a while, as ace Johnny Cueto is poised for activation from the disabled list. Cingrani threw 100 pitches over five innings and allowed three runs on five hits with two walks and four strikeouts.
With one out and a runner on first base in the Philadelphia third, Jimmy Rollins jumped all over a 3-1 high fastball over the plate for a two-run homer and 2-0 Phillies lead. It was the fifth homer Cingrani gave up in his last three starts.
Lee led off the bottom of the fifth inning with a drive off the top of the right-field wall. Lee just missed a homer, settling for a double. Lee was on third base when Michael Young sent a two-out drive to the deepest part of the park in center field. Choo made the long run to reach the ball before it went off the end of his glove for an RBI triple and three-run deficit.
"Everything was working," Cingrani said. "Mes was calling a great game back there. We mixed our pitches really well. It was two mistake pitches. I left them a little too much over the plate. It's what cost me."
As for what's next for him, Cingrani did not hazard a guess.
"No idea; I don't ask questions," Cingrani said.
However, the Reds could be asking a similar question to themselves a few times in the overnight hours: "What if?"
Mark Sheldon is a reporter for MLB.com. Read his blog, Mark My Word, and follow him on Twitter @m_sheldon This story was not subject to the approval of Major League Baseball or its clubs.