Pirates beneficiaries from error of Astros' ways
Snider scores after collision in short right field; Bucs win fourth straight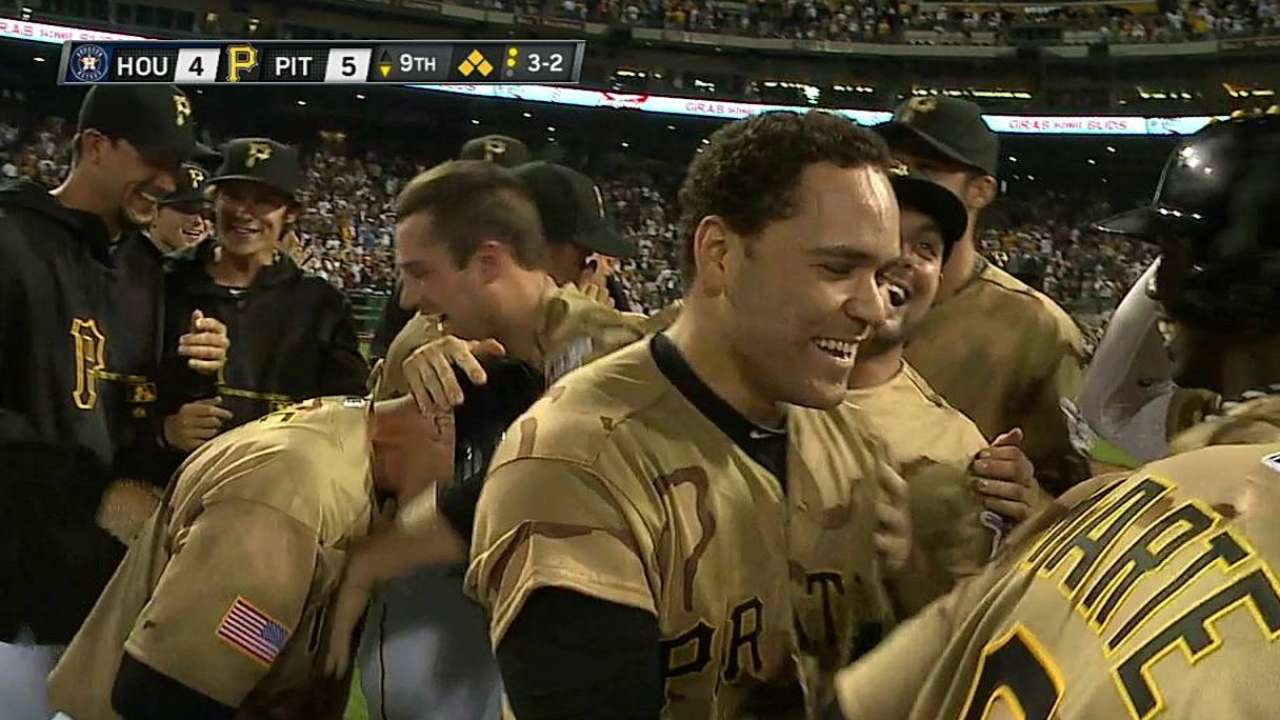 PITTSBURGH -- The Pirates and Astros spent most of Friday night walking -- well, playing baseball -- in each other's shoes. By the action on the PNC Park field, neither was performing in character.
After all the stars had aligned in the proper order and the Pirates wound up winning in the most unlikely fashion -- a dropped popup with two outs and the bases loaded in the ninth inning for a 5-4 triumph -- their manager was asked whether the Astros' inexperience had contributed to the debacle.
"I don't know about that," said Clint Hurdle, enumerating what his own guys had done in that ninth inning. "We had three check swings, a tapper to the mound, a called third strike and a popup to right field ... so what does that say about our experience? This game is crazy sometimes. There's not an answer for everything."
There's crazy -- and there's that ninth inning, and an ultimate play that doesn't happen often. Except that, it happened to the Astros for the second time in four innings.
Russell Martin had lifted a full-count pitch to medium right-center with the score tied at 4, the bases loaded and two outs. With second baseman Jake Elmore backtracking for the ball, right fielder Jimmy Parades barreled into him as the ball dropped safely and the winning run crossed the plate.
It punctuated a fantastic, memorable evening in the City of Champions, as only minutes earlier, a PNC Park crowd of 29,743 had roared for the Penguins' 4-3 victory over Ottawa in the NHL Playoffs.
Speaking of the roar of the crowd ...
"I think the crowd had as much to do with that as anything we did all night," Hurdle said of the fan enthusiasm on a warm Western Pennsylvania evening. "The noise they were making in the ninth inning makes it difficult to hear. If your guys are trying to communicate, they helped us out."
"There's only one person who should be communicating," Astros manager Bo Porter said. "The outfielder is running in and looking at the infielder. The infielder is going to go until he hears somebody call him off."
The winning rally against Edgar Gonzalez, Houston's sixth pitcher, was triggered on an opposite-field single by Starling Marte, who was forced on Travis Snider's grounder before Andrew McCutchen's single and a fielding error by Gonzalez on Brandon Inge's comebacker loaded the bases. Neil Walker's strikeout led to Martin.
"You have to put yourself in a position to win, then take advantage of it," Walker summed up the Pirates' gift.
The decisive play was remarkably similar to the one in the sixth that had awakened the Pirates and started their comeback from a 4-1 deficit to a season-long fourth straight win.
As the Astros' Jordan Lyles held a 4-1 lead over Jeanmar Gomez, that first clang was off the glove of Chris Carter, the first Houston right fielder. McCutchen led off the sixth with a relatively routine fly to medium right on which Carter called off Elmore, but then flubbed catching the ball, which rolled all the way into foul territory as McCutchen motored to third. Garrett Jones' double immediately scored McCutchen and chased Lyles.
The rest of that inning went nowhere, capped by Houston relievers Travis Blackley and Paul Clemens.
Two innings and two relievers later, the Bucs finished the comeback. Walker led off with a single against lefty Wesley Wright and, an out later, Pedro Alvarez unloaded against Hector Ambriz, one-hopping his seventh homer into the Allegheny River to knot it at 4.
"You know, I'm not gonna take credit if it bounces in. That's cheap," Alvarez grinned. "I'm just glad I hit that ball well. It's nice; every at-bat, you get an opportunity to do something for the team, and that's my mindset when I go through a couple of tough at-bats."
It was a double-milestone shot for Alvarez: The 462-foot drive represented the very first time he had reached the river; and his 57th homer as the Pirates third baseman tied Hall of Famer Pie Traynor for fifth-most in club history at the position.
The Bucs' liveliest weapon was McCutchen, who scored twice while going 3-for-5, with a first-inning solo homer, to lift his average to .276.
McCutchen doubled-down on the Astros, so to speak, now that they are in the American League. That was because he came into this one hitting .448 with 14 RBIs in his last 15 Interleague games, and he hit .381 against the Astros last season, when they weren't even part of that equation.
An overlooked aspect of Gomez's work is how efficient he has been. Because of his track record, the Pirates red-flag him at about 65 pitches. He squeezed five innings out of that conservative limit in his previous two starts, a very economical 13 pitches per inning.
On Friday, Gomez was even more thrifty through four innings -- needing an average of nine pitches to get through them. He did fall behind at the outset as Robbie Grossman -- the Bucs' 2011 Minor League Player of the Year included in last July's deal for Wandy Rodriguez -- led off the game with a double and eventually scored on a sacrifice fly by Jason Castro.
Gomez had retired 11 in a row when he hit a wall he couldn't get over. With one out in the fifth, Matt Dominquez's solo homer snapped the 1-1 tie. Marwin Gonzalez singled, moved up on Lyles' sacrifice bunt and, after Grossman walked on a full-count pitch, scored on a single by Elmore.
Elmore subsequently took off for second, triggering an erratic sequence that resulted in two errors for the Bucs (by the double-play combo of Clint Barmes and Walker) and one unearned run, and a 4-1 lead, for the Astros.
Tom Singer is a reporter for MLB.com and writes an MLBlog Change for a Nickel. He can also be found on Twitter @Tom_Singer. This story was not subject to the approval of Major League Baseball or its clubs.