Error costs Astros, as Pirates walk off with win
Collision in short right field allows winning run to score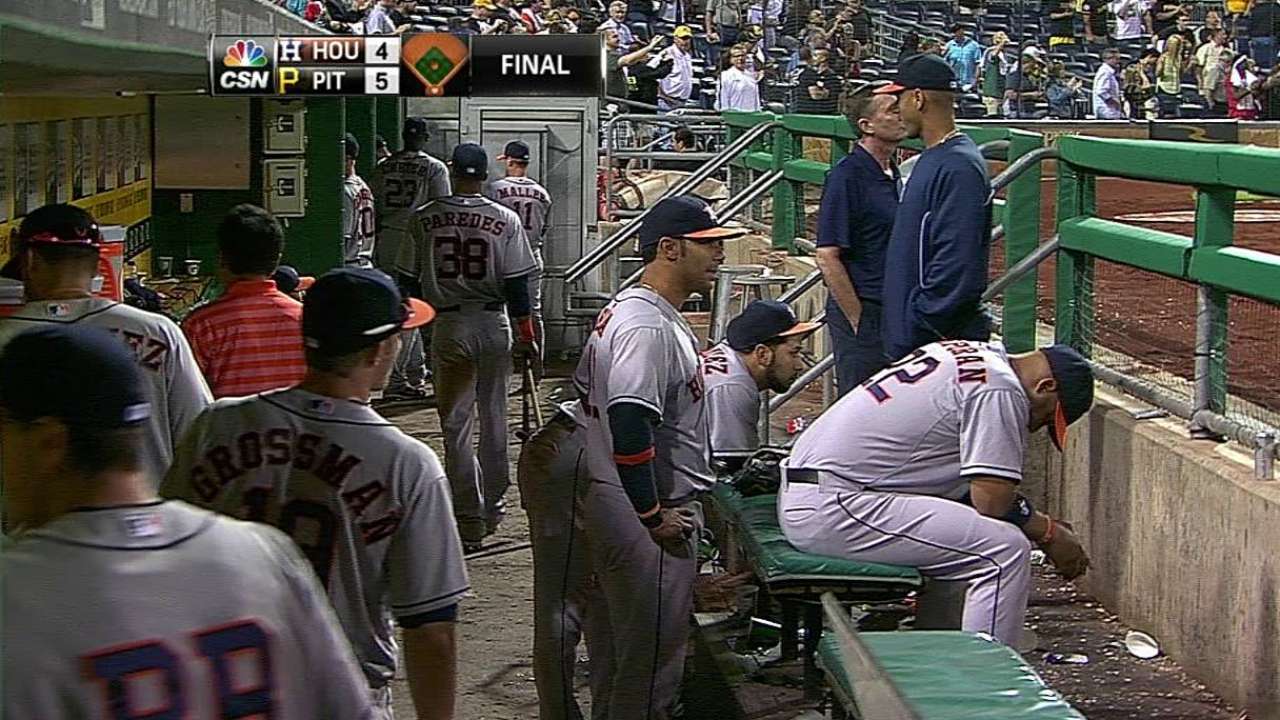 PITTSBURGH -- Astros pitcher Edgar Gonzalez threw junk down in the zone, worked the corners with a 74-mph changeup and basically scratched and clawed to keep his team in the game during a tense ninth inning Friday night before finally getting the pitch he wanted.
Gonzalez coaxed Pirates catcher Russell Martin into hitting a popup into shallow right field with the bases loaded and was hopping off the mound as he watched the ball descend from the sky. Second baseman Jake Elmore threw his arms in the air as he backpedaled in preparation of the final out.
Then disaster struck.
Astros right fielder Jimmy Paredes crashed into Elmore just as the ball was about to hit his glove, knocking him and the ball to the ground and allowing the winning run to score from third base and give the Pirates a stunning 5-4 win at PNC Park.
Paredes' gaffe was one of three errors the Astros made, and all were costly.
"It's unfortunate," Astros manager Bo Porter said. "Our defense just pretty much let us down tonight. Gonzalez in the ninth made some tough pitches in a tough situation, and it's unfortunate we [were] not able to field the ball."
The collision with a second baseman is the second this week for Paredes, who crashed into All-Star second baseman Jose Altuve on Monday in Detroit in a similar play and partially dislocated his jaw. Paredes entered Friday's game in the eighth inning as a pinch-runner for right fielder Chris Carter, who had dropped a ball in the outfield in the sixth inning that led to an unearned run.
"In that situation, everybody thinks to catch the ball and make the third out," Paredes said. "I tried to do the best job, but that happens sometimes in this game. We try to learn in that situation, from that error."
Porter said Elmore was in position to catch the ball and should have been allowed to catch the ball, especially since he was waving his arms in the air.
"It's not a lack of communication, because there's only one person that should be communicating," Porter said. "The infielder is not saying anything. If he gets underneath the ball, the outfielder is running in and he's looking at the infielder, and if the infielder is waving his hands and under the ball, you let him take the ball. The infielder is going to go until he hears someone call him off. He don't hear anything, he's going to catch the ball."
Elmore, who was nursing a sore back after the game, said he didn't hear Paredes calling for the ball.
"With so many fans and late in the game when they're loud, nobody can hear anything and we had one drop earlier," he said. "My thought process was 'I'm not going to be the one that lets it drop.' I went out and was waving my hands, but Jimmy -- for goodness sakes -- he's probably watching the ball and his thought process has got to be there's no way he's letting it drop. We're both thinking that and I'm sure he was calling it, but you can't hear anything. I thought, 'I'll wave my hands and hope he sees me.'"
Earlier in the ninth inning, Gonzalez fielded a comebacker to the mound with runners at first and third and looked towards second base before dropping the ball, allowing the Pirates to load the bases. Still, he managed to strike out Neil Walker looking for the second out.
"Our defense has been one of our strong suits pretty much the whole year, but tonight we did not play good defense and we put ourselves in position where it cost us the ballgame," Porter said.
Pirates manager Clint Hurdle wasn't about to pin the loss on the Astros' inexperience.
"We had three check swings, a tapper to the mound, a called third strike and a popup to right field so what does that say about our inexperience -- or our experience," he said. "This game is crazy sometimes. There's not an answer for everything."
Hector Ambriz, the Astros' fifth pitcher of the game, came into the game with a runner at first base with no outs in the seventh inning. He retired Martin before grooving a fastball over the middle of the plate for Pedro Alvarez, who sent a 462-foot homer into the Allegheny River to tie the game at 4.
"Too high and too middle," Ambriz said of the pitch. "With a game on the line like that, you can't make mistakes like that and he made me pay for it."
Coming off a poor performance against the Rangers five days earlier, Astros starting pitcher Jordan Lyles put his season back on track by allowing four hits and one earned run in five-plus innings. He left with a 4-2 lead but didn't get the win.
"It was pretty big for me to lower that pitch count after that first inning, throwing so many [pitches] in the first," he said. "I kept attacking and got some quick outs and not too many strikeouts. That first inning, I walked too many guys and that's not what you want to see, but I bounced back."
Brian McTaggart is a reporter for MLB.com and writes an MLBlog, Tag's Lines. Follow @brianmctaggart on Twitter. This story was not subject to the approval of Major League Baseball or its clubs.