Tracy's 10th-inning HR lifts Nats
LaRoche contributes pair of homers as Nats fend off pesky Padres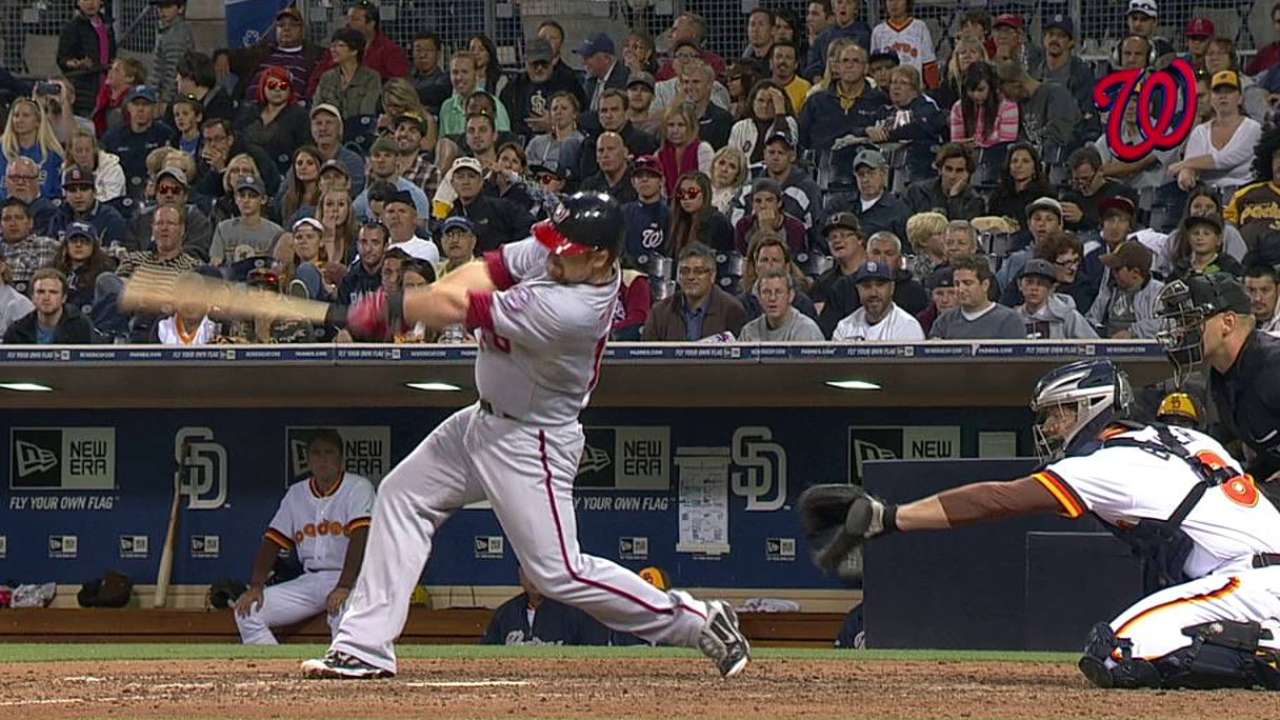 SAN DIEGO -- Infielder Chad Tracy is the leader of the "Goon Squad," which is another name for the Nationals' bench. Like all the players on the bench, Tracy was off to a slow start, but it was forgotten -- at least on Friday night -- as the Nationals edged the Padres, 6-5, in 10 innings at Petco Park.
Entering Friday's action, Tracy was hitting .162 when manager Davey Johnson called on him to pinch-hit for Rafael Soriano in the 10th inning.
The score was tied at 5 when Tracy swung at a 1-1 pitch from right-hander Huston Street and hit the ball over the right-field wall for his first home run of the season. It was also the seventh pinch-hit homer for the left-handed-hitting Tracy. Five of those home runs have come against the Padres.
"I was trying to hit something hard. I'm trying not to think too much," Tracy said. "I was thinking middle of the field and caught it out front a little bit.
"I was fired up. As a collective group, we haven't really come in and won a ballgame for us yet. Last year, we did that early on -- the first series of the year. It took a little longer this year. That's something that could get us going. We can feed off each other."
Then came right-hander Drew Storen, who battled in the bottom of the 10th inning to save his first game of the season. After getting a quick out, John Baker hit a ball that deflected off Storen's right hand and Baker reached first on a single.
Johnson, pitching coach Steve McCatty and head athletic trainer Lee Kuntz went to Storen's aid to make sure he was OK and he was.
"I know I'm very lucky because it hit in the ideal spot," Storen said. "It hit on the base of the palm. Not exactly the smartest move that I ever had on the field. It's all instinct, I guess."
Alexi Amarista was the next hitter and he singled to right-center field to put runners on first and third. Chris Denorfia followed and struck out on a changeup.
"I made a quality pitch and I'm pretty happy about it," Storen said.
Everth Cabrera followed and hit a ground ball to third baseman Ryan Zimmerman, who bobbled the ball, but was able to get Cabrera to end the game.
"That was a blip for Soriano," Johnson said. "He has been really good. But a good opportunity for Drew and he did the job. Instead of ... throwing, he actually pitched. It was a big strikeout getting Denorfia. That was huge. He threw a great breaking ball. It had bite to it. It was good for a couple of guys. We got Storen back and Tracy."
The Nationals also was able to get Adam LaRoche back. A few weeks ago, everyone was wondering what was wrong with LaRoche. On May 1st, he was hitting .129 with three home runs and nine RBIs.
Talk to the Padres, however, and they will tell you nothing is wrong with the left-handed-hitting slugger after he drove in four runs on two homers. LaRoche also leads all visiting ball players with 10 home runs at Petco Park.
"You think it would be 20 other parks than this one," LaRoche said. "It plays pretty big. I know they moved the fences in which helped us out a little bit. I don't know what it is here. I see the ball good."
Right-hander Burch Smith started for the Padres and he dominated the Nationals the first three innings by striking out five batters. He also was given a 2-0 lead after one inning.
With left-hander Gio Gonzalez on the mound, Kyle Blanks singled to right field, scoring Everth Cabrera. On the same play, Bryce Harper's throw to third base went past Zimmerman for an error and that allowed Jesus Guzman to score the second run of the game.
But the Nationals would take the lead in the fourth inning against Smith. After Harper and Zimmerman hit consecutive singles to start the inning, LaRoche swung at a 1-0 pitch and hit the ball over the right-center field fence to give Washington a 3-2 lead. LaRoche extended his hitting streak to 14 games.
"It's the same. It's just one at-bat to the next. I feel great," LaRoche said. "Right now, when I feel good, I'm hitting the ball good or taking some walks. I'm getting closer."
Two innings later, the Nats added to their lead using the long ball against Smith. With one out, Zimmerman hit a ball that barely went over the right-field fence for his second home run of the season.
LaRoche followed and hit his second home run of the night, a solo shot that went over the center field wall. It was the second time this season that LaRoche hit two home runs in a game.
"I felt like I lost some velocity," Smith said. "[The home runs] were up and over the plate. Guys at this level will make you pay for it."
Gonzalez ended up with a no decision. He lasted 6 2/3 innings, allowed three runs -- two earned -- struck out five batters and walked three.
It looked like it was going to be a short night for Gonzalez after he threw 45 pitches over the first two innings, but he settled down the rest of the way and allowed one more run, which was a home run by Jedd Gyorko.
But the Padres tied the game in the ninth inning by scoring two runs off closer Rafael Soriano. But it was the leader of the Goon Squad who was able to get the job done for the Nationals.
Bill Ladson is a reporter for MLB.com and writes an MLBlog, All Nats All the time. He also could be found on Twitter @WashingNats. This story was not subject to the approval of Major League Baseball or its clubs.