Kipnis conquers M's with three-run, walk-off homer
Righty Jimenez strikes out nine in five solid innings of work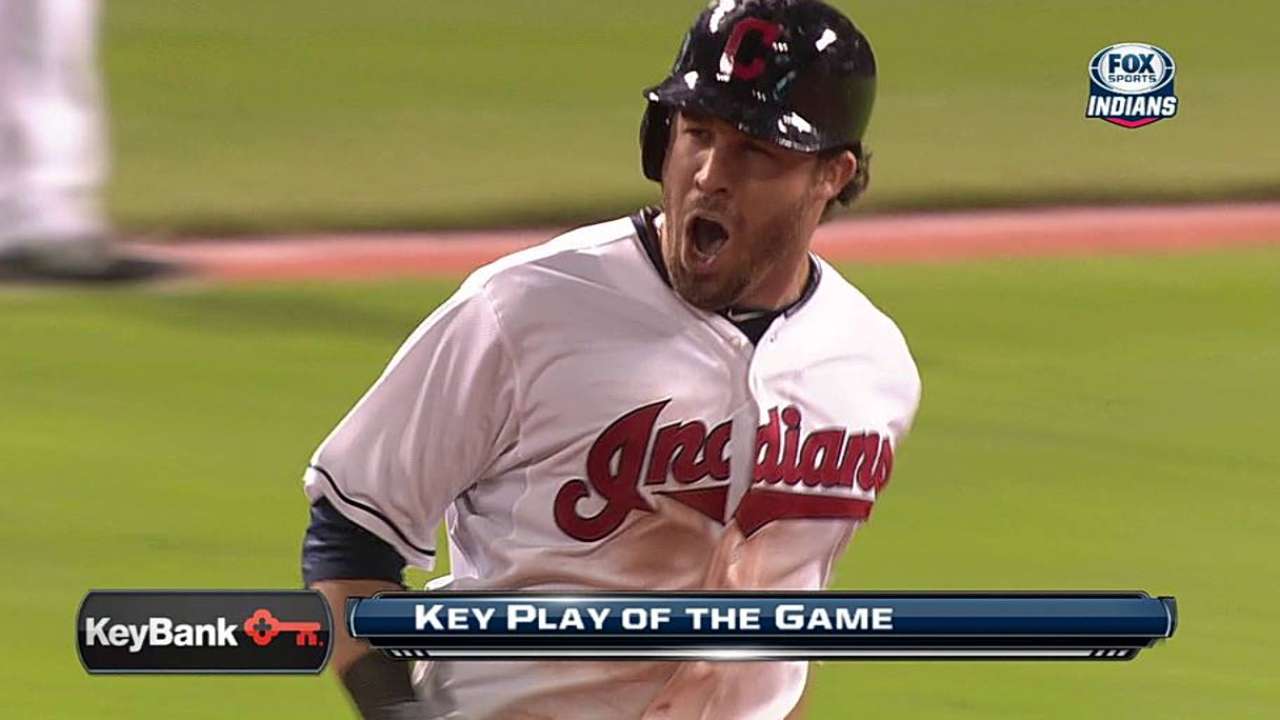 CLEVELAND -- Jason Kipnis watched his hit disappear into a sea of celebrating fans and could not help himself. The Indians second baseman started yelling. He yelled over and over, throwing his arms out as he rounded the basepaths with fireworks popping above his head and the raucous crowd roaring.
There were no thoughts running through Kipnis' head, nor were there words coming out of his mouth.
There was only pure guttural screams of elation.
"There were no words," Kipnis said. "It was just kind of sounds, just gibberish and screams. I was just amped up."
Kipnis' three-run homer off lefty Lucas Luetge in the 10th inning on Friday night sent Cleveland to a 6-3 walk-off victory over the Mariners at Progressive Field. The two-out blast followed a rally ignited by speed, came in front of an impressive crowd and kept the Indians tied with the Tigers atop the American League Central standings.
The home run into the right-field stands gave the Indians their Major League-leading 18th victory in the past 25 games, dating back to April 20. The win opened with a solid performance from Tribe starter Ubaldo Jimenez and ended with another critical hit from Kipnis, whose April slump has been shrinking smaller and smaller in the rear-view mirror.
Kipnis' hard work, combined with the patience of Indians manager Terry Francona, has paid off.
"I remember in the beginning when everybody was like, 'Hey are you going to move him down in the order?'" Francona said. "You just have to be patient with good players, and it's paying off in huge dividends. He's not just getting hits. He's getting big hits and driving the ball out of the ballpark. He's running the bases. He's doing everything."
Over his last 14 games, Kipnis has hit at a .316 (18-for-57) clip with six home runs and 19 RBIs, producing 13 extra-base hits in that span. The Tribe's second baseman hit just .189 (14-for-74) with four extra-base hits in his first 18 games this season.
Kipnis has treated May as a kind of clean slate.
"We kind of reset the process," Kipnis said. "And I've kind of got my swing back right now."
In front of an announced crowd of 34,282 -- the largest gathering since the home opener -- the Indians (23-17) used a combination of patience and power to jump out to a 2-0 lead against Mariners starter Brandon Maurer.
In the second inning, Nick Swisher drew a lead-off walk against Maurer and Carlos Santana followed with a double off the wall in right field. Veteran Jason Giambi brought Swisher home with a sacrifice fly to deep center field to plate the Tribe's first run. Santana later scored on a wild pitch by Maurer, who proceeded to sidestep further damage until the fifth.
With one out in the fifth, Indians outfielder Drew Stubbs sliced a pitch from the righty down the right-field line, where the ball sailed over the wall for a solo home run. Maurer was charged with three runs on five hits in six innings of work for Seattle (20-22).
The Mariners were unable to break through against Jimenez until the fourth inning, when Kendrys Morales launched a no-doubter into the second deck beyond right field for a solo home run. In the sixth inning, with Jimenez's pitch count up to 98 and a runner on first base, Francona opted to hand the ball to lefty Rich Hill to face Raul Ibanez.
"We didn't want Ibanez to get a third look at him," Francona said.
Hill promptly surrendered a two-run homer to Ibanez, pulling the game into a 3-3 tie and closing the book on Jimenez's solid effort. The Indians' starter piled up a season-high nine strikeouts and escaped with a no-decision, marking his fifth straight start without a loss. That is Jimenez's longest run without a loss since going 12 starts without a defeat between May and July of 2010.
Over his last five turns, Jimenez has gone 3-0 with a 2.83 ERA and 33 strikeouts in 28 2/3 innings.
"He should feel good about himself," Francona said. "He's backing up each start. He's consistently throwing the ball -- there's life on everything. He should feel good about himself."
The 10th-inning rally began with a stolen base from Stubbs, even though Seattle knew it was coming. After issuing a two-out walk to Stubbs, Luetge fired a throw to first base and had the Tribe's right fielder caught. Stubbs sprinted for second and used his speed to slide in safely to keep the late push alive.
Michael Bourn followed by chopping a pitch just beyond the mound, giving the speedy center fielder just enough time to reach first base.
"It was perfect placement," Bourn said. "I was trying actually to stop my swing, but I hit it, and it went in the right place -- simple as that. Sometimes it's better to be luckier than good."
That set the stage for Kipnis, who did not want to waste the efforts of Stubbs and Bourn.
"I knew that I had to go up there and just get a single -- just slap it," Kipnis said. "That approach may have helped me stay back on his offspeed."
Luetge spun an 86-mph slider, and Kipnis pulled the 0-1 offering over right field for his seventh homer of the season. As Mariners right fielder Endy Chavez slowed down at the warning track, Progressive Field erupted in cheers and Kipnis' teammates sprinted to home plate to form a welcoming party for Friday night's hero.
Francona took a moment to watch as his players mobbed Kipnis and jumped with joy.
"I was so happy for them," said the manager. "I get a big kick out of that. Watching those guys jump on each other is fun."
Given the size of the crowd in the team's return to Cleveland, and the kind of victory the Tribe gave its fans, Kipnis called it one of his most memorable nights on a diamond.
"This was outstanding," he said. "This was one of the more fun nights I've had on a baseball field."
Jordan Bastian is a reporter for MLB.com. Read his blog, Major League Bastian, and follow him on Twitter @MLBastian. This story was not subject to the approval of Major League Baseball or its clubs.