Luetge surrenders walk-off homer to Tribe in 10th
Ibanez goes 3-for-5 with homer; rookie Maurer gives up three runs in six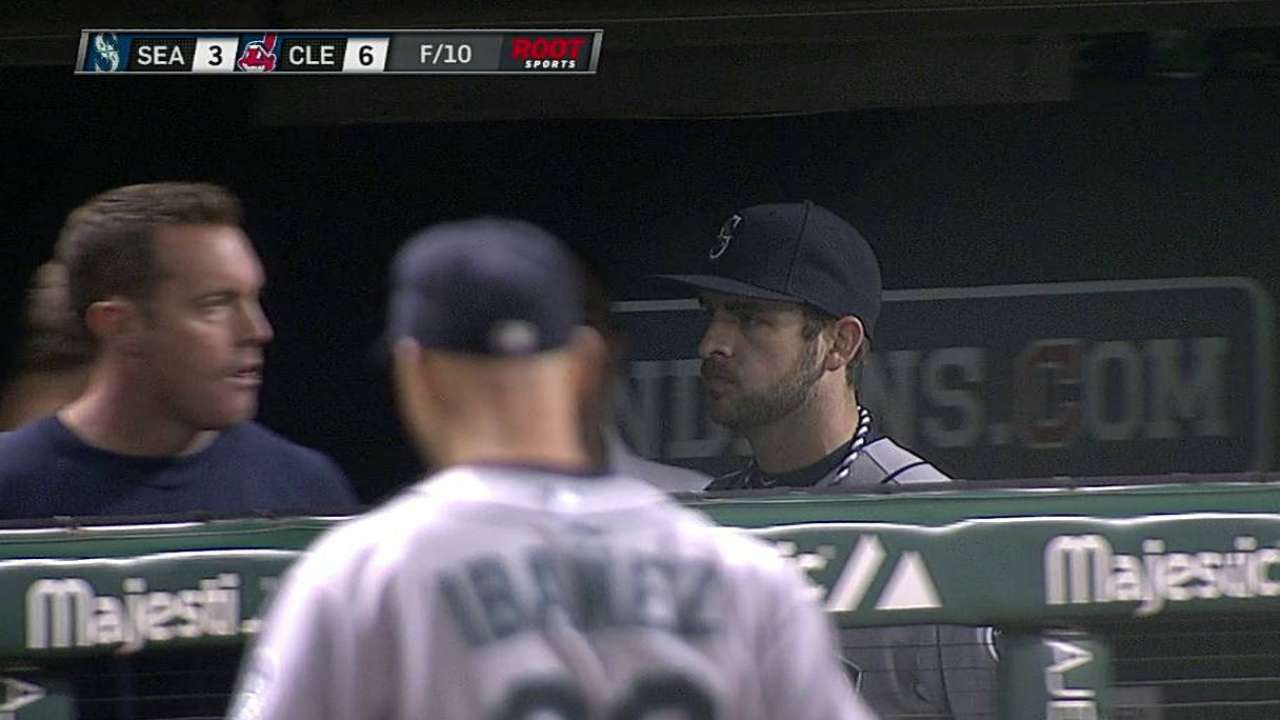 CLEVELAND -- It was a pitch Lucas Luetge wanted back as soon as it left his hand, but Indians second baseman Jason Kipnis wasn't in the mood for second chances Friday as he ripped a three-run walk-off homer in the bottom of the 10th to beat the Mariners, 6-3.
Luetge had two outs and runners on second and third when he tried to waste an 0-1 pitch on the outside to see if Kipnis would bite. Instead, the ball wound up being deposited in the right-field seats at Progressive Field and Kipnis ended up in the bottom of a pig pile at home plate as Cleveland spoiled Seattle's recent surge.
"I was just trying to throw a slider for a ball, and I just hung it," Luetge said. "Right away, you can ask any pitcher, sometimes the ball leaves your hand, and you just think, 'Oh man' in different words in your head. You're just hoping he pops it up and misses.
"I was trying to throw it off the plate. I had a base open, so I wasn't trying to throw a strike there. I just left it over the middle."
Even with slugger Michael Morse sidelined at the last minute by an eye irritation, the Mariners played some long ball of their own as Raul Ibanez and Kendrys Morales both hit home runs. But this one swung the Indians' way in the 10th against Luetge after Seattle pitchers had retired 15 in a row prior to the winning rally.
"That was the matchup we wanted, the left-on-left there," manager Eric Wedge said. "Lucas does a nice job against left-handers. He's been in those situations before and done well. He just spun one up there."
The Indians set up their game-winning blast with some impressive speed. Right fielder Drew Stubbs drew a two-out walk, then appeared picked off for what would have been the third out. Instead, he bolted for second fast enough to beat the throw from first baseman Justin Smoak to second.
Leadoff hitter Michael Bourn then rolled a slow grounder to second on a checked swing, but breezed to first in time to easily turn it into an infield single.
"Right there, it shows why speed kills sometimes, and speed never slumps," said Kipnis.
Luetge said those situations didn't disrupt him, however.
"Not really. I wasn't really concerned with them," Luetge said. "We picked him off, he was just a little quicker than we were. We did what we were supposed to do. He just beat us."
As for Bourn's infield roller?
"It's a little frustrating," Luetge said. "Just the ball not bouncing our way. It happens. Unfortunately, I didn't get the next batter out. If I get that guy out, it doesn't matter."
Seattle has still won 12 of its last 19 games, but saw its record drop to 20-22 with the loss in the opening contest of the four-game series.
Ibanez ripped his fifth home run in the past six games with a two-run shot off reliever Rich Hill in the sixth inning, the 397-foot blow tying the game.
Morales provided Seattle's early offense with a mammoth solo shot in the fourth inning, the ball carrying an estimated 429 feet into the second deck in right field.
Ibanez now has seven homers on the season -- second on the team behind Morse's 10 -- and Morales has hit five as the Mariners' offense continues to improve.
Ibanez went 3-for-5 and has gone 12-for-31 over his past 10 games to raise his batting average from .148 to .235.
"I'm feeling pretty good at the plate," Ibanez said. "Unfortunately we came up short tonight, but it was a good battle by both sides, and we'll come back tomorrow and do it again."
Rookie right-hander Brandon Maurer turned in a quality start with six innings of three-run ball, giving up five hits with four walks and six strikeouts before turning a 3-3 tie over to the bullpen.
Maurer's no-decision leaves him at 2-5 with a 5.75 ERA after throwing a season-high 102 pitches.
"I thought he made some great strides against the left-handers today," Wedge said. "It was impressive for him to get through that sixth inning. I wanted to give him the opportunity to do that, and it was big for him and us. He's hard on himself out there. He needs to back off himself a little, but he's learning a great deal every time he goes out there."
The Indians scored twice off Maurer in the second on a sacrifice fly by Jason Giambi and a wild pitch that scored Carlos Santana from third, then added a solo home run by Stubbs in the fifth.
Cleveland packed its lineup with seven lefties or switch-hitters, not surprising given lefties were hitting .358 against Maurer compared to .243 for righties. But he held the Indians to five hits in his six innings and gave his team a chance to win.
"I threw a lot of two-seamers with those lefties, just trying to get it outside and let it kind of drift off the plate and see if I can get a swing at it," Maurer said. "I used it quite a bit more today than I had throughout."
Brendan Ryan continued his recent offensive uptick as he went 2-for-4 with a double. The veteran shortstop has a four-game hitting streak going during which he's gone 6-for-16.
Third baseman Kyle Seager went 1-for-3 with two walks and is now batting .500 (15-for-30) in eight games at Progressive Field.
Greg Johns is a reporter for MLB.com. Follow him on Twitter @GregJohnsMLB as well as his Mariners Musings blog. This story was not subject to the approval of Major League Baseball or its clubs.