Pacheco's slam helps Rockies solve Giants
Colorado hangs on to end 10-game skid vs. San Francisco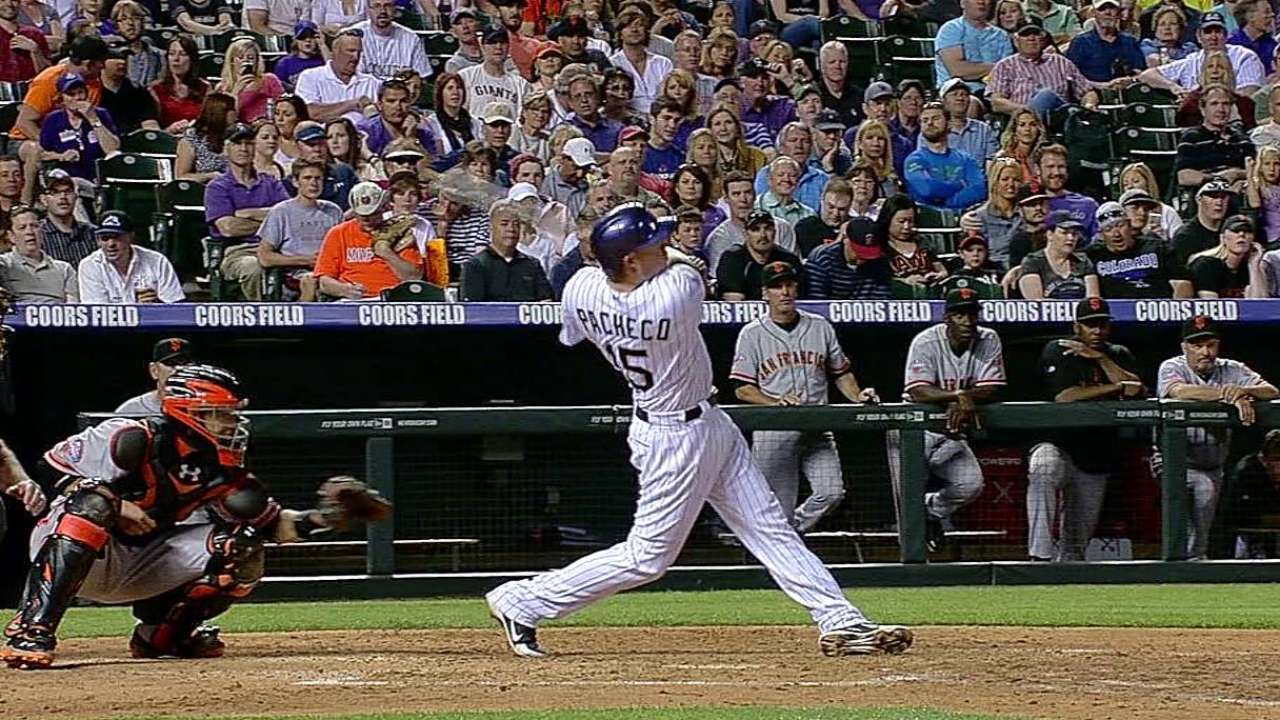 DENVER -- A Rockies team that almost never delivers the big hit against the Giants finally came up with one on Friday night.
Jordan Pacheco, who hadn't homered this season, drove a first-pitch slider from Giants starter Madison Bumgarner into the left-field seats with two out in the fifth inning for his first-career grand slam. Pacheco's homer broke a tie and helped the Rockies end their losing streak to the Giants at 10 games, 10-9, at Coors Field in front of 43,365.
"Madison is a great pitcher," said Pacheco, who had the home run ball tucked safely in a sandwich bag for delivery to his father, who is coming to Denver from New Mexico on Saturday. "We always struggle with him. It's tough to hit off of him. He's got a funky motion. I was just looking for a pitch I could drive, and I got one."
The victory dropped the Giants into a first-place tie with the D-backs in the National League West and put the Rockies (22-20) two games back, but it was far more important than that.
After a strong start to the season, the Rockies have dropped six of their last seven series. The current four-game set with the Giants, followed by three games at home against the D-backs and three games at San Francisco, represent a stretch in which the Rockies have the opportunity to show they are serious contenders in the division. However, in Thursday night's series opener with the Giants, they blew an early 6-0 lead -- on standout pitcher Matt Cain, no less -- and lost, 8-6.
"The bottom line is it's important for us to put away games, regardless who we're playing against," Rockies manager Walt Weiss said. "But it's obvious that we've had some rough history with the Giants here the last couple of years. "
Friday's victory, in which Carlos Gonzalez added his team-leading 10th homer, made the Rockies just 10-31 against the Giants since the start of 2010. But a turnaround against the Giants, winners of two of the last three World Series, has to start somewhere.
"It's huge," said center fielder Dexter Fowler, whose diving catch ended a three-run Giants rally in the seventh. "They're the defending world champions and they've won our division the past few years. That's tough, but we can't let them beat us at home."
Giants manager Bruce Bochy lamented four early errors, which cost the Giants their early 4-0 lead, and led to the end of their streak against the Rockies.
"You're not going to win every game, particularly when you play like we did early in the game," Bochy said. "But it was a good run. They're a tough team and this is a tough division."
Pacheco is by no means a light hitter. He led NL rookies with a .309 batting average last year and entered Friday hitting .304 in part-time duty while spelling Todd Helton at first base. He entered the game a respectable .278 with runners in scoring position. Wilin Rosario had tied the game, 5-5, earlier in the inning with an RBI single.
But power hasn't been Pacheco's forte -- he homered five times in 475 at-bats last season.
"I was just talking to Dante [Bichette, the Rockies' hitting coach] and talking to guys, and they said, 'Be aggressive,'" said Pacheco, whose homer chased Bumgarner (4-2). Bumgarner gave up eight hits and nine runs (seven earned) while pitching through four Giants errors. "I was aggressive in that situation and it paid off."
Gonzalez homered in the sixth off George Kontos for a 10-5 lead.
"At that point, I knew we had a comfortable lead, but you never know with those guys," Gonzalez said.
The Giants appeared headed to a patented comeback in the seventh, when the first three batters reached and eventually scored against Edgmer Escalona. Escalona gave up two hits and had a runner score on a wild pitch in the inning. Rex Brothers kept the game at 10-8, but needed Fowler's inning-ending catch with a runner on second.
The Rockies missed a chance to increase the lead when Fowler struck out against Santiago Casilla to end the eighth with the bases loaded. The Giants' Buster Posey hit his sixth homer of the season with two out and bases empty in the eighth against Matt Belisle, and Hunter Pence doubled over the head of right fielder Eric Young Jr., but Belisle forced a Brett Pill grounder. Rockies closer Rafael Betancourt improved to 10-for-10 on save chances by striking out lefty hitters Brandon Belt, Brandon Crawford and Gregor Blanco in the ninth.
"I told him that was a 'tough-guy save,'" Weiss said.
Before Giants made the errors that the Rockies used to climb back, they built a 4-1 lead in the second against Rockies left-hander Jorge De La Rosa (5-3), who pitched five innings with nine hits. It was different from his previous start, when he didn't give up a hit until two were out in the seventh in a win over the Cardinals.
"When you throw a game like this and your teammates hit well, it's good -- I hope we're still hitting like this but pitching better next time," De La Rosa said.
Thomas Harding is a reporter for MLB.com. Read his blog, Hardball in the Rockies, and follow him on Twitter @harding_at_mlb. This story was not subject to the approval of Major League Baseball or its clubs.