Porcello leads way as Tigers double up Rangers
Righty strikes out six; Miggy collects three hits to help even series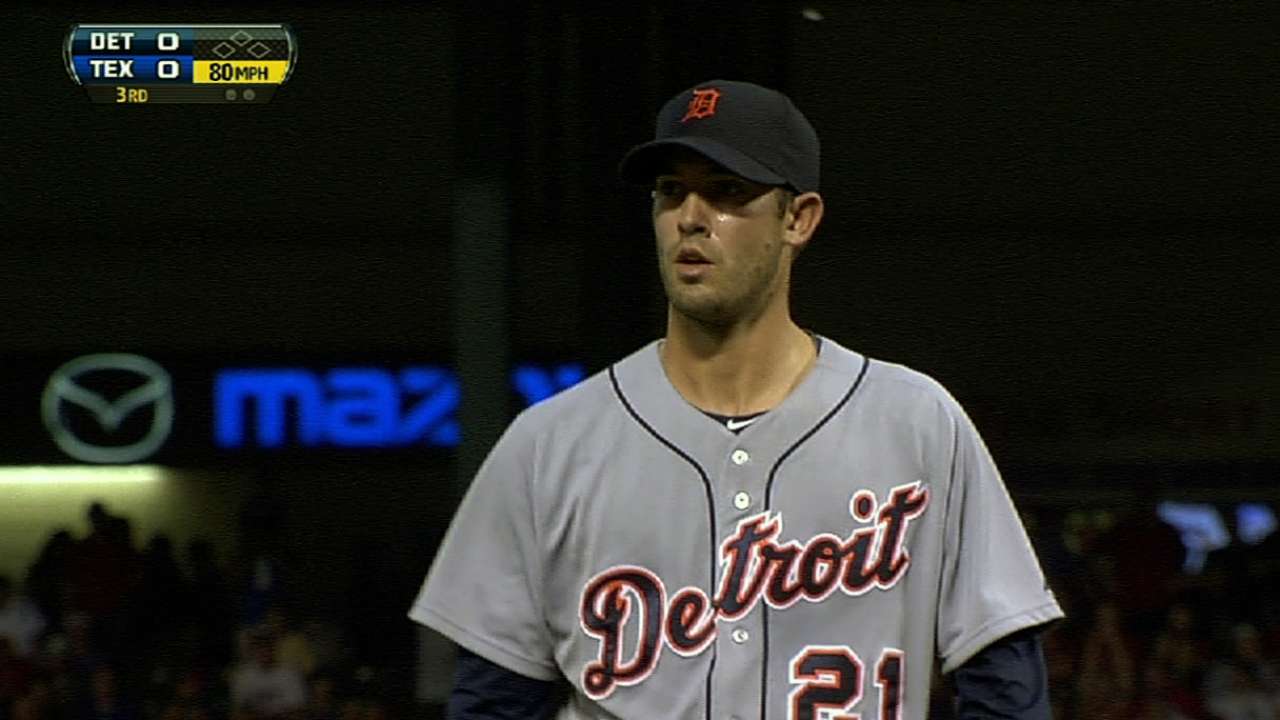 ARLINGTON -- The pitching duel in Texas that fans expected to see on Thursday night from Justin Verlander and Yu Darvish showed up 24 hours later.
As far as the Tigers were concerned, it was better late than never.
The Tigers happily accepted Rick Porcello's fourth straight solid start, this one arguably his best of the season, and rode it and another solid effort from the bullpen to a 2-1 victory over the Rangers on Friday night at Rangers Ballpark.
Porcello showed poise and determination, especially when the Rangers threatened, and Texas was 0-for-8 with runners in scoring position.
"That won't happen very often, we know that," manager Jim Leyland said. "Everybody expected this [pitching duel] last night. That's why this is a great game. You don't expect a 2-1 game in this ballpark."
The Tigers' victory squared the series at one game apiece in a clash of division leaders.
Porcello fell an out short of qualifying for a quality start, but there was no question that he did his job and then some, limiting the same team that rang up 10 runs a night earlier to just five hits and a single run over 5 2/3 innings.
"There weren't many easy outs tonight," said Porcello, who made it look easy nonetheless. "They really battled, fouled off a lot of pitches and stayed aggressive.
"This is a tough place to pitch, especially with the lineup they put out there. I just wanted to keep the ball down. If you keep it down, they can't hurt you as much."
The Rangers posed serious threats in both the third and fourth innings, but Porcello met the challenge. After rookie Leonys Martin drilled a one-out triple to right-center, Porcello retired Elvis Andrus on an infield-in liner to first baseman Prince Fielder and caught second baseman Leury Garcia looking at a third strike, one of Porcello's half dozen strikeouts on the night.
It's the third straight start in which Porcello has struck out at least six, which is a bit unusual for a guy who generally pitches to contact.
"He has been aggressive, throwing a better breaking ball and using his changeup really well," Leyland said. "He's a ground-ball guy and if he gets strikeouts, that's just a bonus."
Porcello said he knew he had to bear down after Martin's triple.
"You just want to an out there," he said. "You just don't want the inning to blow up on you. We were fortunate to get out of it. There were a couple of situations where we made plays when we had to make them."
Lance Berkman and Adrian Beltre led off the fourth with singles, but Porcello quickly doused that threat by coaxing Nelson Cruz to roll into an around-the-horn double play and Mitch Moreland to bounce out to first. It was the first of two critical double plays Cruz would ground into in the game.
"He was throwing nothing new," Cruz said. "He was throwing to his spots and nothing to the middle, where we would do some damage. When he's getting the ball down and in, it's hard to square the ball up. He was hitting his spots."
Rangers manager Ron Washington also gave Porcello plenty of credit.
"I thought Porcello was as good as I've ever seen him," Washington said. "He loaded up the strike zone with all kinds of pitches. We worked him pretty good. We had opportunities, but he made pitches and we couldn't deliver."
Porcello's only major mistake came in the fifth inning, when Rangers catcher Geovany Soto lined his second home run in as many nights into the left-field seats.
By that time, the Tigers had broken through for a pair of runs off Texas starter Nick Tepesch in their half of the fifth with Miguel Cabrera's double doing the major damage. Cabrera had three of the Tigers' six hits off Tepesch and the Texas bullpen.
Porcello bowed out after issuing a two-out walk to Beltre in the sixth and the Tigers' bullpen took it from there. Jose Ortega got a couple of outs and left-hander Drew Smyly picked off two more.
That got it handily to setup man Joaquin Benoit, who gave up a couple of hits in the eighth, but again got Cruz to ground into an inning-ending double play, setting the stage for closer Jose Valverde in the ninth.
The Detroit closer sandwiched three ground balls to second around a one-out walk to notch his fourth save.
Jim Reeves is a contributor to MLB.com. This story was not subject to the approval of Major League Baseball or its clubs.