Kuroda stifles Blue Jays with eight two-hit innings
Adams, Romine help NY beat Toronto for seventh time in eight games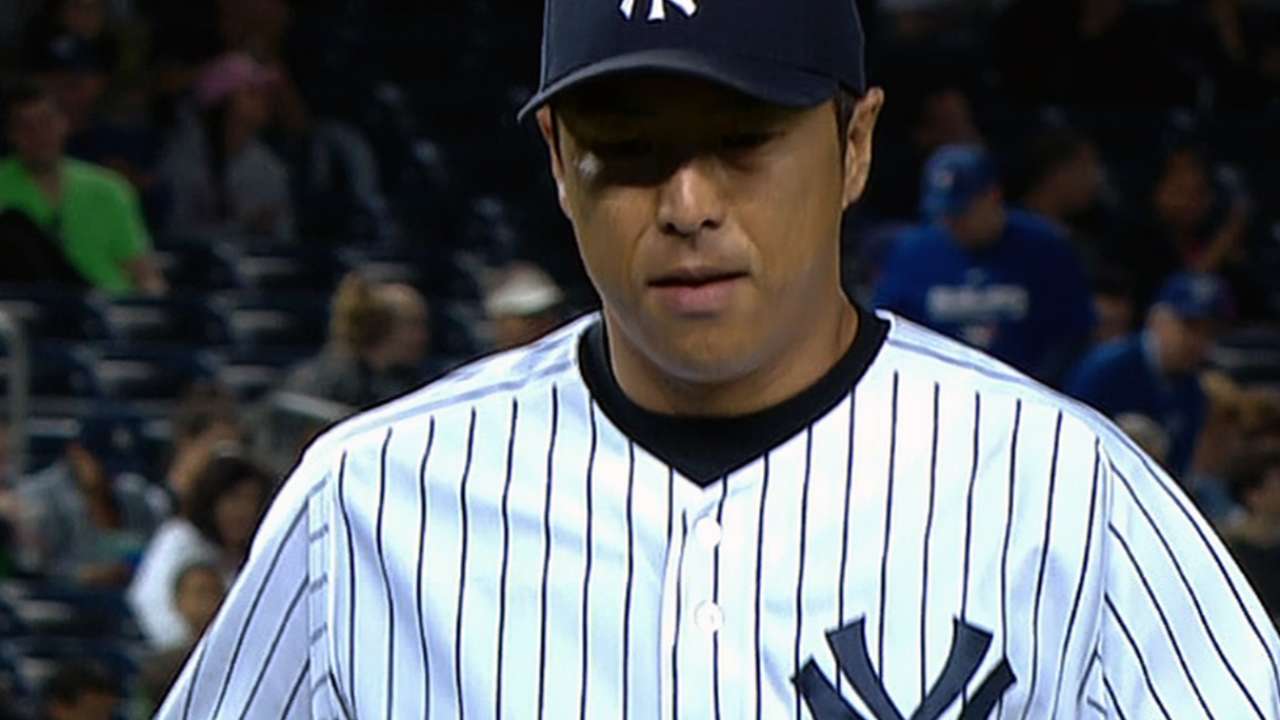 NEW YORK -- The Yankees of 2013 were expected to be an old story, not one rehashed and retold, but one with wrinkles, one that prompted observers to count the rings in the trunk and gray hairs on their heads. Aged to perfection was 2009. This season was merely about age, too much of it. The Yankees were the appropriate age to fall and not get up and to finish among the also-rans in the American League. And when injury visited them and then became guilty of felony piling on, the adjusted assessments were for an even more bleak season.
At the same time, the Blue Jays of 2013 were expected to move north in the standings, one year after the fall of the Red Sox and simultaneous with the decline of the octogenarians in the Bronx.
Now, 42 games into their seasons, the Yankees are in first place in the AL East, the Jays are in last, nine games back. And the status of each is due, in large part, to the Yankees' dominance of the team from Canada.
The Yankees had their way with the Jays again Friday night. Their 5-0 victory was their seventh win in eight games against John Gibbons' disappointing team. This one was a byproduct of wonderful pitching by 38-year-old Hiroki Kuroda and the exploits of a couple of kids who have yet to earn their (pin)stripes.
Kuroda contributed eight innings of two-hit pitching, and 20-somethings David Adams and Austin Romine, each an understudy for an understudy, made significant contributions to an offense that overcame Mark Buehrle. Derek Jeter, Mark Teixeira, Kevin Youkilis and Francisco Cervelli are baseball-incapacitated. But the kids are all right.
Adams, in his third game in the big leagues, produced two hits and scored twice; Romine, now a veteran of eight games, had two hits, one RBI and one run scored. Kuroda and the kids had some help, but they were primarily responsible for the Yankees' eighth victory in 11 games -- also the Jays' first loss in five.
Make no mistake, these are kids, if not by calendar, then by resumé or appearance. In the afterglow of this one, a Yankees minion slipped a parking pass on the stool in front of Adams' locker. "Proof you've made it," the rookie third baseman was told. "I don't even have a car here," he said. Some wondered whether he were old enough to have a license.
Vernon Wells, the veteran who measures time by Yankees injuries -- "Three injuries ago, we yada, yada, yada" -- noted that the young players seem quite comfortable in their new surroundings then reasoned, "They should because they were all together down there."
Adams turned 26 this week. Romine is 24. The two had combined for 19 at-bats, all Romine's in 2011, before April 27. And there was Romine catching a pitcher 14 years his senior.
Kuroda surrendered a leadoff double by Melky Cabrera on the third pitch of the game. Cabrera remained on second base. Two innings later, Kuroda issued a walk and picked off the man he had passed. And in the seventh, Edwin Encarnacion singled on a 3-2 pitch. That was it until the ninth for a team that had scored 33 runs in the three games that preceded its second visit to the Stadium this year.
Kuroda's replacement was 25-year-old Preston Claiborne. He allowed two hits, but he was all right, too.
Romine and Joe Girardi indicated Kuroda had an uncommon degree of precision on his three pitches -- fastball, slider, splitter. He threw 109 pitches and struck out five. Girardi was not inclined to have his starter pitch the ninth.
"He's not 25 either," the manager said, referring to 40-year-old [and now sidelined] Andy Pettitte. "But he acts like it."
So Girardi protects Kuroda from himself. It's not about one start, it's about 35.
"He's definitely one of the better ones in the American League," Gibbons said. "He's had our number. That's the third time this year we haven't been able to do anything with him."
Kuroda, who has won four of his five most recent starts, has won two starts against the Jays, and he was the starting pitcher in another Yankees victory against them.
The Yankees scored in the first, fifth and seventh innings against Buehrle with a modicum of traditional Bronx firepower. Brett Gardner tripled to left-center field on Buehrle's first pitch. His third triple was more a matter of speed and the inability of the Jays' outfield to cut off the hit before it rolled to the warning track. After a walk to Jayson Nix, Gardner scored on a ground ball to second by Robinson Cano. The RBI was the 27th for Cano, which leads the team.
For one night, at least, the Yankees had abandoned their standard operating procedure; they scored in the first inning. Even with the one run against Buehrle, they have been outscored, 32-13, in the first. The 32 is a lot, the 13 is few. And the ratio is quite odd for a team with a winning record (26-16). But it is an unusual season from the team in first place.
Buehrle seemed uncomfortable in the first inning. Renowned for working quickly, his on-mound behavior was conspicuously deliberate. His pace quickened dramatically thereafter.
The Yankees had no other baserunner until Adams led off the fifth with a single. After a one-out single by Romine and a walk to Gardner, a sacrifice fly by Nix produced the run. Kuroda had been so effective to that point, the two-run lead appeared to be an ample margin for error.
The margin for victory became much larger when the Yankees produced hits in four straight at-bats in the seventh. A double by Adams, a bunt single by Ichiro Suzuki and a ripped double to left by Romine scored Adams and forced Buehrle from the game. Aaron Loup allowed a single through the left side by Gardner that scored Ichiro, and Nix's second sacrifice fly produced the third run.
That was that. Not all stories about the Yankees of 2013 are old, after all.
Marty Noble is a reporter for MLB.com. This story was not subject to the approval of Major League Baseball or its clubs.