Blue Jays no match for Kuroda in opening loss
Club manages only two hits off righty as winning streak ends at four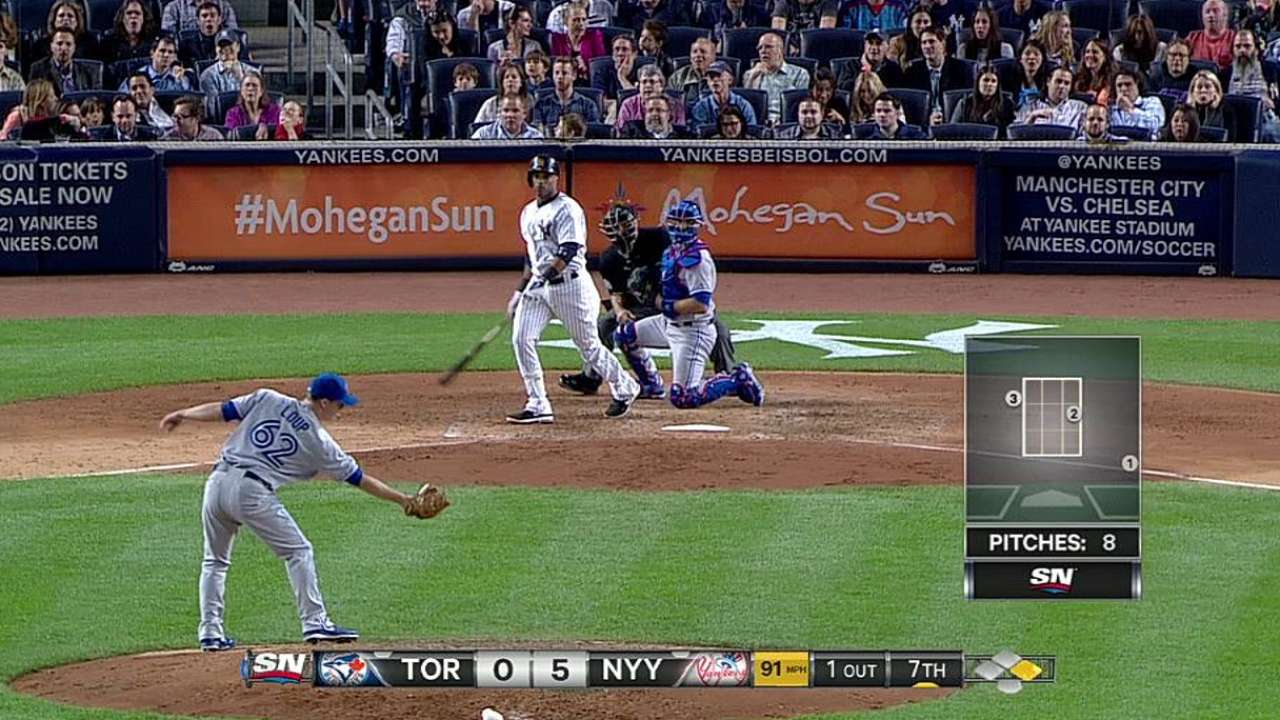 TORONTO -- The Blue Jays appear to have found their Achilles' heel in veteran right-hander Hiroki Kuroda.
Toronto was shut down on Friday night for the third time in less than two months by the Yankees' starting pitcher. He hasn't just been good against the Blue Jays, he has been borderline dominant.
Melky Cabrera started the night with a leadoff double, but the Blue Jays managed to record just one more hit against Kuroda as their winning streak came to an end at four games with a 5-0 loss to New York at Yankee Stadium.
"He's very good, he's definitely one of the better ones in the league and he's had our number," Blue Jays manager John Gibbons said. "We haven't been able to do anything with him. I think the last time we were here, the first couple of innings we were swinging off of him, but other than that, he has been lights out."
The Blue Jays entered play on Friday night riding the high of a mini streak which saw the previously dormant offense come to life. Toronto scored 33 runs over its previous three games with the top of the order in Cabrera, Jose Bautista and Edwin Encarnacion all hitting above .400 since Saturday.
The hot streaks came to an abrupt end vs. Kuroda as the Japanese hurler saw his success against the Blue Jays continue. He allowed just the two hits and one walk while striking out five over eight scoreless innings.
Kuroda has now allowed just four runs in 21 1/3 innings vs. Toronto this season while the Yankees have come away with the win in all three of his starts. He leads New York with six wins and a sparkling 1.99 ERA.
"Tonight was not a whole lot different from what we've seen all year," Yankees manager Joe Girardi said. "He expects to do well. ... He's been so good for us."
The Blue Jays started the night on a positive note as Cabrera doubled to the right-field corner. But the rally was short-lived as Kuroda proceeded to strike out Bautista and Encarnacion before getting J.P. Arencibia to line out and end the frame.
Cabrera's hit was the only one Kuroda allowed until Encarnacion's sharp single to left in the seventh. The righty faced the minimum over that span of 19 batters and Cabrera was the only baserunner to reach scoring position against Kuroda.
Kuroda has now thrown 12 consecutive scoreless innings vs. the Blue Jays dating back to his last start, and overall, opponents are hitting 0-for-their-last-25 with runners in scoring position against him.
"You still figure it might be a tight ballgame, but that's what the good ones do," Gibbons said. "You have to get them early. They settle in, get their rhythm, find a little groove there, makes it tough.
"Kuroda was just real good."
Blue Jays left-hander Mark Buehrle pitched much better than his final line would indicate and he proved to be a worthy adversary of Kuroda during the early stages of the game. He did allow one run in the first thanks in part to a leadoff triple by Brett Gardner but then quickly found a groove.
Buehrle faced just one batter over the minimum from the end of the first until the top of the fifth. His undoing came in the seventh, when he allowed a pair of doubles to David Adams and Austin Romine during an inning that also included a bunt single by Ichiro Suzuki.
Gibbons then went to the bullpen, but the damage was already done as Buehrle was charged with five runs on six hits while striking out four and walking three. The unfortunate start to the seventh spoiled what otherwise would have been a quality start.
"I didn't feel as good as last game but still making some pitches," Buehrle said. "Just that last inning, first-pitch double and then a good bunt and I tried to battle, tried to get out of that inning, but unfortunately I couldn't.
"Tip your hat to Kuroda, he pitched a good game, again, against us. When you run into hot pitching like that, you try to shut them down for as long as you can."
The final result was far from ideal, but the Blue Jays can take some solace in the fact that Buehrle might be turning things around. He posted a 7.02 ERA during his first seven starts of the season before allowing just one run over seven innings during his last time out vs. Boston.
That success carried over through the first six innings of Friday night's start. The outing eventually went south but there are plenty of building blocks to work from, and as always with Buehrle, it comes down to location on the corners and consistently keeping the ball down in the zone.
"The last couple of games, yeah," Buehrle said when asked if he's been happy with the overall command. "I can't really pinpoint why that is from where it was previous starts. I haven't changed anything. Like I said, I go out there and do what I need to do in between starts to get ready for the next one."
Gregor Chisholm is a reporter for MLB.com. Read his blog, North of the Border, and follow him on Twitter @gregorMLB. This story was not subject to the approval of Major League Baseball or its clubs.