Huge inning not enough after Hammel's rough outing
O's score six runs in eighth; righty allows seven over 4 2/3 frames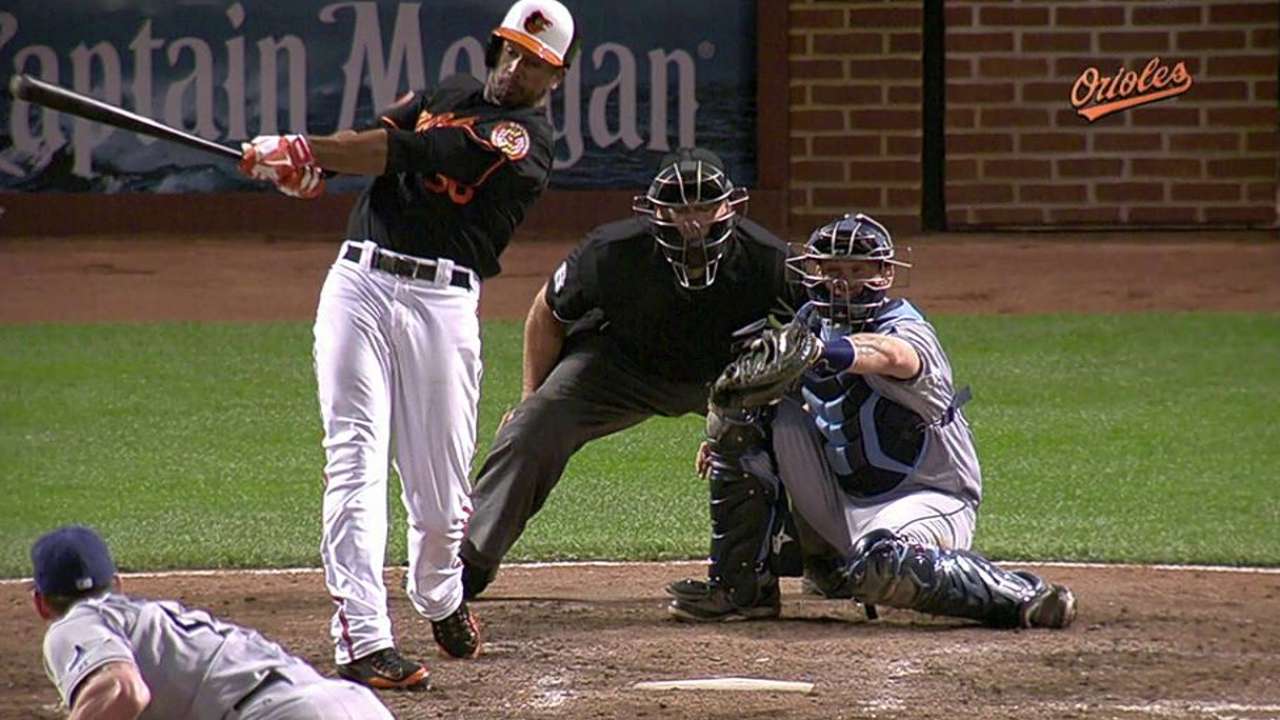 BALTIMORE -- Following a four-inning outing in Minnesota on May 10 in which he left his team with a six-run hole to crawl out of, Orioles Opening Day starter Jason Hammel was upfront and honest, vowing to get back to last season's form.
But on a night when Baltimore, opening a stretch of 33 games in a 34-day span, badly needed a deep start, Hammel couldn't follow through.
Instead, the 29-year-old continued to struggle with his fastball command, slogging through a 4 2/3-inning outing that resulted in seven earned runs. The short start paved the way for a 12-10 series-opening loss to the Tampa Bay Rays on Friday night, with the Orioles' impressive late rally unable to overcome their pitching woes.
"I'm missing out over the plate, arm-side with my fastball," said Hammel, who took the loss in Baltimore's third consecutive defeat, which ties a season-high. "It's a pretty simple fix, but for right now, it's seemingly a little bit difficult for me.
"But I've been here. I've figured it out before, so I'm not going to continue to beat myself up. I'll just get back to work in two days and we'll move on."
Hammel allowed 10 hits as the Orioles (23-18) went on to surrender 17 hits for the second consecutive game. The right-hander has allowed 17 earned runs over his last three games, which is reason enough for some concern.
But with two starters on the disabled list and a revolving Oriole rotation set to use its 10th different pitcher in Jair Jurrjens on Saturday, Hammel's ineffectiveness is downright alarming. The veteran of the youngest club in the division, Hammel -- hardly the only pitcher who struggled Friday night -- has one quality start in his last five games, and has recorded an out in the seventh inning just once in nine games.
"That's any starting pitcher's role, to go in and pick your guys up when others go down," Hammel said. "And I did it last year [when I got hurt] and they picked me up. So it is my turn to start pulling some weight and I'm not doing it right now."
"... We have to figure it out, because we need him," Orioles manager Buck Showalter said of Hammel, who became the fifth pitcher in the team's last six games to go five or fewer innings.
The O's offense, which rallied to win his last start in Minnesota, pieced together an impressive six-run rally in the eighth inning to force out Rays starter Jeremy Hellickson and nearly bail Hammel out again.
After Chris Davis doubled in a run to pick up his third RBI on the night, Matt Wieters laced a two-run, two-out single to end Hellickson's night. Red-hot J.J. Hardy, who homered in the second, singled off reliever Kyle Farnsworth and Chris Dickerson clobbered a three-run homer to right field.
"You've got to give them a little bit of credit," Rays outfielder Kelly Johnson said of the Orioles lineup. "They strung together some good at-bats and got some big hits themselves. Three-run homer by Dickerson is huge. They're an unbelievable offensive team. ... But at the same time, those are tough situations. You get a big lead like that, it's pretty easy to let your guard down."
Rays manager Joe Maddon summoned his third pitcher of the inning, Joel Peralta, after Yamaico Navarro reached on an infield single. But Nate McLouth, who tripled to start the inning, flied out to end the threat.
"As we're walking back to the clubhouse after the game, we still think we've got a shot [to win]," Wieters said of the club's mindset.
And as for Hammel's mindset, particularly now with the right-hander admitting he's been trying to do too much?
"That's one of Jason's positives. It can also be a negative," Wieters said of Hammel's ability to be critical of himself. "As competitive as he is, sometimes you need to relax in this game. As hard as it can be, sort of take a step back, then look at it pitch-by-pitch. And at the end of the night, look at your outing as opposed to look at [it] as a whole."
The Rays, who entered the game leading the Majors in scoring over a 27-game stretch, tallied a first-inning run off Hammel before opening things up with a four-run third. After James Loney's sacrifice fly for the second out, Hammel looked poised to get out of the jam relatively unscathed. But he walked Luke Scott, and Johnson sent a pitch off the top of the center-field fence and into the crowd for a three-run homer.
At 86 pitches through four innings, Hammel allowed a pair of singles and a walk, exiting after another run in the fifth in favor of reliever Alex Burnett. Burnett's effort didn't help matters, as he allowed another three runs -- one charged to Hammel -- and watched as lefty Troy Patton allowed his inherited runner to score in the following frame.
"It's tough to watch anyone struggle," Hardy said. "We're all so close in here. We want to see everyone do good. We all got faith in [Hammel]. We know he's going to turn it around."
Added Hammel: "I always expect the best out of myself, but I do know that I've been in this situation before, where I've been through a little tough run, that getting down on yourself and really beating yourself up and not letting yourself get better will only hurt you. So, I've got to have a short memory and get back to work."
Brittany Ghiroli is a reporter for MLB.com. Read her blog, Britt's Bird Watch, and follow her on Twitter @britt_ghiroli. This story was not subject to the approval of Major League Baseball or its clubs.