Slowey tagged for three homers in short outing
Right-hander allows six runs in three innings; LeBlanc solid in relief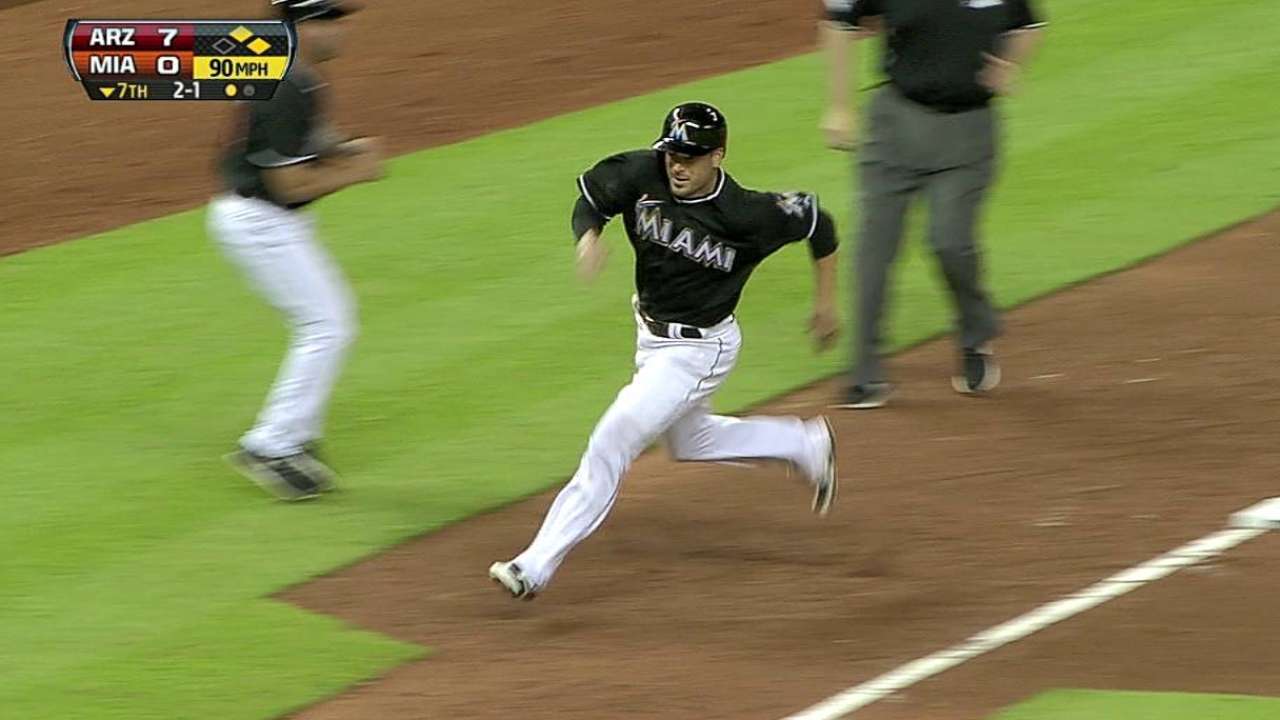 MIAMI -- With Kevin Slowey on the mound, the Marlins have been accustomed to a couple of things. The right-hander has kept his team in the game as well as prevented the ball from leaving the yard.
On Friday night, the D-backs created a tough night for Slowey and Miami.
Paul Goldschmidt belted a pair of two-run homers and Trevor Cahill gave up one run in eight innings as Arizona rolled to a 9-2 win over the Marlins.
The smallest crowd in Marlins Park history (13,444) watched the Marlins' losing streak reach six games, matching a season high previously set from April 6-12.
Entering Friday, Slowey had given up four home runs in 49 1/3 innings, and never more than one in any of his first eight starts. The D-backs were able to strike for two blasts in the first inning, and three total in three frames.
Eric Chavez followed Goldschmidt with a first-inning blast, Goldschmidt added a second two-run shot in the third and the D-backs were never seriously threatened.
Goldschmidt had a four-hit, four-RBI game, and he was a triple shy of the cycle.
For Slowey, it was his second straight rough start after he was so effective in his first seven. The right-hander was lifted after allowing six runs in three innings. In his previous outing, he was replaced after 4 2/3 innings and five runs against the Dodgers.
"I think it was kind of more of the same from in L.A.," Slowey said. "The second time in a week I haven't given my team a chance to win, which is disappointing. The specifics of it, for me, it's not as much location, although that's probably a little more evident of the two.
"For me, it's how the ball gets to where it gets to and … better angle to the plate. I mean, I think the highlight of that is the second at-bat to Goldschmidt. He fouls off five or six pitches, and if I can get a pitch there with some angle and not just get it to that location, I'm better off."
Arizona's 16 hits matched a season high allowed by the Marlins. The Nationals also had 16 hits on April 15.
The Marlins had a couple of chances off Cahill when the game was within reach, but the right-hander was able to escape trouble, largely behind three double plays.
Trailing by three in the first inning, the Marlins loaded the bases with one out, but Justin Ruggiano bounced into a 5-4-3 double play.
Rob Brantly, who bounced into a double play in the second inning, drove in the Marlins' first run with an RBI single in the seventh inning.
Greg Dobbs, who had three hits, singled with one out in the seventh, and Placido Polanco singled. Brantly's single scored Dobbs, and put runners at the corners, but Cahill prevented further trouble by getting pinch-hitter Chris Coghlan to tap into a double play.
"It's the cycle that we're in," manager Mike Redmond said. "Every time it seems like we get into an RBI situation, we ground into a double play. It's guys coming off the bench, it's guys in the game, it's the same thing. It's frustrating, obviously, when you're sitting there watching it.
"I know the guys are frustrated. Believe me, nobody wants to ground into a double play when they've got a chance to drive in a run. At the same time, too, I'm running out of words. We've been talking about the same thing almost the whole year. At the end of the day, guys have to step up and start driving in runs. That's their job. Their job is to drive those guys in. If not, you know the situation there."
Cahill was routinely able to get the Marlins to hit weak grounders. At one stretch, from the third inning to the top of the seventh, he registered 10 straight ground-ball outs.
After striking for a two-run homer in the first inning, Goldschmidt did more damage to Miami in the third. The D-backs' slugger worked a full-count showdown with Slowey. The exchange lasted 13 pitches, with Goldschmidt fouling off six straight offerings before he belted his second two-run homer of the game.
"However many I fouled off, all of them were down and away, mostly really good pitches," Goldschmidt said. "Then, fortunately for me, he made a mistake. I don't know if he was trying to come in or not, but the pitch I hit out ended up being middle of the plate, maybe a little in."
Slowey actually was trying to cross Goldschmidt up by jamming him inside, but the pitch missed its location.
"I'm just trying to make a good pitch at that point," Slowey said. "For me, making pitch after pitch away, you feel like maybe you can get a ball inside. Looking back at the replay, I didn't get it inside where I wanted, and he put a great swing on it.
"He's a great hitter and he's swinging the bat really well right now, too. But it's up to me to make pitches in those situations, to keep the game close enough where we feel like a swing or two can get us back in the game, and I didn't and that's disappointing."
With one out in the first inning, Goldschmidt uncorked a two-run homer to left that was estimated at 428 feet. Slowey's next also left the park. Chavez turned on a first-pitch changeup and deposited a shot to right, giving Arizona a three-run advantage.
"[Slowey] is one of those guys who works on the corners," Redmond said. "He doesn't have that overpowering velocity. If he doesn't get those pitches on the corners, and he has to pick up more of the plate, that makes it hard for him."
Joe Frisaro is a reporter for MLB.com. He writes a blog, called The Fish Pond. Follow him on Twitter @JoeFrisaro. This story was not subject to the approval of Major League Baseball or its clubs.