Sale shuts downs Angels for second time this week
Lefty fans 12, allows three hits over 7 2/3; Rios, Dunn homer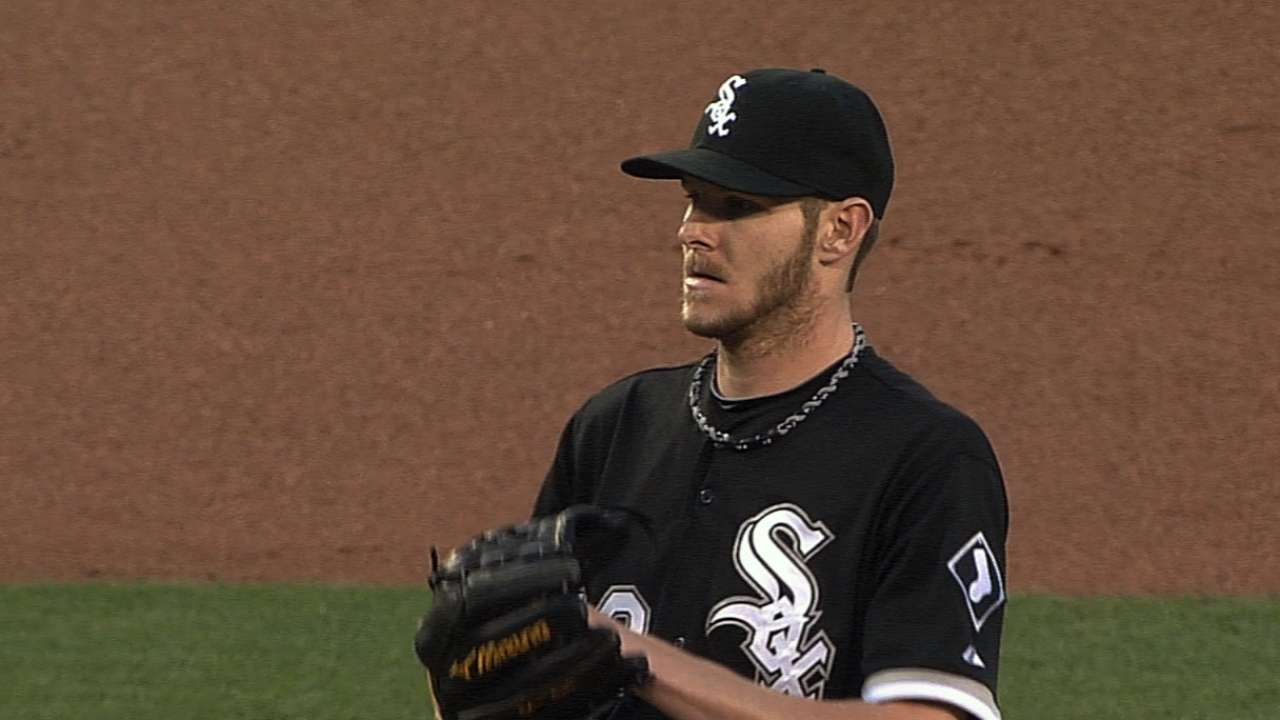 ANAHEIM -- Any thoughts about a second straight perfect-game bid by Chris Sale against the Angels were dashed by the second batter of Friday's 3-0 White Sox victory before 37,546 at Angel Stadium.
Sale walked Mike Trout, who broke up the left-hander's perfect-game bid last Sunday night in Chicago with a single to center after 19 straight had been set down. So, Sale didn't flirt with history, he didn't throw a one-hitter and he actually faced more than the minimum 27 on a warm Orange County night.
But even Sale's slightly less than perfect remains overwhelming.
The Angels (15-27) managed Howie Kendrick's single leading off the second, Mark Trumbo's legged-out double with one out in the fourth and Luis Jimenez's two-out single up the middle with two outs in the fifth, but nothing more against the White Sox ace. He did walk Trumbo along with Trout in the first, but only two runners reached second base all night.
For the fifth time in his career, Sale (5-2) recorded at least 10 strikeouts. He got to 12 by fanning Albert Pujols and Josh Hamilton two times each, including a three-pitch strikeout of Hamilton in the seventh, and a called third in the first that had Pujols giving a nod of appreciation toward the mound. Whereas Sale used primarily his fastball and changeup on Sunday, he made greater usage of his slider on Friday to get through 7 2/3 innings and 113 pitches.
Try 22 sliders overall, 19 for strikes, and six executed as put-away pitches on strikeouts.
"I knew I threw a lot of changeups to those guys last time," said Sale, who is unbeaten over his last five starts with a 4-0 record and 1.18 ERA during that stretch. "Once again, that was all on [catcher Tyler Flowers]. I didn't shake him off once. So applaud him just as much as me."
"We haven't gotten anything off him in the two games we've see him this year," said Angels manager Mike Scioscia of Sale. "He obviously has good movement, throws the ball hard. Didn't throw as many changeups tonight as he did in Chicago, but in the few opportunities we had, he made pitches and got out of it."
Once again, C.J. Wilson (3-3) was the unlucky losing pitcher on the opposite end of Sale's dominance. The White Sox (19-21) beat Wilson during Sale's perfect-game bid and won their season-best fourth straight by scoring two runs on six hits over seven innings against the southpaw.
Alex Rios started the scoring with his 10th home run on a pitch out of the zone with two outs in the first inning. Rios' blast extended his hitting streak to 12 straight to go with a 16-game hitting streak at the start of the season that dated back to the end of the 2012 campaign.
That long home run pretty much stood as all the support Sale would need, a fact the Angels understood with first-hand knowledge from this week.
"His last couple of outings have been spectacular," said Rios of Sale. "He's been under control the whole game. When he pitches like that, he doesn't need many runs."
"Any time you can get a win two starts in a row and the team wins two starts in a row, it's always nice being able to find the rhythm," Sale said. "It's just a matter of how long you can stay in that rhythm and get in that groove and stretch it out as long as it possibly can."
Conor Gillaspie singled home an insurance run in the seventh, bringing home Dayan Viciedo. Viciedo reached base via a one-out single and moved to second when manager Robin Ventura put him in motion on Jeff Keppinger's grounder to third that likely would have resulted in an inning-ending double play.
Adam Dunn hit a laser-like 10th homer in the ninth off reliever Garrett Richards and Addison Reed earned his 14th save in 15 opportunities with a clean ninth, giving him two saves in two nights against his favorite childhood team. But much like five days ago, this victory was about the 6-foot-6, 180-pound hurler.
Friday's mastering of the Angels increased Sale's consecutive scoreless streak to 23 innings, which marks the longest by a White Sox pitcher since J.J. Putz (27 IP) in 2010. It's the longest by a White Sox starter since Mark Buehrle (24 2/3) in 2001.
Over six career appearances against the Halos, Sale has a minuscule 0.38 ERA. He has allowed four hits and three walks in 16 2/3 innings this season when facing the Angels, striking out 19 and holding the opposition to four hits in 53 at-bats. Sale also improved to 10-0 lifetime against the American League West with a 2.55 ERA.
Those are numbers befitting an established ace and one of the top young pitchers in the game.
"This is probably the best two games he's had where I think velocity, control and all that kind of stuff," Ventura said. "He's growing in to being the guy and going out there and proving it."
"It's frustrating because I knew that he's obviously a really great pitcher," said Wilson of Sale. "It's the same thing when I was in Texas and going against [Jered] Weaver from time to time. I knew I was in for a battle."
Scott Merkin is a reporter for MLB.com. Read his blog, Merk's Works, and follow him on Twitter @scottmerkin. This story was not subject to the approval of Major League Baseball or its clubs.