Jackson solid, but Cubs drop opener to Mets
Quiet bats, baserunning blunder contribute to series-opening loss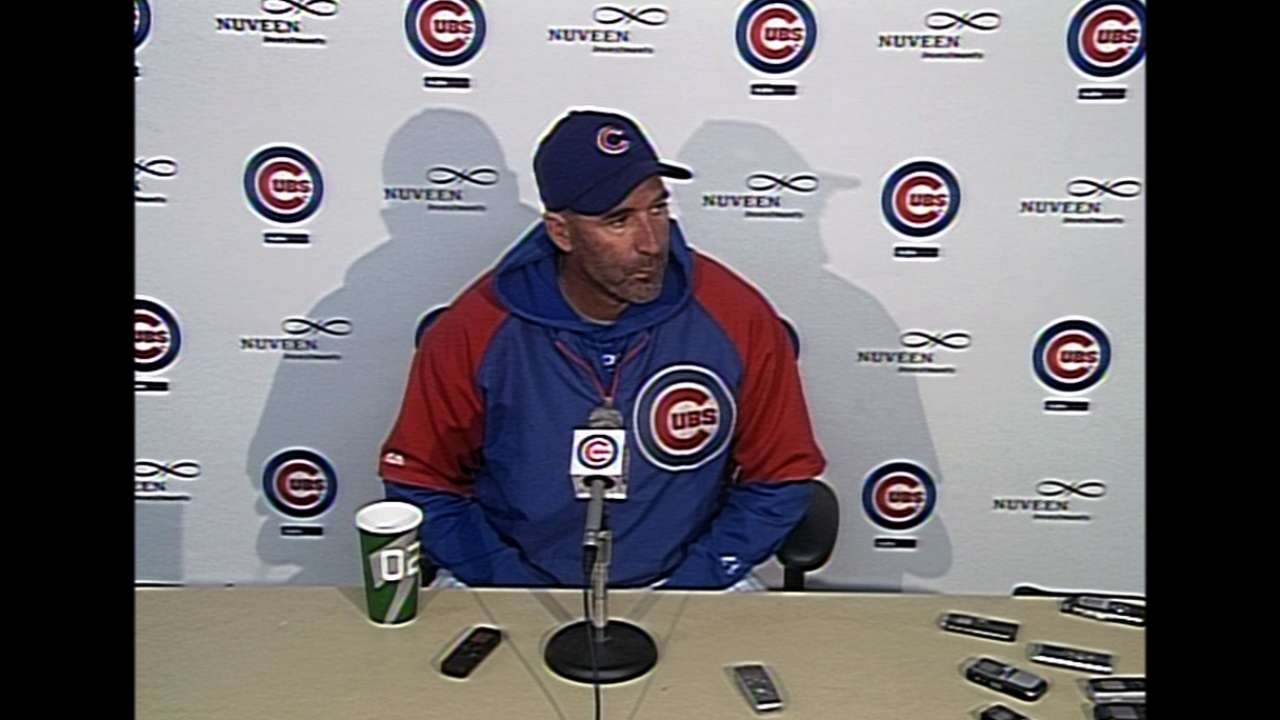 CHICAGO -- The Cubs got to Mets right-hander Matt Harvey early on Friday, but it wasn't enough to hand the young phenom his first loss of the season.
The Cubs scored two first-inning runs before Harvey retired 21 of the final 23 batters he faced in Chicago's 3-2 loss at Wrigley Field.
"After that first inning, it was kind of the Matt Harvey show," manager Dale Sveum said.
Despite Harvey's dominance -- two runs on five hits in 7 1/3 innings -- the Cubs had a chance to tie the score in the bottom of the eighth, when second baseman Darwin Barney led off with a single and was sacrificed to second. David DeJesus followed with a line drive through the right side of the infield off lefty Scott Rice, and third-base coach David Bell waved Barney home.
The throw from Mets right fielder Marlon Byrd easily beat Barney home by about 12 feet.
"It was the wrong decision," Bell said. "I just watched the replay again, and it wasn't close. As a third-base coach, you want to make the right decision, and clearly, that was not the right decision."
Bell said that the biggest reason Barney was easily caught is because Barney hesitated on the hit, unsure whether second baseman Daniel Murphy would make a diving catch.
"I saw that and still made the decision, and that was really the problem on that play," Bell said. "That's why he was out by a significant amount."
Losing that potential run -- with Starlin Castro, Anthony Rizzo and Alfonso Soriano due up -- was key, because Harvey was so dominant.
In the first inning, the Cubs had three straight one-out hits off Harvey, by Castro, Rizzo and Soriano. Soriano's chopper up the middle was gloved by shortstop Ruben Tejada. Castro scored from third, but first baseman Ike Davis couldn't corral Tejada's throw in the dirt, allowing Rizzo to score and Soriano to advance to second.
And that was about it.
A third-inning single by Castro and Barney's in the eighth were the lone blemishes against Harvey the rest of the way.
"It's a minor adjustment you have to make," said Harvey, who improved to 5-0 with a 1.55 ERA. "Whether it's pitching them backwards a little bit or busting them off the plate a little bit, [catcher John Buck] and [pitching coach Dan Warthen] did a great job of noticing that and letting me know so I could go out the second [time] and keep switching things up."
Right-hander Edwin Jackson (1-6, 5.76) matched Harvey for much of the afternoon, surrendering big hits -- solo home runs by third baseman David Wright (first inning) and Murphy (fourth) -- but avoiding any rallies.
After pitching out of potential danger in the fourth and sixth innings, Jackson couldn't stave off the Mets any longer.
With one out, right fielder Nate Schierholtz lost Rick Ankiel's double at the wall in the sun. Jackson then got Tejada to fly out to left, but Harvey helped his own cause by knocking a single to left to plate the go-ahead run and end Jackson's day.
"There are some pitchers out there who can swing it. It's just more frustrating if you miss location," Jackson said of surrendering the game-winning hit to the opposing pitcher. "If you go out there and execute the pitch and you get beat, sometimes it happens. But it was a fastball that came back across the plate pretty much right in his zone."
Despite taking his sixth loss of the season, Jackson turned in his best start as a member of the Cubs. He allowed three runs on seven hits and struck out four in 6 2/3 innings in his second straight solid outing.
The 29-year-old right-hander has tweaked some of his mechanics over his past two starts to "keep a steady rhythm and keep my hands moving a little bit."
The results on Friday were certainly noteworthy, though it wasn't enough for him and the Cubs to overcome Harvey.
"I've been feeling pretty good mechanically, been able to go out and get in a rhythm early," Jackson said. "Regardless how I feel, regardless how I look, regardless how I pitch, the objective is to come out and win the game."
Cash Kruth is a reporter for MLB.com. Follow him on Twitter at @cashkruth. This story was not subject to the approval of Major League Baseball or its clubs.