Extra credit: Gomes' sac fly lifts Red Sox
Buchholz, bullpen retire final 17 batters to take series opener vs. Twins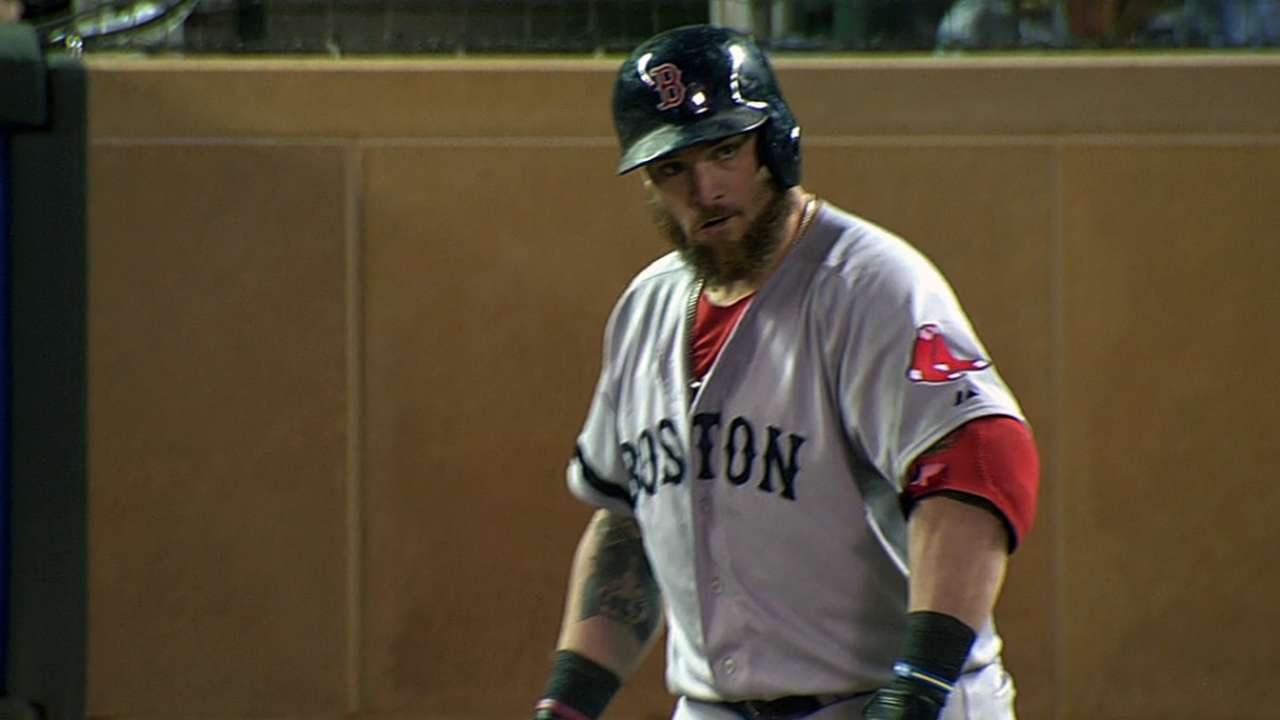 MINNEAPOLIS -- Clay Buchholz was in command on Friday. Then he wasn't. Then he was again. Then the Red Sox won.
Jonny Gomes drove in the game-winning run with a sacrifice fly and the Red Sox got a mostly dominant pitching performance from Buchholz and their bullpen Friday night in a 3-2, 10-inning win over the Twins at Target Field.
Buchholz was denied his seventh win of the season, but he went seven strong innings and combined with three relievers to retire the last 17 batters to seal Boston's third consecutive win.
It didn't come without a few hiccups for the right-hander, who won his first six starts this season but now has a string of three straight no-decisions. He hit a speed bump in the middle innings, allowing a two-run home run to Pedro Florimon among seven of 14 Twins batters to reach base. But just as quickly as Buchholz lost his touch, he regained his early form and mowed down the final seven Minnesota hitters he faced.
"Overall I felt pretty good," Buchholz said. "There was a two-inning stretch of not being comfortable for some reason -- I couldn't put a finger on it -- but I was able to get out of a couple big situations without giving up any damage than the home run. It doesn't always happen that way. I was able to do that and hand it over to the guys in the bullpen, and we came away with the win."
The Red Sox weren't able to do much with the bats either, scuffling to just two runs in nine innings against Twins starter Vance Worley and four relievers. Boston finally broke through in the 10th against Josh Roenicke as Dustin Pedroia, who had gone 0-for-4 and grounded into two double plays, hit a leadoff single and moved to second when David Ortiz walked. Will Middlebrooks laid down a sacrifice bunt and then Stephen Drew was intentionally walked to load the bases.
With the count 1-1, Gomes hit Roenicke' 82-mph slider to left-center field to bring in Pedroia with the game-winning run. Koji Uehara pitched a perfect bottom of the 10th to lock down the victory and pick up a save. Alex Wilson retired one batter on just two pitches to earn his first Major League victory.
"It's always nice to get the first of anything in your career or your life experience," Wilson said. "To get the first win out of the way and to have it on two pitches is kind of funny. It's something that's welcome."
Buchholz was locked in early, seemingly in cruise control en route to his seventh straight win. After Pedroia robbed Brian Dozier with a brilliant diving stop up the middle for the first out, Buchholz struck out the next five batters and looked dominant in the process.
However, he began wobbling a bit in the third inning, when Trevor Plouffe ripped a double for the Twins' first hit and then came around to score on Florimon's second home run of the season. Florimon, Minnesota's No. 9 hitter, crushed a first-pitch curveball 350 feet down the right-field line, just inside the foul pole and just above the fence to put Minnesota on top 2-1.
In the fifth, Buchholz loaded the bases and appeared to be on the ropes before rallying in the game's two biggest at-bats. He froze Josh Willingham with a cutter for a called third strike and then won a battle against Justin Morneau, getting the Twins' cleanup hitter to fly to left after he fouled off three straight pitches.
"There was nowhere else to put him so you've got to throw strikes," Buchholz said of that stretch. "I use all my pitches every time I go out there and pitch, so the confidence behind throwing a cutter in a fastball count, or throwing a fastball in a fastball count, comes along with being able to throw those pitches for strikes. I was doing that early in the game, and then I lost it for a little bit. That was the point of the game where I was either going to walk a run in or get him to make weak contact or not make any contact at all."
That's exactly what manager John Farrell has come to expect from Buchholz.
"He created a bit of a situation for himself with a couple walks, but as we've seen, he keeps the game under control and continues to make pitches and kept us in the game with just the two runs allowed," Farrell said.
Meanwhile, Worley held the Red Sox to that one run over six innings, thanks in part to three double plays, none bigger than one that got him out of the fifth inning unscathed. With runners on the corners and one out, Nava took off from first as Pedroia hit a ground ball to second. Dozier's flip to Florimon nipped Nava at the bag, and the relay to first completed the double play to keep the Red Sox off the board.
The Red Sox tied the game in the seventh against reliever Brian Duensing when Gomes walked, moved to third on Jarrod Saltalamacchia's one-out single and scored on Jacoby Ellsbury's base hit up the middle off Florimon's glove.
Patrick Donnelly is a contributor to MLB.com. This story was not subject to the approval of Major League Baseball or its clubs.