Rookies' mistake proves costly in 10th-inning loss
Worley allows Red Sox just one unearned run but receives no-decision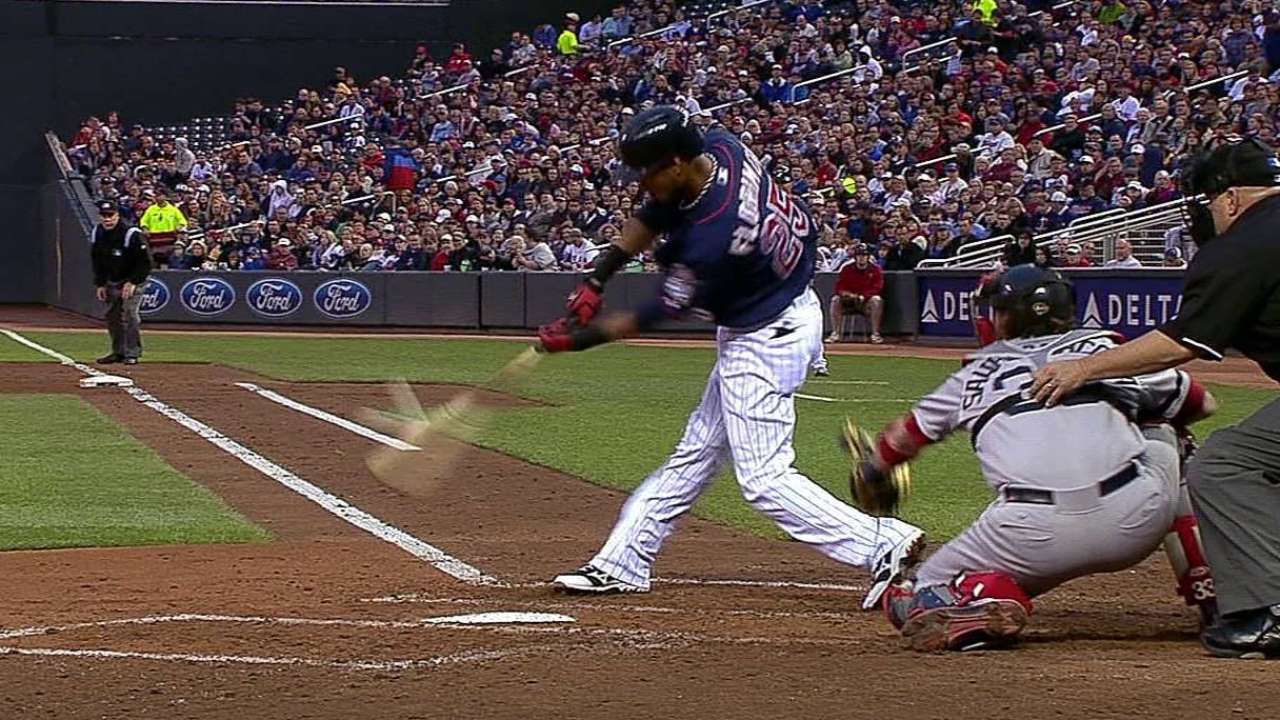 MINNEAPOLIS -- There's a learning curve that's expected of all rookie players, and for the Twins on Friday night, two rookie outfielders made a mistake that might've cost them a game in extra innings.
Left fielder Oswaldo Arcia accidentally bumped into center fielder Aaron Hicks as he caught a fly ball in medium-depth center field from Jonny Gomes and was forced to double-clutch on his throw to home.
It allowed Dustin Pedroia to score the go-ahead run from third and hand the Twins a 3-2 loss to the Red Sox in 10 innings at Target Field.
Manager Ron Gardenhire said he wasn't sure if the strong-armed Hicks, who leads all Major League outfielders with six assists, would've been able to get Pedroia, who runs well, at the plate but wondered what would've happened if Arcia didn't run into him on the catch.
"I would've liked to have seen Hicks come up clean with that one," Gardenhire said. "I think there was a little bit of contact between the two outfielders. I would've liked to have seen him with a clean throw to try to throw him out there, but that's just two young outfielders. I don't think Arcia heard Hicks calling for the ball."
Gomes' sac fly came with one out and the bases loaded against reliever Josh Roenicke. The right-hander gave up a single to Pedroia and walked David Ortiz before Will Middlebrooks bunted the runners over. The Twins elected to walk Stephen Drew to get to Gomes, but he was able to get the ball deep enough to score Pedroia.
"He's a big guy and doesn't run as well, so that was our opportunity to get the ball down," Gardenhire said. "I just think he reached out and got one up and he put it where he had to."
It came after the Twins couldn't hold a one-run lead in the seventh with Brian Duensing giving up the tying run on an RBI single from Jacoby Ellsbury off the glove of Pedro Florimon with one out. It handed right-hander Vance Worley a no-decision.
The Red Sox scored in a hurry against Worley, getting a run in the first inning on an RBI single from David Ortiz. The run was unearned, as it scored Daniel Nava, who reached on an infield single and advanced to second on a throwing error from Brian Dozier.
Worley settled down after that first frame, and he ended up turning in just his third quality start in nine outings. The right-hander gave up just one unearned run on six hits and three walks over six innings.
"I felt good," said Worley, who shaved his ERA down from 7.15 to 6.20. "We worked on a few things this week in my bullpen [session] and I felt like it carried over. They took some good pitches today. The ones I wanted them to swing at, they just wouldn't swing. I fell behind in the count early, but for the most part, I was able to get the ball down and get ground balls."
Worley was helped by an impressive double play turned by Dozier and Florimon to end the fifth with runners on first and third. Dozier was able to get the ball to Florimon before Nava, who was running on the pitch, reached second and Florimon was able to get Pedroia in time at first for a run-saving double play.
The offense, however, didn't do much to back Worley, as the Twins scored just two runs against Red Sox right-hander Clay Buchholz. Both runs came on one swing of the bat, when Florimon launched a two-run blast in the third inning after Trevor Plouffe doubled. It was Florimon's second homer and just the second homer given up on the year by Buchholz.
"It was actually a better pitch than I was wanting to throw," Buchholz said. "I was just trying to flip a strike over and he did what hitters get paid to do, and that's drop the head to the ball and he got it."
Minnesota failed to take advantage in the fifth, when it had the bases loaded and one out with Josh Willingham and Justin Morneau due up. However, Willingham struck out looking and Morneau flied out to end the threat.
The Twins couldn't do anything offensively after the fifth, as their last 17 batters were retired by Red Sox pitchers, including Koji Uehara, who tossed a scoreless 10th to pick up his first save.
"We didn't put many hits on the board tonight," Gardenhire said. "Our guys did the best they possibly could with it. We had some chances, but we missed on adding some more runs and they got us at the end. So it was a tough night. Everybody they ran up there was throwing pretty decent."
Rhett Bollinger is a reporter for MLB.com. Read his blog, Bollinger Beat, and follow him on Twitter @RhettBollinger. This story was not subject to the approval of Major League Baseball or its clubs.