Harvey beats Cubs with his arm and his bat
Right-hander retires 21 of final 23 faced, knocks in game-winning run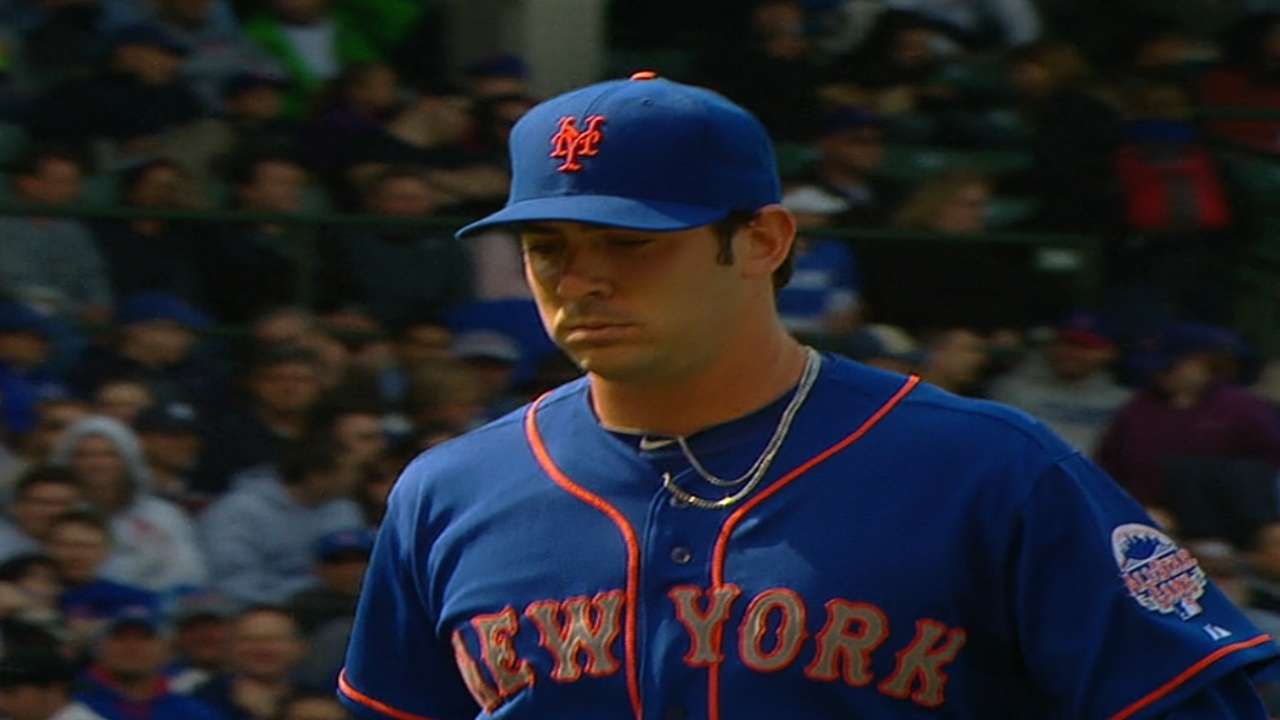 CHICAGO -- Matt Harvey hasn't been getting much offensive help from his teammates, so he took some matters into his own hands on Friday.
Manager Terry Collins made a decision he might have handled differently even a month ago, allowing Harvey to hit for himself in the seventh inning with the score tied at Wrigley Field. The Mets needed a base hit, and zeros afterward. Harvey gave them both in Friday's 3-2 victory.
"You can't say it enough -- this is a different animal," Collins said. "This guy's different. He's not your run-of-the-mill young pitcher. This guy's got some savvy, he's got great confidence and he knows how to pitch. He doesn't just have a great arm. This kid knows what he's doing when he's on the mound."
And, evidently, at the plate.
With his teammates unable to do much against Cubs starter Edwin Jackson, Harvey found a hole on the left side of the infield for an RBI single that scored Rick Ankiel from second base for the go-ahead and game-winning run.
Harvey returned for the bottom of the seventh and retired Chicago's six-, seven- and eight-hitters in order. He ended his outing -- two earned runs on five hits, zero walks and six strikeouts in 7 1/3 innings -- by retiring 21 of the final 23 batters he faced after some first-inning hiccups.
"It was easy [to let Harvey hit]," Collins said. "To be honest, I just said, 'I've got to let him get deeper into the game.' Fortunately, he came through with a big hit for us. He can swing the bat. But we'd already made up our mind he was going to go out there the next inning."
It was the first inning that gave Harvey trouble. He surrendered three consecutive one-out hits to Starlin Castro, Anthony Rizzo and Alfonso Soriano. Both runs scored on the grounder that Soriano hit up the middle; Ruben Tejada ranged to his left to field it, but his throw got away from Ike Davis at first, and Rizzo followed Castro home.
Without a good handle on his fastball early, Harvey resorted to his offspeed arsenal to find his composure. And he found himself in a groove.
"They were coming out swinging," Harvey said. "It's a minor adjustment you have to make. Whether it's pitching them backwards a little bit or busting them off the plate a little bit, [catcher John Buck and pitching coach Dan Warthen] did a great job of noticing that and letting me know so I could go out the second [time] and keep switching things up."
Harvey's first RBI of the season came after David Wright and Daniel Murphy hit solo home runs off Jackson. Harvey -- who leads the Majors with a 0.72 WHIP and a .148 opponents' batting average -- finished his outing with one out in the eighth.
Darwin Barney singled to lead off the frame, and Harvey exited after Julio Borbon's sacrifice bunt. Left-hander Scott Rice gave up a single to David DeJesus in the following at-bat, but Marlon Byrd -- in the game as a defensive replacement for Jordany Valdespin -- nailed Barney at the plate by about 12 feet.
"It was the wrong decision," Cubs third-base coach David Bell said. "I just watched the replay again, and it wasn't close. As a third-base coach, you want to make the right decision, and clearly, that was not the right decision."
Greg Burke got Castro to ground out to end the inning.
For the fifth consecutive game, Harvey limited an opponent to three earned runs or fewer while throwing at least 5 1/3 innings. But for the first time in that span, he earned a victory, his fifth of the season. His ERA actually jumped, from 1.44 to 1.55.
The Mets have scored a total of nine runs while Harvey has been on the mound in his last five starts, and they've now scored three or fewer in nine of their last 11 overall.
"After that first inning, it was kind of the Matt Harvey show," Cubs manager Dale Sveum said. "He's obviously the real deal. We saw for the first six weeks on TV watching him, that kind of poise and velocity and command of a curveball and changeup. He's got the whole package, and obviously finished it off with the game-winning hit there."
Joey Nowak is a reporter for MLB.com. Follow him on Twitter at @joeynowak. This story was not subject to the approval of Major League Baseball or its clubs.