Giants dig out of six-run hole at Coors Field
Cain overcomes rocky start for his third consecutive win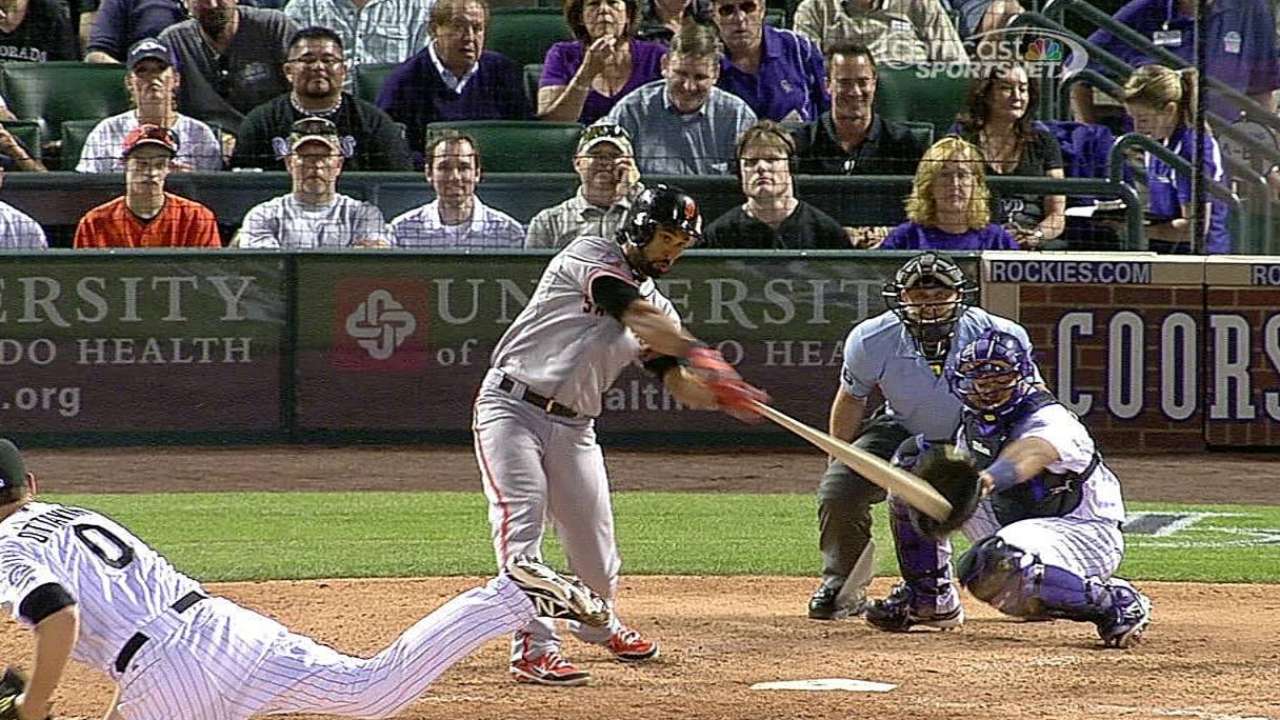 DENVER -- Thursday night's first three innings didn't represent the resilient effort the Giants had in mind.
They fell behind the Colorado Rockies, 6-0, as starter Matt Cain yielded three home runs. It echoed the six- and five-run deficits the Giants faced after one inning during lopsided defeats Tuesday and Wednesday, respectively, in Toronto. Then the pendulum swung inevitably and irrevocably in the other direction, as it often does in baseball.
"Especially here," Giants first baseman Brandon Belt said, referring to Coors Field. "There are a lot of runs to be scored here."
For the rest of the evening, the Giants scored all of them. They amassed five runs in the fourth inning and three more in the sixth to prevail, 8-6, lengthening their winning streak against National League West rival Colorado to 10 games.
Brandon Crawford's bases-loaded double highlighted the big fourth for the Giants, who entered the game leading the NL in hitting. Crawford also contributed to the sixth-inning uprising that featured Angel Pagan's tiebreaking, two-run single.
This decision reflected the Giants' growing ability to strong-arm opponents offensively. That wasn't always the case, even while they were winning two of the previous three World Series.
"We were known for the strength of our rotation and playing close 2-1 ballgames," said left-hander Jeremy Affeldt, who set up Sergio Romo's 13th save with two innings of hitless relief. "But right now our close ballgames are 6-5."
Coincidentally, the Giants last overcame a 6-0 deficit to win here on Sept. 23, 2005, when they rebounded to post a 7-6 triumph.
Maybe the spirit of Hunter Pence moved them again. Belt recalled that before the Giants launched their comeback, Pence -- whose verbal encouragement roused them last postseason and on occasions earlier this year -- just happened to speak up.
"Hunter was like, 'Synergy, synergy, we have to believe,'" Belt said. "I hadn't heard from him in a couple of games, and sure enough, we scored five runs. He's a magician. That's unbelievable."
Crawford delivered the biggest hit in the fourth, clearing the bases by lining a 2-2 slider from Rockies starter Jhoulys Chacin into right-center field.
"I was ready for anything," Crawford said. "He threw me a lot of sinkers outside. I actually thought he might go back to that. He went with a slider and fortunately I stayed on it."
Chacin faltered again in the sixth as Pagan, the only Giant who hadn't reached base safely to that point, grounded an 0-2 pitch up the middle to send home Belt and Crawford after Gregor Blanco's sacrifice fly forged a 6-6 deadlock.
"He didn't hit it well; he hit it in a good place," Giants manager Bruce Bochy said, referring to Pagan's hit. "Sometimes good things happen when you put it in play."
Said Chacin (3-3), "I wasn't aggressive like the first three innings, throwing aggressive strikes. Those guys, they're always waiting for the opportunity to do damage."
The Rockies did all the damage earlier, as Todd Helton and Nolan Arenado homered on back-to-back pitches in the second inning and Wilin Rosario pumped a three-run, opposite-field homer to right in the third. It marked the third time this year that Cain, who has surrendered a Major League-high 13 homers, has allowed three long balls in one game.
But the right-hander regained enough equilibrium to retire 13 of the final 15 batters he faced. "I really had nothing else to lose," said Cain (3-2), plainly disgusted with himself. He also singled to drive in the final run of the fourth inning and preceded Pagan's go-ahead hit with an essential sacrifice bunt.
To spare Cain the wear and tear of traveling, the Giants sent him here from San Francisco and allowed him to bypass Toronto, where the Giants were outscored 21-9. But the Opening Day starter watched the pair of losses on television and didn't recognize his teammates.
"That was definitely not characteristic of how we've played," Cain said.
The Giants proved that with this triumph.
Chris Haft is a reporter for MLB.com. This story was not subject to the approval of Major League Baseball or its clubs.