Snider's three-hit night backs Liriano's strong start
Five Bucs batters notch multi-hit games as lefty fans seven in 5 2/3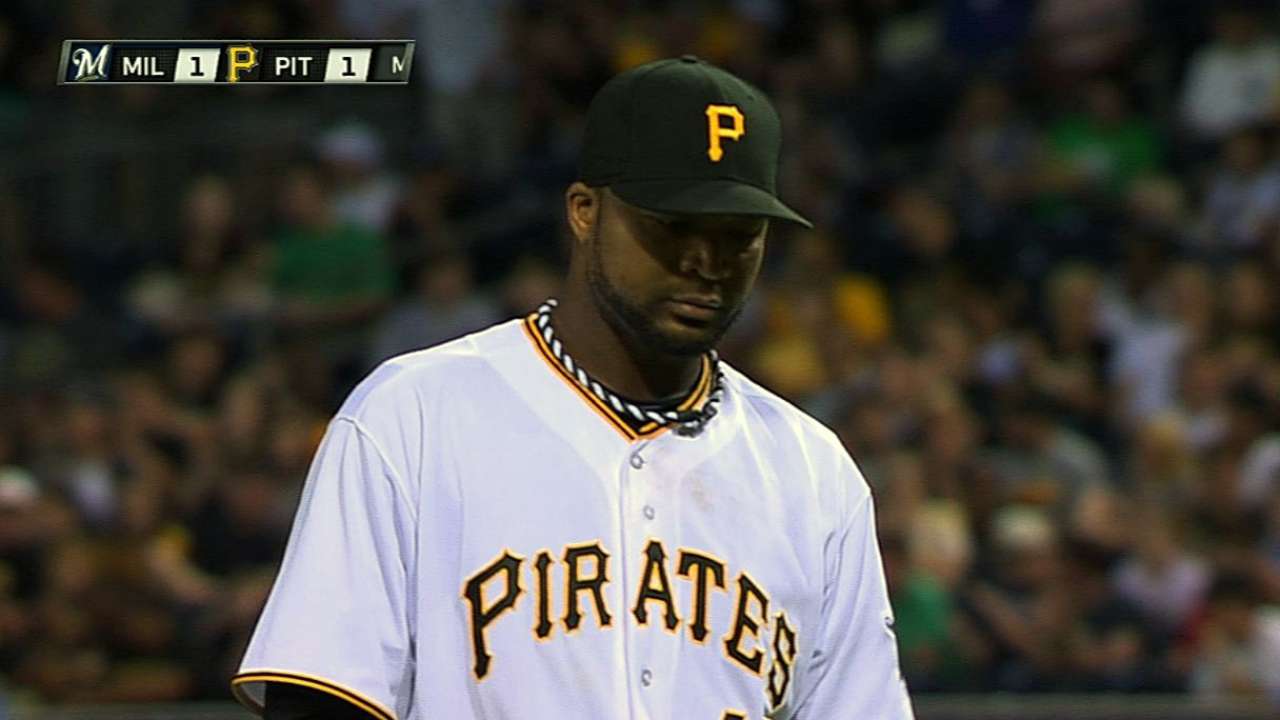 PITTSBURGH -- It may have taken Travis Snider 93 at-bats to hit a home run this season, but the Pirates' right fielder made his first one count after what he called a "nine-month struggle."
Snider hit a two-run, tiebreaking, fifth-inning rocket over the right-center-field wall that traveled 458 feet to bounce and roll into the Allegheny River. It was all the offense the Pirates would need in a 7-1 win over the Brewers Thursday night at PNC Park.
"We were looking for somebody to start something, and that swing of the bat did," Pirates manager Clint Hurdle said. "He's worked so hard to find his way back offensively, and is finding his way back in a good way. Big swing for us offensively tonight."
Snider plated Starling Marte, who had reached first with a bunt single, with his homer. Pedro Alvarez and Snider -- neither of whom had a stolen base this season -- both swiped second earlier in the game, and Brewers starter Hiram Burgos admitted Marte's speed was in the back of his mind as he delivered that juicy fastball, which he left up in the zone, to Snider.
"Before the home run, we make a play there, it's a little different," Brewers manager Ron Roenicke said. "He's trying to be quicker to the plate to make sure they don't steal on him, and he left a ball out over the plate."
The Pirates have now dropped the first game of each four-game set they've played this season, but in all of them, have come back to win the next three. It's also the first time since early in 2010 that Pittsburgh has beaten Milwaukee three straight times.
The Pirates are now 4-8 in the opening game of a series and 20-9 in all others contests.
"I had no idea this is how you go about winning a four-game series, by losing the first game," Hurdle joked. "We can joke about it now, but there's no explanation. ... That's the beauty of playing the game on the field."
Snider finished the night 3-for-5 with three RBIs and two runs. He was also part of a sixth-inning Pirates outburst that scored four runs to put the game out of reach.
In that frame, Clint Barmes reached on a Jean Segura error, then after a Marte double, Snider, Andrew McCutchen, Garrett Jones and Neil Walker all delivered RBI singles to extend the Pirates' lead. Five of the first six Pirates in the order -- all except Walker -- had multi-hit games.
The Pirates were 1-for-27 with runners in scoring position in the first three games of the series, but finished 5-of-12 Thursday, mostly because of the sixth.
Hurdle said his team was due, and after one or two hits to get the ball rolling, offense becomes contagious.
"Situations arise, and we have good situational hitters," Snider said. "That's what we've done so far. Our pitching staff has done a great job of putting us in a position for us to get the offense going."
That Pittsburgh rally came immediately following the Pirates' bullpen working out of another jam, and Snider's words rung true in the bottom half of that frame.
Justin Wilson inherited two runners from starter Francisco Liriano in the top of the sixth, but the lefty got Brewers' pinch-hitter Aramis Ramirez to fly out to center to end the frame.
Liriano picked up his second win in as many starts as a Pirate in 5 2/3 innings, surrendering six hits, one run and three walks while striking out seven. He has fanned 16 batters in 11 innings pitched this season.
Burgos got the loss for the Brewers, but it was Alfredo Figaro who really let the game slip out of reach in the sixth. Burgos threw five innings, giving up eight hits and three runs. Figaro recorded just one out and surrendered four runs (three earned) before being pulled in favor of Mike Fiers.
Earlier in the series, however, the Pirates weren't able to create separation in the middle innings so easily.
They had just four hits in a 3-1 win Wednesday, and 10 in a 12-inning, 4-3 victory Tuesday. But timely hitting and strong work from the bullpen have been two constants at the quarter-pole for the 2013 Pirates, who are now 24-17, good for third best in the National League.
Steven Petrella is an associate reporter for MLB.com. This story was not subject to the approval of Major League Baseball or its clubs.