Burgos improves, but it's not enough as Crew falls
Righty gives up three runs in five frames as offense quieted by Liriano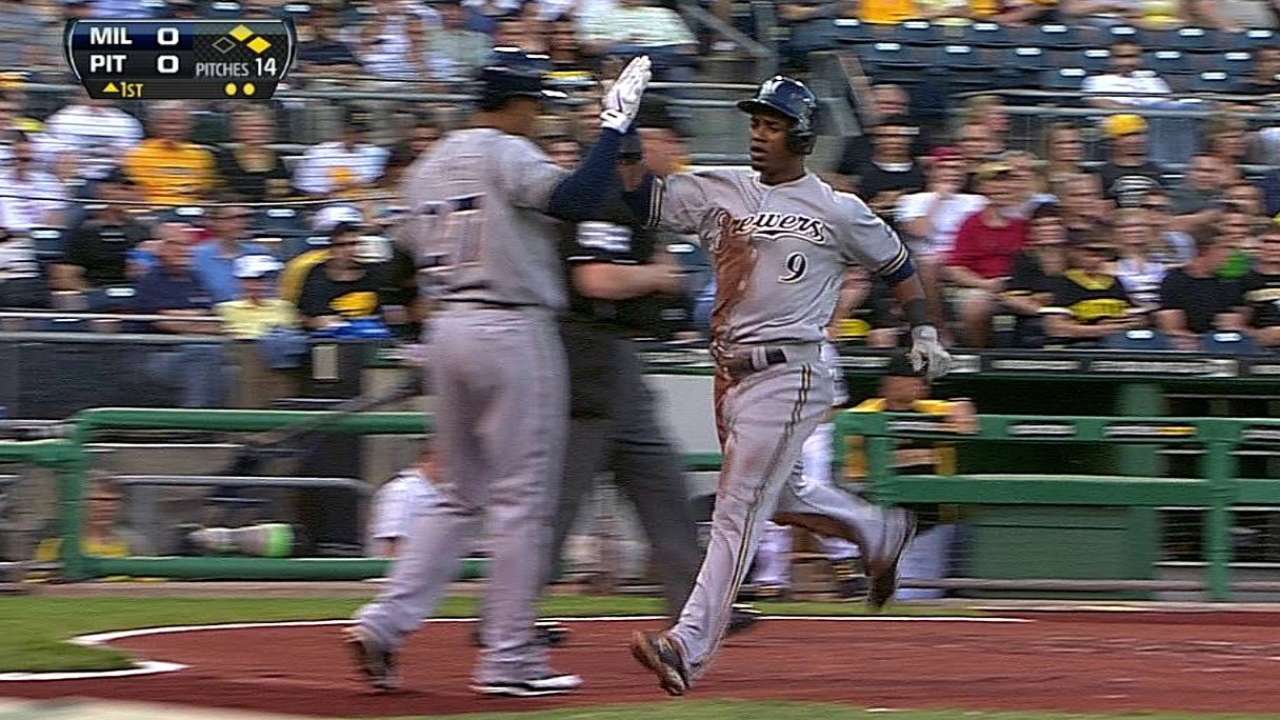 PITTSBURGH -- It was better than his last start, but it still wasn't good enough to help the Brewers get past their struggles at the plate and stop their May slide.
Hiram Burgos wanted to erase his previous outing, the one when he gave up 10 earned runs over three innings against the Reds on May 11. Putting up zeros over the first three frames Thursday night helped him do just that as he tried to make the one run the Brewers scored in the opening frame stand up.
But it didn't last. The Pirates scored one in the fourth to tie it, then Travis Snider's two-run shot in the fifth gave them a two-run lead that they would not relinquish, to send Milwaukee to its third straight defeat in Pittsburgh, 7-1. The Brewers are now 1-6 on this road trip and 2-12 in the month of May.
"The last game, I just put it away," said Burgos, who went five innings and allowed three runs on eight hits. "Today was a new game. I just went out there, trying to get people out and make my pitches. The outcome wasn't what I was wanting, or what the team was wanting, but that's part of the game."
The Brewers did take the lead in the top of the first when Jean Segura singled with one out, stole second and scored on Jonathan Lucroy's two-out single to center field. It was the first lead the Brewers had held in Pittsburgh since the eighth inning of Tuesday night's game, an eventual 5-4, 12-inning loss.
That was also the start of the Brewers' particular woes with runners in scoring position. Milwaukee was 1-for-5 in Thursday's loss and it's gone 2-for-20 during this three-game skid against Pittsburgh. The Pirates, on the flip side, went 5-for-12 with runners on second or third on Thursday.
"It makes a big difference," manager Ron Roenicke said. "They were getting big hits when they needed to. That's why they're outscoring us.
"It does [get contagious]. Guys start pressing, trying to do a little bit more. You can't blame them. That's the nature of it. But offense creates a lot of good emotions, a lot of chemistry going on when you score -- you get enthusiastic on the bench. When you're not scoring runs, it's hard to get motivated as a group. You can individually, but we need to grind out some runs and get that good feeling back again that we can score a bunch of runs."
"We feel like we're a winning team," said Carlos Gomez, who went 0-for-4 on the night. "I feel embarrassed sometimes myself, when I have a man on second and I don't move him. I guarantee everybody feels the same. When we're supposed to do something, we don't do it, and we lost the game. How do you feel in that position? You feel embarrassed, you feel pissed off after the game."
Without that run support, Burgos tried to keep the Brewers in the ballgame. He pitched out of trouble in the second inning, but allowed the tying run in the fourth. A two-out walk to Alvarez in the that inning hurt Burgos as Alvarez surprisingly stole second and came around to score on Clint Barmes' double.
There was more trouble in the fifth, and Burgos couldn't escape or minimize the damage. Starling Marte led off with a bunt single when Yuneisky Betancourt's barehanded play and throw was mishandled by Alex Gonzalez at first. Snider turned on Burgos' first offering and drove it over the right-center-field bleachers, a blast that eventually rolled into the Allegheny River. It was apparent that Burgos had Alvarez's stolen base -- and Snider's from earlier in the game -- in the back of his mind.
"I thought he threw a good ballgame," Roenicke said of Burgos. "Before the home run, we make a play there, it's a little different. He's trying to be quicker to the plate to make sure they don't steal on him, and he left a ball out over the plate."
"He's a fast runner," Burgos said about Marte. "We had two slower runners who stole a base. In that situation, I have to stop, hold the ball and control the running game. At the same time, I have to execute my pitches. That didn't happen that time. It was a fastball that stayed up in the zone. He got a good swing on it."
The Brewers' offense, meanwhile, couldn't figure out a way to solve Liriano, who was making his second start with the Pirates. The left-hander struck out seven in 5 2/3 innings and gave up six hits. Milwaukee did put two runners on in the sixth, courtesy of a walk and an error, but couldn't cash in as pinch-hitter Aramis Ramirez flew out to center off of reliever Justin Wilson to end the threat. The Pirates piled on four in the sixth against reliever Alfredo Figaro to put the game out of reach.
"I thought that we better not wait," Roenicke said. "If we had an opportunity early, their bullpen is good. When you're trying to scratch out runs in the eighth, ninth inning with a good bullpen, it's not going to happen very often."
It doesn't necessarily get any easier for the Brewers, who travel on to first-place St. Louis, where they haven't always played well. Milwaukee is 1-6 against the Cardinals so far this season.
"The good thing, we go to St. Louis, if we win three games in St. Louis or if we win the series, that pumps the team up," Gomez said. "How we feel now, we go there angry to win games. If we win in St. Louis, things are going to change quick. We've struggled the last two series. If we win there, everybody is going to start to feel confident and feel more energy."
Jonathan Mayo is a reporter for MLB.com and writes a blog, B3. Follow @JonathanMayoB3 on Twitter. This story was not subject to the approval of Major League Baseball or its clubs.