Kohn gives White Sox free pass to victory
Reliever's third straight walk forces home winning run in eighth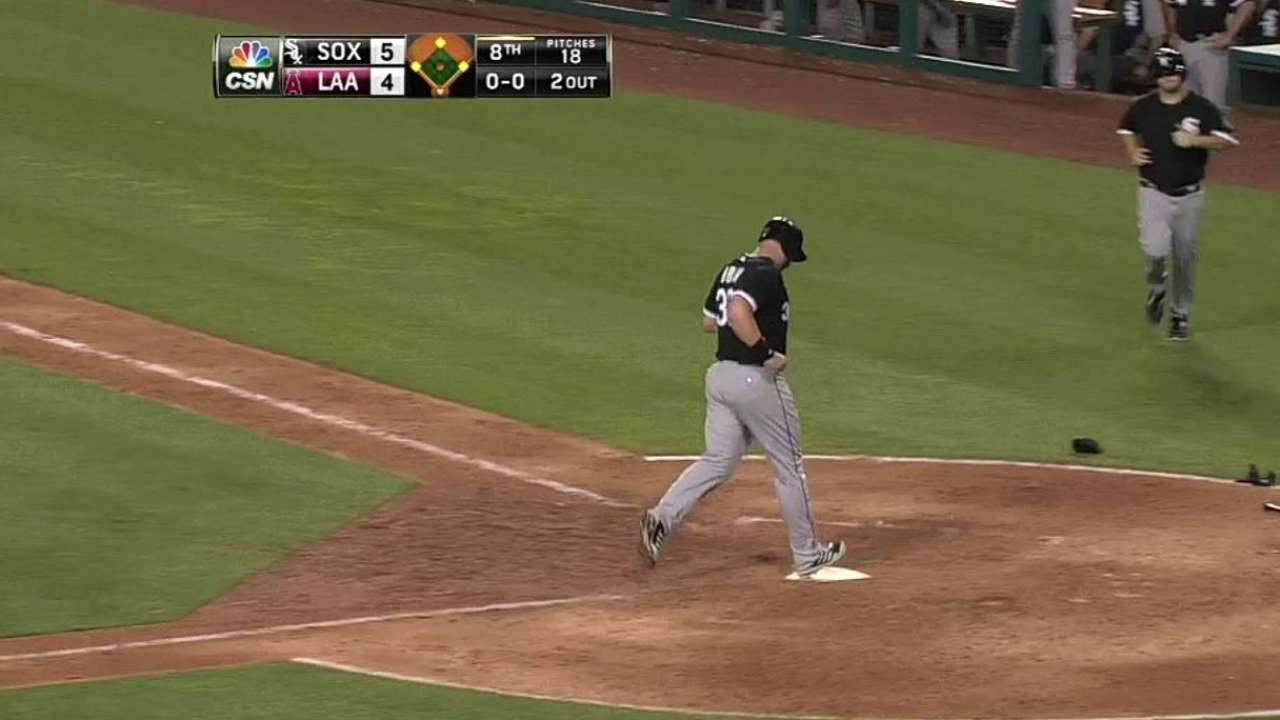 ANAHEIM -- The Angels received another strong outing from Jerome Williams and a few timely hits from the offense, but the bullpen couldn't hold the lead in a 5-4 loss to the White Sox on Thursday night at Angel Stadium.
The Angels entered the game 11-1 when leading after seven and the bullpen had posted a 2.79 ERA in its past nine outings, but Thursday was a different story as the unit surrendered three runs in the eighth and the club lost its fourth game in five days.
"You have to get it done, we have to hold leads," Angels manager Mike Scioscia said. "[I] put guys in there tonight that have been throwing the ball well for us, they just couldn't get it done."
The baseball season is only a quarter of the way done, but the Angels find themselves facing a steep uphill battle. The club is 11 games under .500 and 12 games out of first place in the American League West -- the largest deficit in team history after 41 games. For a season that began with World Series aspirations, a simple playoff berth seems like a tall task.
"You've got to start a streak somewhere," Mark Trumbo said. "We're going to need to do something pretty special to get back into it. You let enough of them slide, you're not going to be able to do that."
Three eighth-inning runs courtesy of a defensive miscue and three walks made Williams' six-plus innings go to waste.
"It's frustrating," Williams said. "But all we can do is pat each other on the back, support them, try to come back tomorrow and try to get a win."
Alejandro De Aza and Alexei Ramirez led off the eighth with singles, but the inning turned when Mike Trout made a wild throw to third on Ramirez's single, allowing the runners to advance to second and third.
Presented with a prime opportunity to get back into the game, the White Sox took advantage.
A wild pitch from Dane De La Rosa allowed the first run to score, then a single from Adam Dunn tied it up.
"We had some great at-bats," Dunn said. "Pitches that were close and we were able to lay of 'em for the most part and were able to string together eight or nine really good at-bats."
Things then went from bad to worse when Michael Kohn came in and walked Conor Gillaspie and Dayan Viciedo to load the bases. Then, on four straight pitches, Kohn walked Jeff Keppinger -- his first walk in 140 plate appearances -- to give the White Sox a 5-4 lead.
"Just an off night," Kohn said. "My job is to come in and keep those guys off base and unfortunately tonight, I didn't do that. Just chalk it up as a bad night."
The three-run eighth came after Williams turned in his third quality start, allowing two runs over six-plus innings. This just five days after he allowed two runs in 6 2/3 innings against the White Sox in Chicago.
After allowing Paul Konerko to single to lead off the seventh, Williams handed the ball to the bullpen, despite having only thrown 74 pitches.
"He's not as stretched out as I think he eventually will be," Scioscia said. "As we line up the bullpen, matching it up, we got out of the seventh fine. It was the eighth inning that was the issues, we just couldn't hold on."
Alex Rios started the scoring when he crushed his ninth home run -- a long blast over both teams' bullpens -- to give the White Sox a 1-0 lead in the top of the fourth.
The Angels, who missed out on a scoring opportunity when Rios threw out Chris Iannetta at home plate on an Erick Aybar single in the third, wasted no time erasing the deficit.
Trout led off the fourth with a walk and on the very next pitch, Albert Pujols hit a two-run home run -- the 482nd of his career to go along with 18 in the postseason -- to give the Angels a 2-1 lead after four.
However, just as quickly as the Angels took the lead, they gave it back.
Gillaspie led off the fifth with a double, advanced to third on a groundout, and despite the Angels playing their infield in, scored on a ground ball to short that Aybar was unable to handle.
"This was a pretty big game for us and it's kind of indicative of how things are going," Trumbo said.
William Boor is an associate reporter for MLB.com. This story was not subject to the approval of Major League Baseball or its clubs.