Strasburg cruises in homecoming start
Righty allows just three hits over career-high eight innings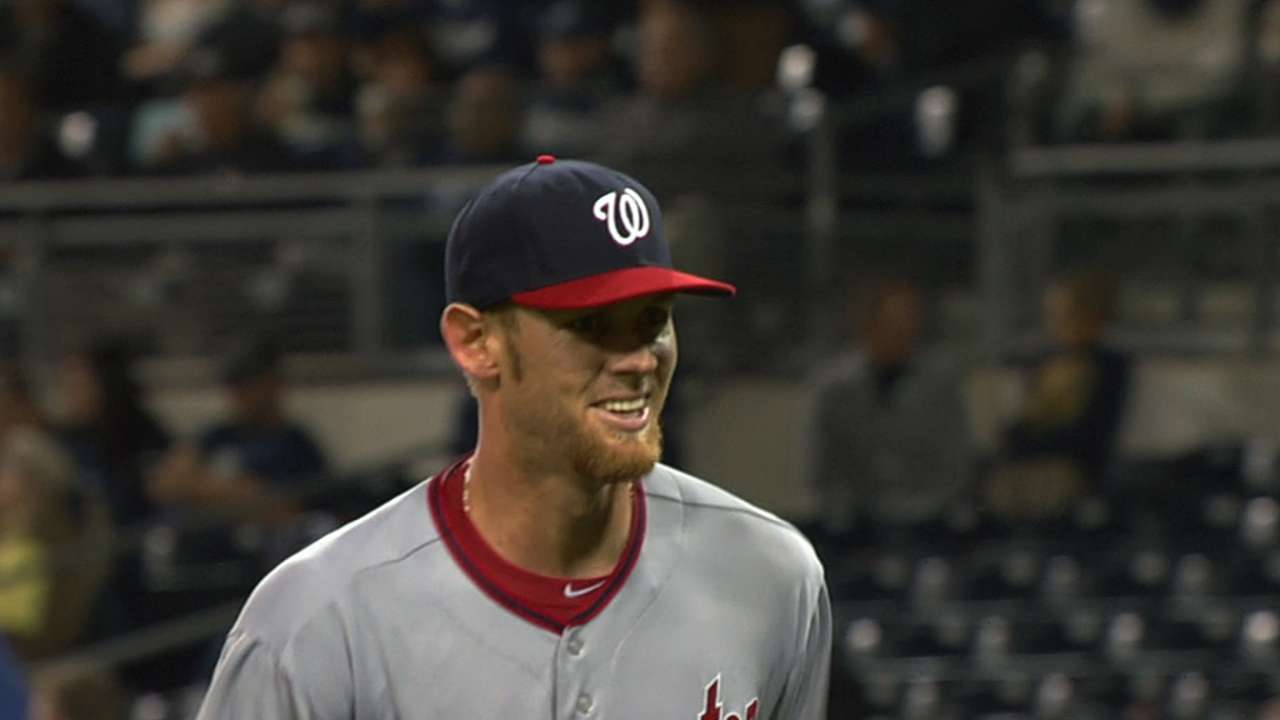 SAN DIEGO -- It's safe to say that Stephen Strasburg had a nice homecoming on Thursday night as the Nationals defeated the Padres, 6-2, at Petco Park.
The game marked the first time that Strasburg pitched a Major League game in his native San Diego and he wasn't nervous at all, even though 50 members of his family were in attendance. Strasburg is also used to pitching here. He was a baseball star while pitching for San Diego State.
"It's easy pitching in front of a lot of loved ones," Strasburg said. "It's just another place for me, to be honest. That's my hometown, I'm an Aztec. I look forward to pitching any place in the big leagues. Now, it's a dream come true."
Strasburg made it look easy to pitch in front of his family. At the start of the game, his fastball was clocked at 96-97 miles per hour. Usually it's clocked in the low 90s.
"It was coming in pretty firm," Nationals catcher Kurt Suzuki said.
Strasburg was solid, pitching a career-high eight innings, allowing two runs -- one earned -- on three hits and striking out four batters.
"It was a good homecoming for him. I liked it," manager Davey Johnson said. "I didn't think he was as sharp as he usually is. He used all of his pitches. He was a little wilder than I like him, but it was a good ballgame."
In the previous two seasons, Strasburg was on an innings limit after having Tommy John surgery. This year, Johnson is convinced that Strasburg is strong enough to go more than seven innings.
"I'm just glad he let me go back out there, get the monkey off my back," Strasburg said. "I hope you can get more experience getting deeper in the ballgame like that and get used to it."
Strasburg broke a personal five-game losing streak and he finally received run support. Entering Thursday's game, Washington averaged 2.74 runs per game when he was on the mound. It was different story in his hometown of San Diego.
With Padres right-hander Edinson Volquez on the mound, Nationals first baseman Adam LaRoche gave Strasburg a 2-0 lead on a two-run homer in the fourth inning.
An inning later, the Nationals scored three more runs off Volquez. Steve Lombardozzi drove in the first run of the inning with a bloop single to center field, scoring Suzuki. Two batters later, Ryan Zimmerman singled to center field, scoring Denard Span and Lombardozzi.
"It was only going to be a matter of time," Strasburg said. "I just want to go out there and do a better job of having a better mound presence out there, relax and go out there and do my thing. We swung the bats really well today."
Even better was that Strasburg didn't let his emotions get the best of him like he did last Saturday against the Cubs.
Strasburg was cruising until the fifth inning, when the Padres had the bases loaded with one out. It didn't help that Zimmerman's throwing error prolonged the inning. Jedd Gyorko then scored an unearned run on a groundout by Everth Cabrera.
This time, Strasburg, who is known as a perfectionist, didn't get upset and showed support to Zimmerman. "I got you," Strasburg told Zimmerman after the error.
"I was trying to go out there and let teammates feed off [my] confidence," Strasburg said. "If one thing doesn't go the way [I want], don't let it affect the next pitch. I think that's where I'm most successful, it's when I kind of block out all this stuff and I just focus on throwing each pitch and focusing on the next one."
The second run off Strasburg came the following inning, when Chase Headley scored on a sacrifice fly by Chris Denorfia.
"He was pounding the zone with fastballs," said Padres first baseman Yonder Alonso, who went 0-for-4 against Strasburg. "I think we did a good job in making contact, but unfortunately today we hit a lot of balls right at guys."
Bryce Harper added to the Nationals' lead by hitting a monster home run over the center-field wall. Harper wasn't able to start the previous two games after crashing into the wall at Dodger Stadium this past Monday.
"The Padres pitched him tough. He hit a heck of a pitch -- a great sinker and he crushed it. It's nice to have him back," Johnson said.
Rafael Soriano finished the game with a scoreless ninth inning.
"It's great to see Strasburg pitch like that. Don't get me wrong, but that's how we play baseball -- hit a couple of homers, play great defense, pitch well," shortstop Ian Desmond said. "We were rooting for each other on the whole game. We got the momentum going, we kept it going. That was a huge step in the right direction."
Bill Ladson is a reporter for MLB.com and writes an MLBlog, All Nats All the time. He also could be found on Twitter @WashingNats. This story was not subject to the approval of Major League Baseball or its clubs.