Volquez stumbles after strong start
Offense manages just three hits off dealing Strasburg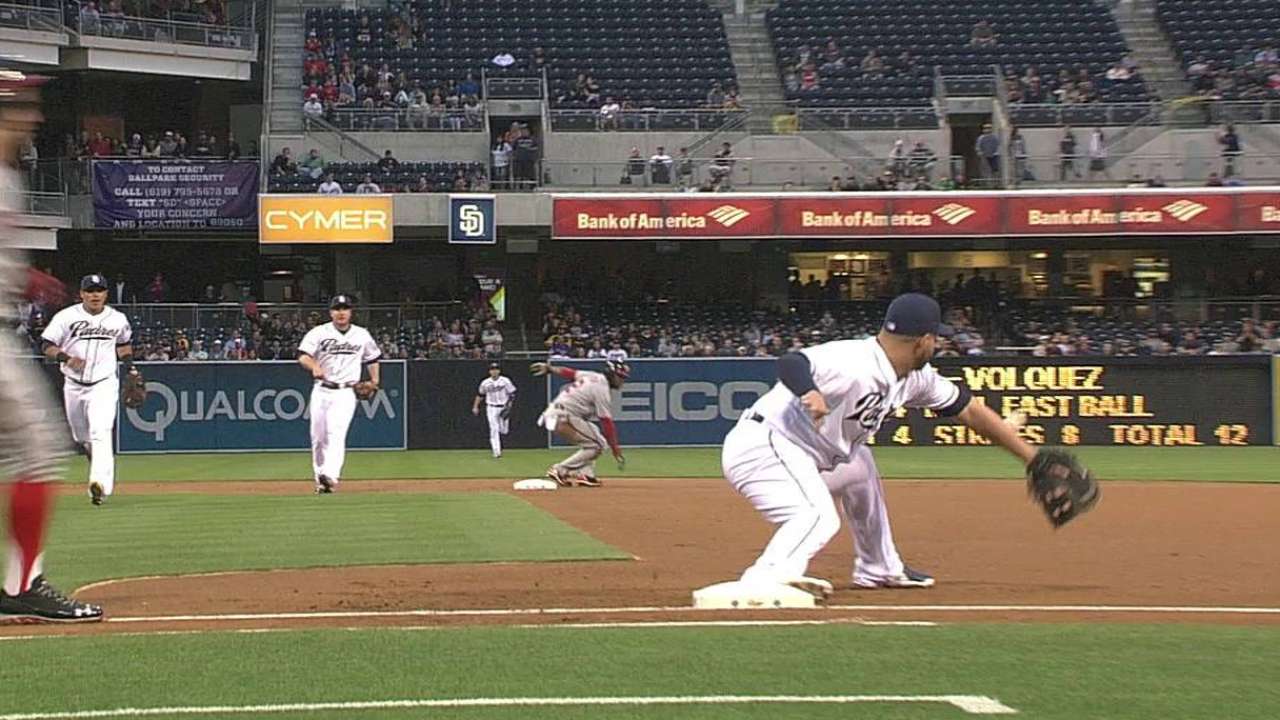 SAN DIEGO -- Stephen Strasburg spent his high school years dominating hitters at West Hills High and his college years mowing down opponents at San Diego State.
Naturally, the right-hander's first trip to a big league mound here produced more of the same.
The Padres' bats went quiet against the San Diego native Thursday night, mustering just three hits in eight innings, as they dropped the opener of a four-game set against the Nationals, 6-2.
"He was pounding the zone with fastballs," said Padres first baseman Yonder Alonso, who went 0-for-4 against Strasburg. "I think we did a good job in making contact, but unfortunately today we hit a lot of balls right at guys."
While Alonso and his teammates were trying to find a way to get comfortable in the box against Strasburg, the young phenom felt at ease while on the hill.
"It's easy pitching in front of a lot of loved ones," Strasburg said. "It's just another place for me, to be honest. That's my hometown -- I'm a [San Diego State] Aztec. I look forward to pitching any place in the big leagues. Now, it's a dream come true."
Padres right-hander Edinson Volquez looked sharp early, but came undone due to control problems. He walked four and allowed five runs on five hits before being removed after five innings.
"I gave up a couple runs, and their guy -- he pitched really good tonight," Volquez said. "It was my fault. I'm supposed to pitch seven, eight innings. Today, I walked a couple guys in the beginning of the inning. ... That's something I've got to stop doing."
First baseman Adam LaRoche gave the Nationals the lead in the top of the fourth when he turned on a middle-in changeup and crushed a two-run homer to right-center field.
"It was supposed to go down and away and I left it right in the middle," Volquez said.
Volquez's mistakes all came on secondary pitches. He said after the game that he never really felt comfortable with anything but his fastball.
Volquez struggled in the fifth, allowing four singles that plated three runs. The big blow was a two-out, two-run liner to center off the bat of Ryan Zimmerman. That gave Washington a 5-0 lead, more than enough for Strasburg.
"I thought that was a big at-bat," Padres manager Bud Black said. "It was a breaking ball that he left up and Zimmerman got the base hit. So I thought Volquez's stuff was fine. Take back a few of the walks that put him in a little bit of peril, and I thought his stuff was fine."
Third baseman Chase Headley, who recorded two of the Padres' four hits on the night, singled in the first inning before Strasburg held San Diego hitless for the next three frames.
When the Padres did break through for one run in the fifth, Strasburg stranded runners on second and third by getting Will Venable to strike out.
"There's a least once or twice during the course of a game a starting pitcher gets stressed, and he has to come up and make some pitches, and he worked his way out of that jam," Black said. "We tried to get a little closer, but he got [Everth Cabrera] on that ground ball and ended up striking out Will.
"That's a situation we've talked about where he made a couple pitches to minimize the damage, and that got him through the middle part of the game there."
San Diego cut into the lead again in the sixth on a Chris Denorfia sacrifice fly, but the Nats answered right back when Bryce Harper blasted his 11th homer of the season, 431 feet to dead-center field.
The loss dropped the Padres to 5 1/2 games behind the first-place Giants, who won in Colorado on Thursday. With three games left against the Nationals and three against St. Louis next week -- a pair of World Series contenders -- the Padres are facing a key week in terms of staying within striking distance.
A victory to open the homestand would have helped, but the way Strasburg was pitching -- in what turned out to be the longest start of his young career -- the Padres were in trouble once Volquez cracked in the fourth.
"First part of the game, both pitchers were throwing the ball well -- really well," Black said. "The difference was the fourth and fifth innings for them and us maybe not getting the big hit when we had the bases loaded with one out to get a little closer to put a little pressure on the Nationals."
AJ Cassavell is a reporter for MLB.com. Follow him on Twitter @ajcassavell. This story was not subject to the approval of Major League Baseball or its clubs.