Noesi, bullpen do job as Morse ensures series win
Mariners in second place as electric finale comes down to last at-bat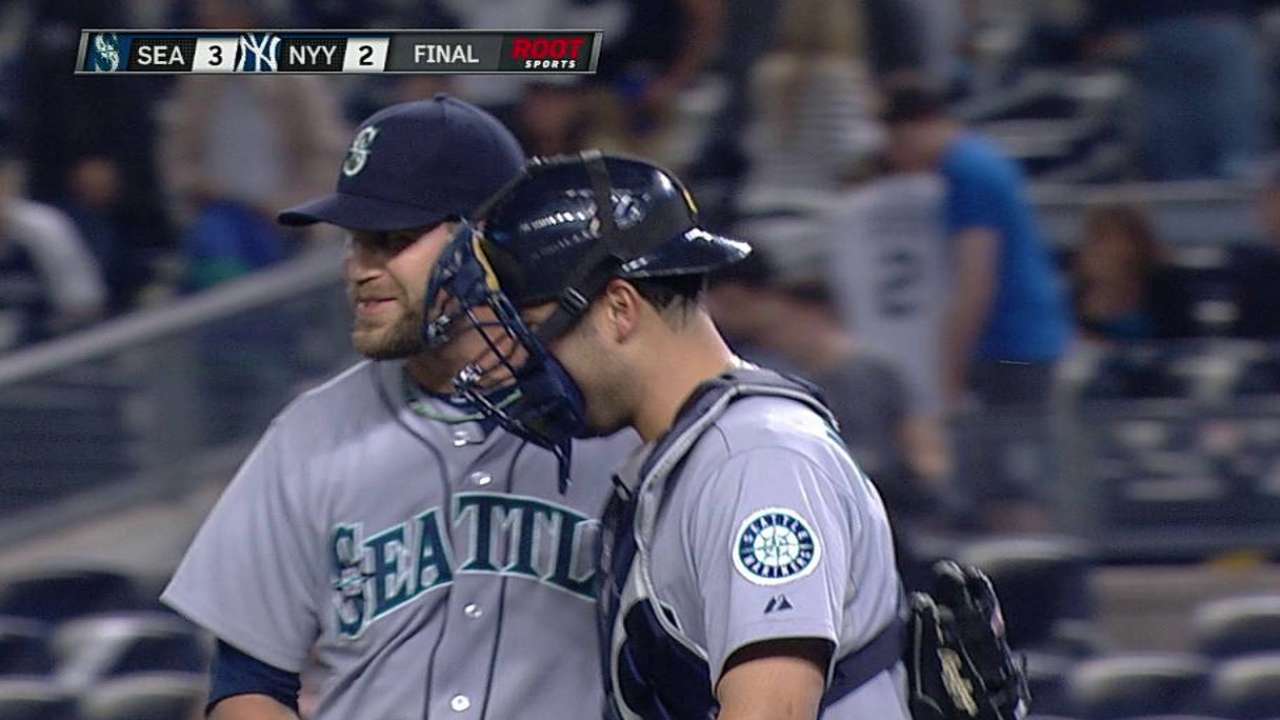 NEW YORK -- Michael Morse cracked his 10th home run of the season, and the Mariners pitching staff pieced together a strong effort Thursday in place of the injured Aaron Harang as Seattle topped the Yankees, 3-2, in a game that crackled with suspense down to the final pitch.
Closer Tom Wilhelmsen, Seattle's sixth pitcher of the game, struck out Jayson Nix and got Robinson Cano to ground out with Brett Gardner perched on third as the tying run as the Mariners won the series and continued their recent run that has lifted them into second place in the American League West.
"That was playoff stuff right there," said Mariners shortstop Brendan Ryan. "Everybody's ready to make a defensive play. Our bullpen comes in, and they're executing pitches. That's as fun as it gets there at the end, with Tommy on the mound.
"I looked at [Dustin Ackley] and said, 'This is awesome. This is truly awesome. This is good baseball here.'"
The Mariners have been playing good ball for several weeks now, having won 12 of their last 18 games to move past the A's into second in the division at 20-21. Seattle has gone 5-0-1 in its last six series and now heads to Cleveland for a four-game set.
"This was one hell of a series," said Mariners manager Eric Wedge, who was ejected in the second inning for arguing that Ichiro Suzuki had trapped a low liner by Ryan in right field. "Three tough games and you talk about this one here, getting that lead and then holding on. You've got one of the best hitters in the game making the last out. It doesn't get any tougher than that."
Wilhelmsen earned his 11th straight save despite having some control issues that left him walking the tight rope after Gardner singled and then stole second and third.
"There's no way we're going to lose that game," Wilhelmsen said. "We've got momentum, and I certainly wasn't going to be the guy to do it. So emotions were high, and no matter what side you're on, that's a baseball game."
Hector Noesi allowed just one unearned run in 4 1/3 innings in the spot start in place of Harang, who was scratched with a stiff lower back several hours before the game.
Five Seattle relievers then combined to hold the Yankees to one run the rest of the way as Oliver Perez, Yoervis Medina, Lucas Luetge, Carter Capps and finally Wilhelmsen came through in numerous critical situations.
"That was a great team win, and the bullpen came up really big," said Wilhelmsen. "Noesi stepped up, but up and down the board, it wasn't just him. Medina coming in, Oly, Luetge and Carter were all huge, huge outs. To do it here against that team, with the momentum we've got, those were just huge outs."
Noesi, making his first appearance in 11 days and his first start of the season, allowed just three hits with one walk and four strikeouts before being replaced after throwing 79 pitches. He finally ran out of gas when he hit a batter and gave up a single with one out in the fifth, but Perez came on and stranded both runners to preserve a 2-1 lead.
"I haven't pitched for 10 days," Noesi said. "I was tired in the second inning and I was like, 'I've got to keep going.' I think it was good."
When Morse unloaded a solo shot to center field in the sixth off Yankees reliever Shawn Kelley to give the Mariners a 3-1 edge, it proved to be just enough offense to stand up.
"Morse had a great series," Wedge said. "That third run today was obviously huge."
Morse has been an increasing factor of late for the improving Mariners offense. The big right fielder went 2-for-3 with a walk and now has four straight multi-hit games to raise his batting average to .261.
Morse's 10th homer of the season puts him one back of the American League lead. The Mariners didn't have a player reach double-digit home runs until June 2 last year, when Justin Smoak hit his 10th.
Equally important was a defensive play by Kendrys Morales at first base in the seventh when he made a diving stop of Ryan's wide throw as Cano beat out an infield single that drove in a run to cut the lead to 3-2. If Morales didn't make that play, Chris Stewart would have scored the tying run from third.
Instead, Capps came on to get Vernon Wells to pop out, and the one-run lead stood.
"Play of the game, no doubt," said Ryan. "I don't know if you get a Web Gem on something like that, but that was the difference in the game. I don't think I could bear hug him strong enough. I tried to get my arms around him, but that was one heck of a play."
Ackley got Seattle on the board early with an RBI double in the second, and Ryan, without an RBI since April 29, drove in a run with the bases loaded in the fourth as he singled deep in the hole at shortstop for a 2-1 lead.
Andy Pettitte took the loss for the Yankees, falling to 4-3 with a 3.83 ERA after lasting just 4 2/3 innings before being removed when a shoulder muscle tightened. Pettitte is now 11-13 against the Mariners in 25 career starts as Seattle is the only team in the AL with a winning record against the 40-year-old southpaw.
Greg Johns is a reporter for MLB.com. Follow him on Twitter @GregJohnsMLB as well as his Mariners Musings blog. This story was not subject to the approval of Major League Baseball or its clubs.