Yankees drop rubber game amid more injuries
Pettitte exits with tight back, Stewart injures groin as rally falls short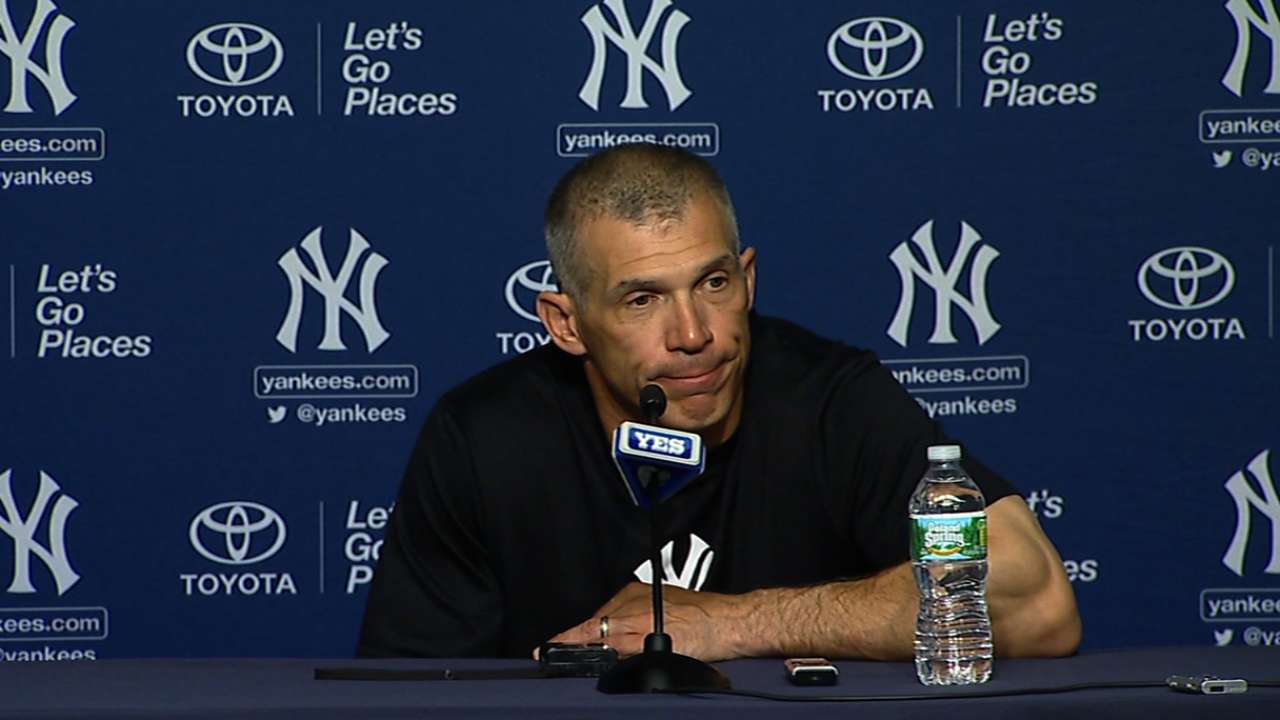 NEW YORK -- It was the grimace on Andy Pettitte's face that set off alarm bells up and down the Yankees' bench in the fifth inning on Thursday, the veteran lefty stiffly pacing around the mound after throwing a 77-mph slider past Kyle Seager's bat.
Pettitte shielded his mouth with his glove, trying to plead his case for staying in the game, but he has been around long enough to know how this usually works. Pettitte lost his battle, and the Yankees did, too, suffering a 3-2 loss to the Mariners.
"Obviously, I'm realistic," Pettitte said. "I know how these guys are. I asked them if I could stay out there and try to get through it out there. I'm hoping it's a spasm and it settles down."
The Yankees announced that Pettitte had a tight left trapezius muscle (neck, shoulders and upper back), and manager Joe Girardi -- no stranger to injury updates in a season that has already been filled by them -- is hopeful that Pettitte will not have to miss his next start.
"I don't think Andy's is too bad," Girardi said. "His trap just kind of got a knot in it, and to me it was affecting his velocity. That's why I took him out. It's muscular, but I don't know what that means going forward."
At the very least, his fate appears to be better than that of catcher Chris Stewart, who suffered a left groin injury while running the bases in the seventh inning and could be heading for the disabled list after he was sent for an MRI.
The Yankees have already had 12 players on the disabled list this season, with 10 of those men still on the shelf.
"What can you say? Nobody's going to feel sorry for us," said Yankees outfielder Brett Gardner. "We can't take the day off tomorrow. We'll keep fighting. We've done pretty good so far, and the last couple of days haven't gone like we wanted to."
Pettitte said that he never felt especially sharp on Thursday, but he was able to fight out of a messy second inning with just one run scoring on a Dustin Ackley RBI double. He also left the bases loaded in the fourth inning, holding Seattle to a Brendan Ryan infield single that drove home its second run.
After the fourth inning, Pettitte felt his back lock up and retreated to the clubhouse for heat treatment, but the warming effects lasted only until his first pitch of the fifth, eventually ending his effort after 79 pitches.
"It was just really tight," Pettitte said. "I couldn't get extended at all. I really just felt like I was kind of cutting everything off and just really trying to throw it in there almost slower than slow, to tell you the truth."
Pettitte missed a start in April with lower back spasms, but he said that he did not believe the two injuries were related. Pettitte turns 41 next month, but he said he is reluctant to use his age as an excuse.
"There's no doubt I'm getting old, but I don't want to sit here and tell you that that's the exact reason why, you know?" Pettitte said, with a chuckle. "I saw Moose [Mike Mussina] go through a full season at age [39] and win 20 ballgames."
Yankees reliever Shawn Kelley struck out five in two innings of work, but also served up a long solo home run to Michael Morse in the sixth inning, a blast that struck a padded fence near Monument Park.
The Yankees managed an unearned run in 4 1/3 innings against right-hander Hector Noesi -- making a spot start for Aaron Harang, who was scratched with back stiffness. Rookie David Adams collected his first Major League RBI with a double to right-center field that drove in Curtis Granderson in the second inning.
Noesi limited his former team to three hits with a walk and four strikeouts before yielding to Oliver Perez, who provided 1 1/3 innings of scoreless relief.
Robinson Cano's infield single in the seventh inning facing left-hander Lucas Luetge drove in Ichiro Suzuki -- who had snapped an 0-for-22 skid with a single -- with New York's second run, and first baseman Kendrys Morales made a terrific dive to keep the shortstop Ryan's throw from sailing down the right-field line.
"Play of the game, no doubt," Ryan said. "I don't know if you get a web gem on something like that, but that was the difference in the game. I don't think I could bear hug him strong enough."
Carter Capps got Vernon Wells to pop out on the first pitch he threw, leaving two men aboard and spoiling a key opportunity. New York had one last gasp in the ninth as Gardner singled and stole both second and third bases with one out.
Jayson Nix fanned and Cano grounded out as the Yankees tied a season high by leaving 10 men on base. Someone later jokingly asked Gardner if he'd considered stealing home, too.
"No, I wasn't able to do that," Gardner said. "I just tried to get over in scoring position for those guys, and we came up a little bit short. You'd like to win every series, and we weren't able to do that against the Mariners."
Bryan Hoch is a reporter for MLB.com. This story was not subject to the approval of Major League Baseball or its clubs.