Rodney can't nail down save as Rays fall to Sox
One strike from series win, closer allows go-ahead three-run double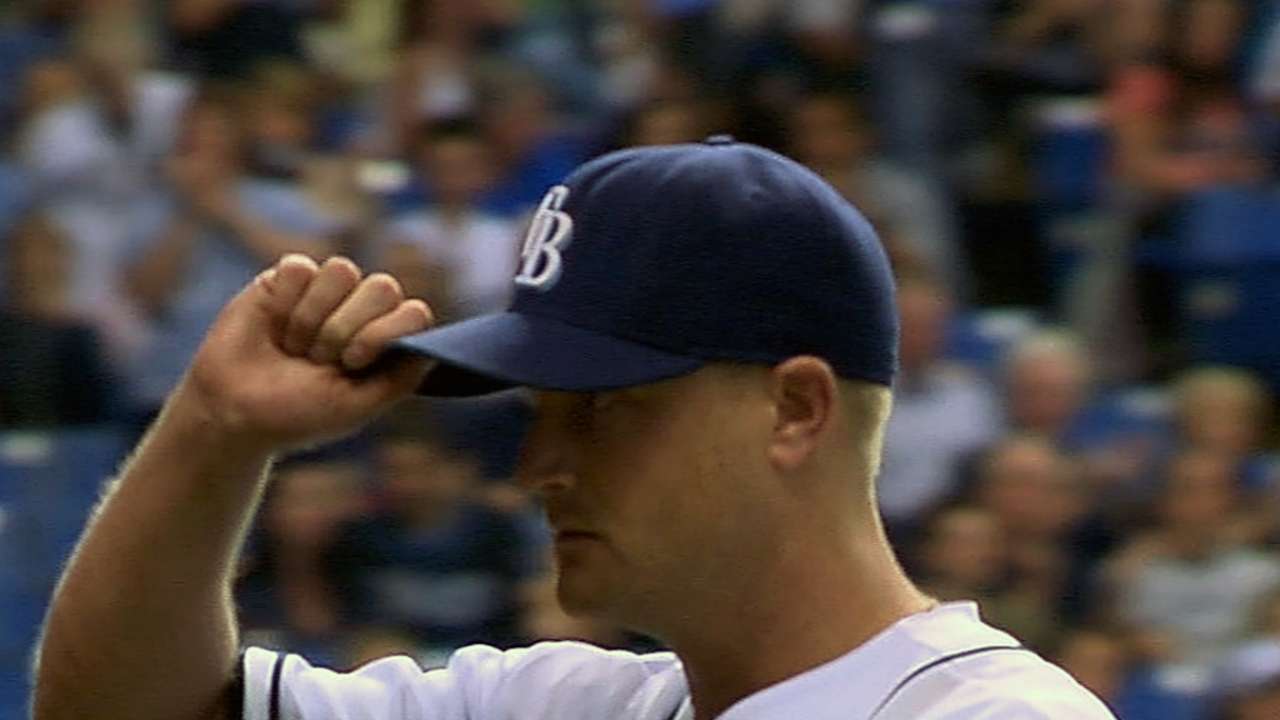 ST. PETERSBURG -- Fernando Rodney needed just one strike to escape the mess he'd created for himself in the ninth Thursday night.
He didn't get it, and the Rays saw a two-run ninth-inning lead evaporate in one swing of Will Middlebrooks' bat as the Red Sox took a 4-3 win at Tropicana Field.
The Rays completed their homestand with a 6-4 mark as they head on a six-game road trip that begins Friday night in Baltimore. The loss dropped the Rays to 20-20 overall and 1-5 in their season series against the Red Sox after getting swept at Fenway Park in April.
Rodney entered in the ninth trying to protect a 3-1 lead, but he got into trouble immediately when he walked Dustin Pedroia and David Ortiz to start the inning.
Rodney recovered briefly, striking out Mike Napoli before walking Daniel Nava to load the bases. The hard-throwing righty then appeared as though he might escape the jam when he struck out Stephen Drew for the second out and got ahead of Middlebrooks. But on a 1-2 pitch, Middlebrooks came through by driving a double to the gap in left to clear the bases, giving the Red Sox a 4-3 lead.
Middlebrooks was looking for a changeup and he got one that hung.
"Normally he buries that pitch and he left it up," Middlebrooks said. "It feels good. He's a guy I've had trouble with in the past, so it felt good to get a solid hit off him in a big situation."
In each of Rodney's last two blown saves (the first came May 6 against Toronto), the opponent had been down to its last strike. The homestand was bookended by those two blown saves.
"You've got to give their hitter credit," Rays manager Joe Maddon said. "He hit that ball extremely well. It wasn't a softy. That ball was smoked into the gap, of all places, just where we could not cut it off because of the way it was hit.
"But again, twice during this homestand [Rodney has] been one pitch away from really being pretty darn good. That's the incredible nature of our game, and that's part of the beauty of the game. But we'll come back, we'll play tomorrow, we'll file this away, we'll try to continue to get better and I think we will."
Rodney threw 35 pitches in the ninth before exiting after walking Jarrod Saltalamacchia, who followed Middlebrooks.
"When you're a reliever and you walk a guy in a situation like that, sometimes you're going to get into trouble," Rodney said. "That happened tonight. When you walk the tying run and the go-ahead run, maybe one swing change the game. And that's what happened tonight."
Rodney has blown three saves in 10 chances this season after blowing only two saves in 50 chances last season, when his 96 save percentage led the Major Leagues.
"This game is difficult," Rodney said. "Sometimes when you think you have it in your hand, it's gone. That's how I feel tonight."
Alex Cobb made his first start for the Rays since striking out 13 in 4 2/3 innings Friday night and was perfect before Shane Victorino doubled with one out in the fourth. One out later, Ortiz's RBI single drove home Victorino to tie the score.
Desmond Jennings' bases-loaded single off Clayton Mortensen with one out in the sixth broke a 1-1 tie. Luke Scott then added an RBI single to give the Rays a 3-1 lead.
Cobb gave the Rays his sixth quality start in eight outings this season, holding the Red Sox to one run on three hits in 6 1/3 innings, only to come away with a no-decision. The right-hander said he wasn't so much disappointed in not getting the win, rather he felt bad for the team.
"We had a good chance to take that series and that's a series you definitely want to win," Cobb said. "New York lost again tonight, so it would have been really nice to gain some ground there, but you know Fernando's going to be there for us throughout the rest of the year. He's been pitching his butt off. ... Tough break today, one pitch away. It's a tough one."
Bill Chastain is a reporter for MLB.com. This story was not subject to the approval of Major League Baseball or its clubs.