Sox sting Rays on Middlebrooks' clutch double
Down to final strike, third baseman's big hit puts Boston ahead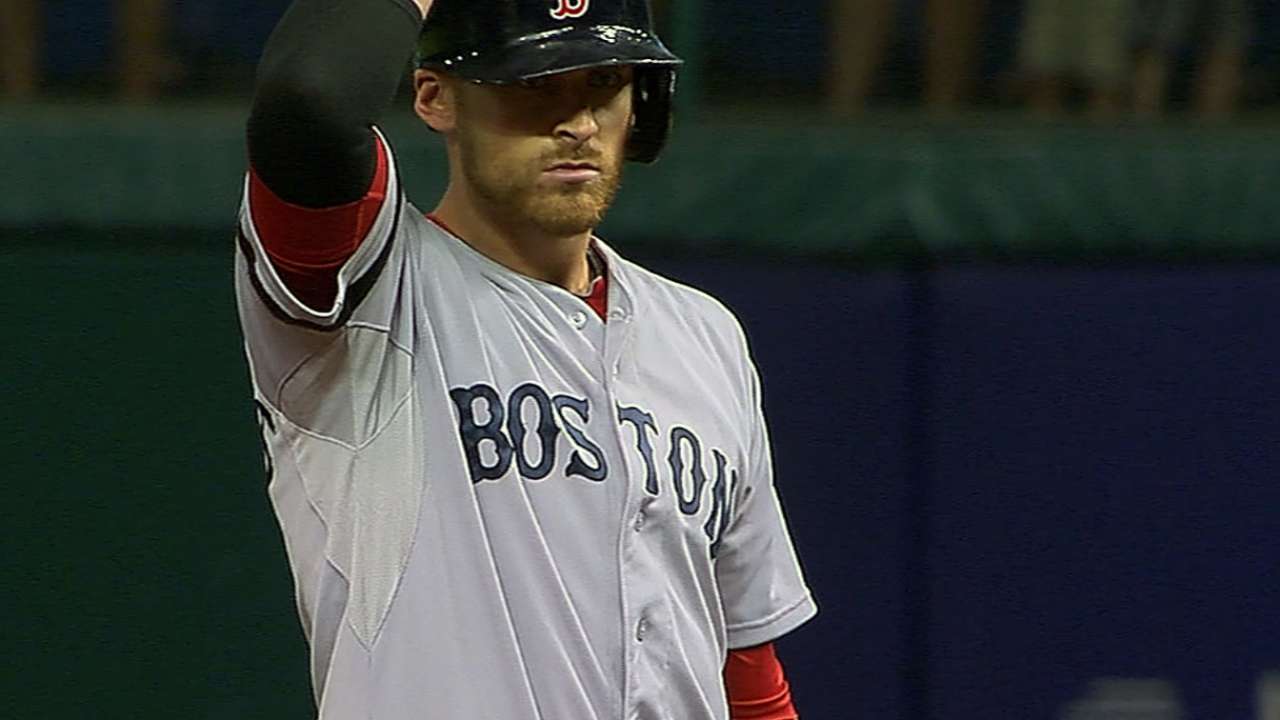 ST. PETERSBURG -- One strike away from defeat, the Red Sox instead pulled off perhaps their most dramatic victory of the season.
Will Middlebrooks was pinned in a 1-2 count from Rays closer Fernando Rodney, who had just thrown him a 100-mph fastball for a ball.
His team down two runs with two outs in the top of the ninth, Middlebrooks somehow stayed back on an 85-mph changeup and hammered it into the gap in left-center for a three-run double that led the Red Sox to a 4-3 victory in Thursday night's rubber match of a three-game series.
Luckily for Middlebrooks, he had a hunch that the changeup was coming.
"He hung me a changeup," said Middlebrooks. "Normally he buries that pitch, and he left it up. I didn't know [if a changeup was coming], because I was so late on that fastball [earlier in the count]. I was thinking, 'Shoot, he might come fastball in,' but then I was like, 'He's going to go to his bread and butter, his changeup, he's going to try to bury one probably, get me to swing over it trying to catch up to the heater,' and he left it up."
Rodney bemoaned the misplacement of the game-turning pitch.
"One pitch," Rodney said. "Maybe the only pitch I threw bad and they hit it."
When the inning started, the Rays held a 3-1 lead. But Rodney opened the ninth by walking Dustin Pedroia and David Ortiz. He struck out Mike Napoli, then walked Daniel Nava to load them up.
Rays pitching coach Jim Hickey came out to settle Rodney down and it worked initially, as the righty struck out Stephen Drew on three pitches.
But he couldn't put away Middlebrooks, even after starting him 0-2.
"I think just the approach by everybody in the ninth inning [was big]," said Red Sox manager John Farrell. "We took some close pitches, we load the bases via the walks and down to the last strike, Will's fighting off a couple of fastballs to get to the 1-2 count, and the split seemed to stay in the middle of the plate."
The recipient of more walk-off losses at Tropicana Field than they care to remember, the Red Sox were the ones who pulled off the late-inning drama this time for their first ninth-inning comeback win of the season.
"It's great," said Ortiz. "I don't remember us coming back too many times here. It always seems like it's a tough place to come back."
If Rays left fielder Matt Joyce had been able to cut off the gapper, it likely would have only tied the game. But the ball skidded past him and rolled all the way to the wall, enabling Nava to score from first.
"It scooted on that carpet a little bit," said Middlebrooks. "They were playing a little shallow trying to knock down that guy from second base on a single. They didn't get a good angle on it, and it was nice to see everybody score."
Junichi Tazawa, who came on to pitch the eighth, finished off the win in the ninth.
Before winning the final two games in this series, the Red Sox had lost nine of 11. Now they fly into Minneapolis -- the second stop on a three-city, nine-game road trip -- with some momentum.
"Awesome," said Middlebrooks. "It gives us some momentum. We're on the road, so it's obviously good to get that momentum going to the next series, and try to get things turned around."
Lefty Felix Doubront struggled with pitch efficiency and command, but this performance represented a step forward from his recent struggles.
Doubront pitched five-plus innings, allowing three hits and two runs. He walked a season-high six and struck out seven, throwing 104 pitches.
"A lot better," Doubront said. "I finally figured out my pitches. My breaking balls, changeups and curveballs, I started getting the feeling back. I wasn't that consistent, but I had good spin and my grip was good."
Alex Cobb turned in a solid performance for the Rays, allowing three hits and a run over 6 1/3 innings.
The game was tied at 1 when Doubront started the sixth by walking James Loney. He was then removed in favor of reliever Clayton Mortensen.
Initially, Mortensen did his job, getting a forceout off the bat of Sean Rodriguez. But the righty then lost his control, walking Jose Lobaton and Ryan Roberts to load the bases.
Desmond Jennings then blooped a single just out of the reach of shortstop Drew and into center, and the Rays had the lead back at 2-1. Andrew Miller came on to face Luke Scott, but the left-handed hitter came through with an RBI single to make it a 3-1 lead for the Rays.
Tampa Bay got on the board with one quick swing in the bottom of the second, as Roberts swatted a solo homer to left-center against Doubront.
Cobb kept it a 1-0 game until the fourth, when Shane Victorino jump-started a rally for Boston with a double to right. That was the first hit of the game for the Red Sox. With two outs, Ortiz unloaded for an RBI single that caromed off the wall in right, tying the game at 1.
The game still had a couple of momentum swings left in it, but it ended just the way the Red Sox needed it to.
"I think it can have a little carryover," said Farrell. "We've come through a tough 10-day stretch, but what I think is most important the last couple nights is the approach we've used the majority of the season, particularly tonight in the ninth inning against Rodney. I know even though we're going up against a guy who's got tremendous stuff, there was no give-up, there was no letdown."
Ian Browne is a reporter for MLB.com. Read his blog, Brownie Points, and follow him on Twitter @IanMBrowne. This story was not subject to the approval of Major League Baseball or its clubs.