Seven-run third more than enough for Yu, Rangers
Ace gives up four runs over eight solid frames en route to seventh win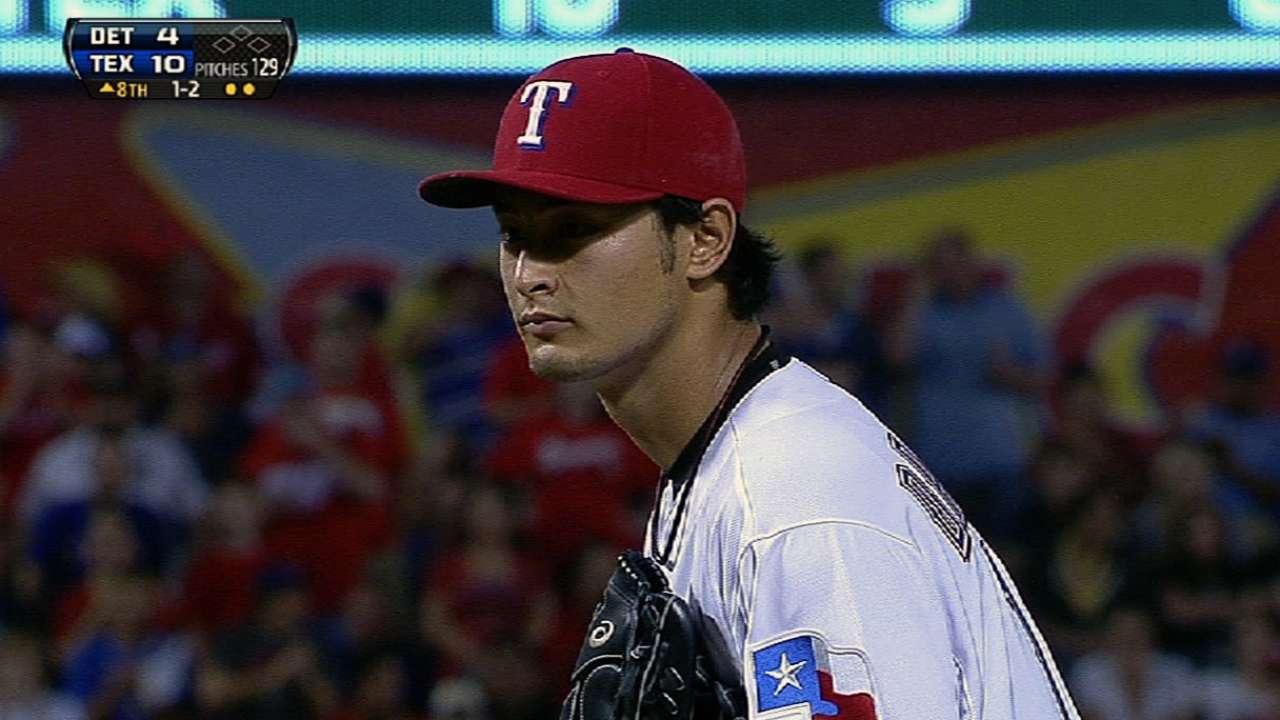 ARLINGTON -- The dazzling pitching duel expected at the Ballpark in Arlington fizzled quickly on Thursday. Instead, it became a survival test on a humid spring night, and in that regard, Yu Darvish emerged triumphant over Justin Verlander.
The Rangers knocked out Verlander with a seven-run third inning and Darvish earned his seventh win of the season with 10-4 victory over the Tigers. The Rangers, with their seventh victory over their last eight games, are now 27-14 on the season, the best record in the Major Leagues.
"It was one of those games where everyone in the world was looking for the matchup and it didn't work out so good," Tigers manager Jim Leyland said. "I don't think anyone expected 12 runs to be scored with those two guys out there. These things happen."
Darvish, despite throwing 36 pitches in the third, was able to get through eight innings while throwing a career-high 130 pitches. That's the most pitches by a Rangers pitcher since R.A. Dickey threw 131 pitches on May 2, 2004, against the Red Sox. Darvish allowed four runs on seven hits, one walk and six strikeouts to raise his record to 7-1 with a 2.97 ERA.
"That was a tremendous lineup that he went through," manager Ron Washington said. "But after the third inning, he settled in, found something that was working and got through it."
Darvish entered the game with a run support average of 8.72 runs per nine innings, the highest in the league. It's now 9.05 after what his teammates did against Verlander and Detroit's bullpen.
Despite the big lead, Washington stayed with Darvish as long as he could. Darvish allowed him to do that by being more economical with his pitches. He had 63 through the first three innings and 67 over the final five while retiring 15 of 16 batters faced in that stretch.
"I saw we had a big lead, but with the lineup they've got, they're not soft anywhere," Washington said. "Even though we had a big lead, I was never comfortable. If you look at his last few innings, he wasn't stressed out. We needed for him to give our bullpen a rest, and he did that. I wasn't comfortable until we got that 27th out."
Washington checked with Darvish before sending him out for the eighth inning.
"Wash asked me if I could go longer, and he seemed to want me to go longer," Darvish said. "I wanted to go longer. After the long trip back from California and the bullpen being used up in that last series, I wanted to go longer."
Verlander lasted just 2 2/3 innings, allowing eight runs on six hits, two walks and a hit batter while striking out three. Geovany Soto delivered the big hit with a three-run home run and both walks came with the bases loaded. Prior to the game, Verlander had faced 106 batters with the bases loaded and walked just three of them.
"Verlander was a little wild in the third inning and we didn't chase him outside the zone," Washington said. "We made him come into the zone. He didn't have command of his fastball and we didn't chase it. I've never seen him not being able to command that fastball."
This was the sixth time in 241 career starts that Verlander has given up eight or more runs in a game and was also just the fourth time that he failed to last at least three innings.
"I don't think [Darvish] pitched as well as he'd have liked, but I'd have liked to have done what he did -- and that's battle through that one inning and find a groove," Verlander said.
Darvish, given a 1-0 lead in the first, retired six of the first seven batters he faced through two innings and 27 pitches. Then Don Kelly led off the third inning with a game-tying home run and Omar Infante and Andy Dirks followed with singles that put runners on the corners. Torii Hunter's sacrifice fly gave the Tigers a lead.
Miguel Cabrera then doubled, putting runners on second third. Prince Fielder was intentionally walked to load the bases, and Victor Martinez's sacrifice fly to center made it 3-1. Darvish then got out of the inning by getting Alex Avila on a flyout to left.
"I think I pitched well the first two innings," Darvish said. "It was just that one inning. In the third inning, it went really bad, but I didn't change anything. I just got hit."
Darvish's troubles were nothing compared to what Verlander went through in the bottom of the third. David Murphy and Leonys Martin led off with singles before Ian Kinsler was hit by a pitch, loading the bases.
Verlander then walked Elvis Andrus to force in a run. Verlander struck out Lance Berkman, but Adrian Beltre also worked a walk to bring home another run to tie the game. Verlander struck out Nelson Cruz, but Mitch Moreland lined a double into the right-field corner to drive home two and Soto smashed his first home run of the season to clear the bases. Soto had just one RBI in 47 at-bats coming into the game.
"Justin is the best pitcher in baseball," Soto said. "He's got great stuff. We just managed to get the best of him tonight."
Jhonny Peralta led off the fourth with a home run off Darvish, but that was it for Detroit's offense. Moreland added an RBI double in the fifth, and Cruz, after striking out three times, hit his 11th home run of the season in the seventh.
T.R. Sullivan is a reporter for MLB.com. Read his blog, Postcards from Elysian Fields, and follow him on Twitter @Sullivan_Ranger. This story was not subject to the approval of Major League Baseball or its clubs.