Blue Jays keep rolling in romp over Giants
Slugging trio sets tone; Ortiz gets first win as starter since 2007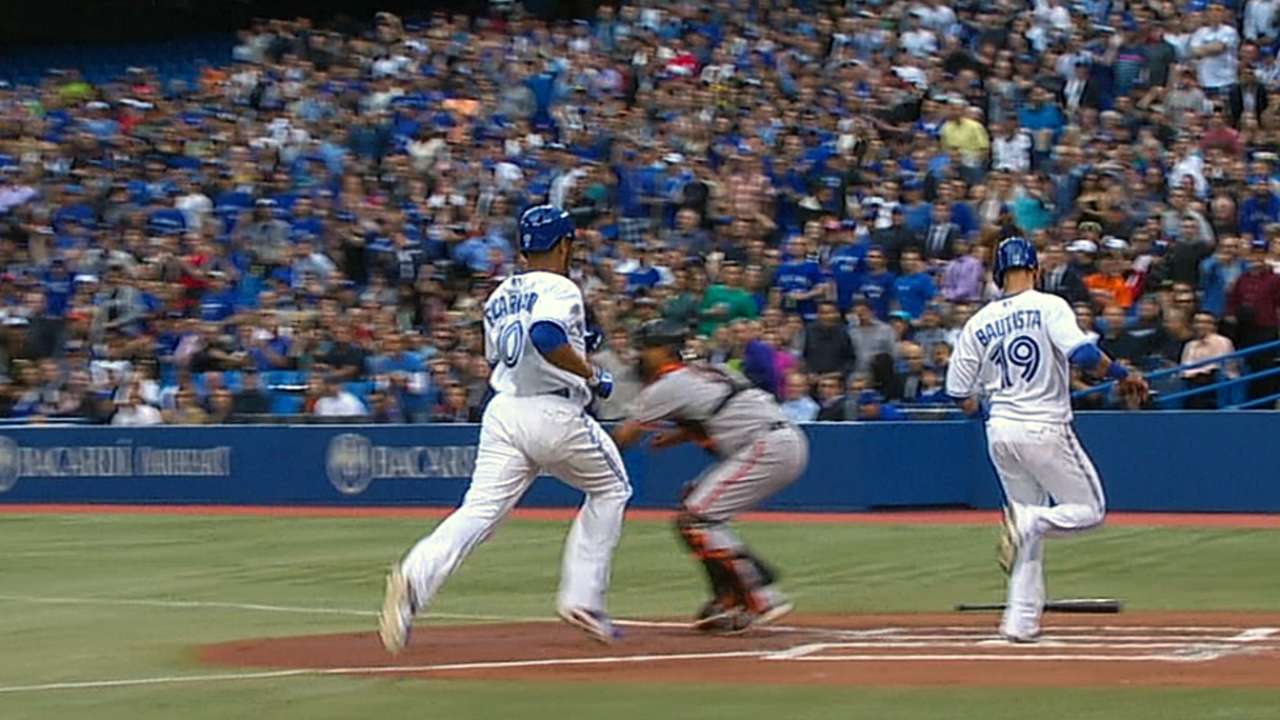 TORONTO -- It's probably safe to say the Blue Jays have figured things out offensively, and they can thank the three big men atop the lineup.
Since moving Melky Cabrera, Jose Bautista and Edwin Encarnacion to the top of the batting order, Toronto has reached double digits in runs in three straight games and has scored 36 runs over its last four.
Wednesday was no different, as the three sluggers paced the Blue Jays to an 11-3 victory over the defending World Series champion Giants at Rogers Centre.
"You're facing three tough hitters right out of the gate," catcher J.P. Arencibia said after the game. "Melky can hit third anywhere, Jose can hit third anywhere, and Eddy can hit third anywhere. You face those three guys out of the gate and it's not going to be an easy inning."
Against Ryan Vogelsong and the Giants, the trio went 4-for-11 with three RBIs, two walks and five runs scored.
Since slotting them at the top of the lineup, the Blue Jays have gone on a season-best winning streak of four games and have won back-to-back series for the first time. During that stretch, the three sluggers have combined to go 21-for-46 (.457) with two home runs, 14 RBIs and 16 runs scored.
"Eddy's gotten hot, Jose's gotten hot, and Lindy's [Adam Lind] been swinging the bat well. I think a lot of guys have been swinging the bat well, and it kind of just rolls," Arencibia said. "When the guys are swinging the bats well, everyone else does."
"We really are swinging the bats now," Blue Jays manager John Gibbons added. "We are on a nice little roll."
It all got started in the first inning for the second straight game, and the Giants' defense made it a little easier.
First, second baseman Marco Scutaro bobbled a popup in shallow right field to allow Bautista to reach base. After a walk to Encarnacion, center fielder Angel Pagan missed a sinking liner off Arencibia's bat, scoring both runners for a 2-1 lead.
Three pitches later, Adam Lind went deep into the first deck in right field to extend the Toronto lead to three.
When the first finally came to an end, Vogelsong allowed five runs, all of them unearned.
"The last couple of games, they've made a couple errors each game that we've taken advantage of it," Gibbons said. "A lot of ways that was what was killing us early in the season. We benefited from it tonight."
"Groundhog Day," said Giants manager Bruce Bochy about the team's first-inning woes this series. "Probably the worst thing that could have happened for [Vogelsong] is what happened there."
For Vogelsong, it continued his struggles this season, as he's now allowed 37 earned runs in 41 1/3 innings and has given up at least one home run in seven straight games.
"It's not always sunshine and roses out there. You've got to find a way to fight through and get outs," said Vogelsong, who gave up eight runs (three earned) during his two innings.
It marked back-to-back games that the Blue Jays batted around in the first inning against the Giants, and the first time since April 10-11, 1994, vs. the Mariners and Athletics.
The early offense was more than enough for starter Ramon Ortiz, who had his best start in a long time. The almost 40-year-old pitched seven strong innings, allowing a single earned run for the second consecutive outing, on six hits and a walk while striking out one.
The last time Ortiz pitched that deep in a Major League game was as a member of the Twins on April 22, 2007, vs. the Royals.
"He probably never envisioned that he was going to be in this situation where he was going to be making starts in the big leagues again," Gibbons said. "Now he's getting it and he's taking advantage of it."
"The key right now is I have a lot of confidence in all my pitches, in my changeup, my slider, my two-seam, my four-seam," said Ortiz, who picked up his first win as a starter since April 17, 2007. "When you have confidence in your pitches, you can throw it in any count. And that's what I'm doing right now."
With Toronto scoring 10 or more runs in three straight games, it marked the first time since May 30-June 1, 2003, that they had accomplished that.
"Obviously, earlier in the year we were having a tough time scoring runs. Like we said before, there's a track record with these guys in this clubhouse," said Arencibia, who hit his 10th home run of the season in the second inning. "These guys can swing the bat, and we have that from top to bottom."
Evan Peaslee is an associate reporter for MLB.com. This story was not subject to the approval of Major League Baseball or its clubs.